Nuvid Review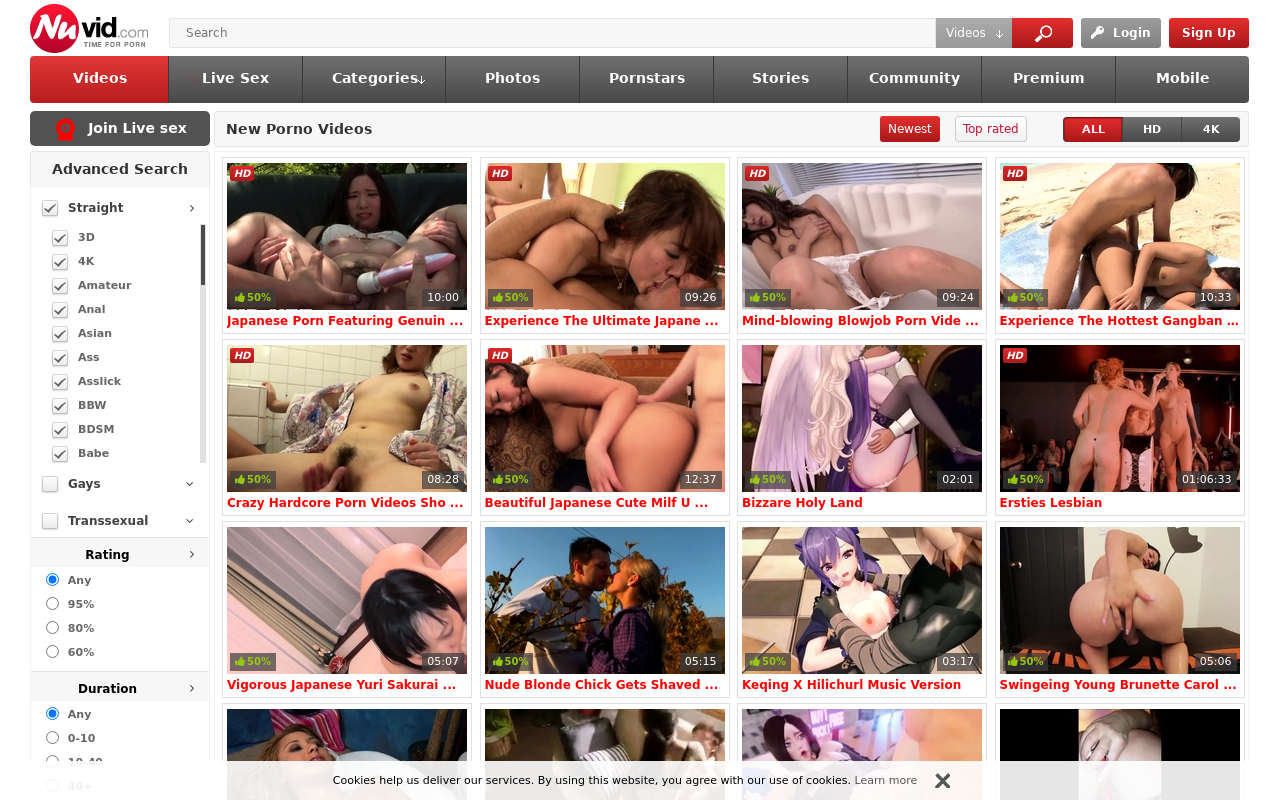 A visit to Nuvid
I've spent the better part of the last few months looking at extensive lists of potential places to recommend for folks who love free porn videos. Today, I'm heading on over to a spot by the name of Nuvid to decide whether or not it's going to meet my requirements for listing at Fetish Dude. One of the things you have to realize about XXX video entertainment online is that you'll never be more than a few minutes away from something that'll get your dick hard – question is, will Nuvid help you achieve that end? Time to find out: read below for my full analysis.
Homepage of Nuvid: my take
So let's kick things off here with a look at the homepage, which I think is pretty good, all things considered. A good chunk of the visible real estate here is devoted to showing you preview panes of scenes that you might want to check out. By default, these are all organized based on the date that they were uploaded, but you've got the ability to switch to a 'top rated' organization model if you'd prefer. Perhaps my favorite feature on the homepage of Nuvid is the ability to filter out anything which isn't offered in HD. I've long been of the opinion that the only sex videos worth my time are in 720p or above, so the fact that Nuvid allows you to get rid on anything below these qualities is a dream come true.
Preview panes at Nuvid are relatively simple, with just a thumbnail, like ratio, length and title. A couple of the scenes will also have a 'HD' button on them if they're available in high definition, so that's a nice alternative to just blanket removing anything below 720p. Note that on the left-hand side of the Nuvid homepage, you've got the ability to conduct advance searches across a range of niches, filter based on rating, look for specific durations and so on. I actually think that this is one of the most comprehensive search and filter tools that I've seen in the last few months from a tube, so that's definitely something that Nuvid has going for it.
Categorized material at Nuvid
If you hit the 'categories' link at the top of the page, you'll be taken through to an archive where you can see a bunch of different niches that might tickle your fancy. I've got a big complaint here, though: none of the categories have thumbnails attached, so you're literally just looking at a big block of adult words. I'm always stimulated by images and everyone else is too, so why not just go ahead and show us a bit of eye candy to go along with the genres? At least they've got a decent range of porn categories here, including the likes of outdoor, teen, European, BDSM, anal, redhead and softcore. They've decided to organize alphabetically up to down, left to right though – pretty confusing at first: that should be changed immediately.
The category view at Nuvid
After you select a category here, you'll be taken through to an archive area that's basically the same as the homepage, with all of the same filtering options and sorting tools that you had before. I'm surprised that they don't allow you to select two niches at the same time here: seems like the type of functionality that they'd offer. Perhaps that's something that Nuvid could introduce: I'm sure that the punters would only be happy with the ability to combine their two favorite loves together! I think I'd also like to have the ability to see scenes based on the length metric they had on the homepage when I go to a specific niche: I honestly cannot work out why they've backtracked on the functionality – seems crazy if you ask me!
Watching porn at Nuvid
When it's time for you to watch porn at Nuvid, you'll come across a relatively standard embed area and a barebones streaming container. This isn't a problem as far as I'm concerned, but one thing that is missing is the ability to download scenes locally. Don't be fooled by that 'Download Video' add-on either: it's an advert. Very sneaky and the type of thing that pisses me off, so Nuvid will be getting downgraded a little as a direct result of their deceptive practice here. I suppose it's not the complete end of the universe, but still – why you gotta be like that, Nuvid? Doesn't make sense to me.
Scenes with multiple qualities do allow you to toggle between various formats, but they sadly default to the lower quality instead of the higher quality – that's a pain in the ass. The content here in general is what I'd describe as preview goods from professional outlets. They're basically a broker for content that comes from the likes of Team Skeet, Reality Kings, Brazzers and so on. This is fine, but I think that a lot of people who want amateur smut will be somewhat disappointed with the slim pickings available. That said, they do actually have quite a sizable amount of webcam videos, so if you're someone that likes to watch live sex babes, that's going to be good for you. I don't know if these are legitimately sourced or bootleg releases, but I don't think you really care about the way they've got them, right?
A conclusion on Nuvid
Far be it from me to continue writing thousands of words on this particular tube site: especially when I don't need to. I've already made my decision here and while I don't think it's a perfect source for porn, there's literally nothing that fits that definition (except Fetish Dude, that is!). Ultimately, I'm happy to push you in the direction of this place because what they set out to do is actually done and yeah – you can't fault them for that. So, in short: go right ahead and visit Nuvid – they've got the porn videos which'll make you cum over and over again!
Thanks a bunch for reading and please come back any time you need help finding the hottest hubs around for all of your masturbatory needs. I've been Fetish Dude and you've been amazing!
Lots of HD videos
Plenty of niches
Good pornstar database
Deceptive adverts
No download function