NonkTube Review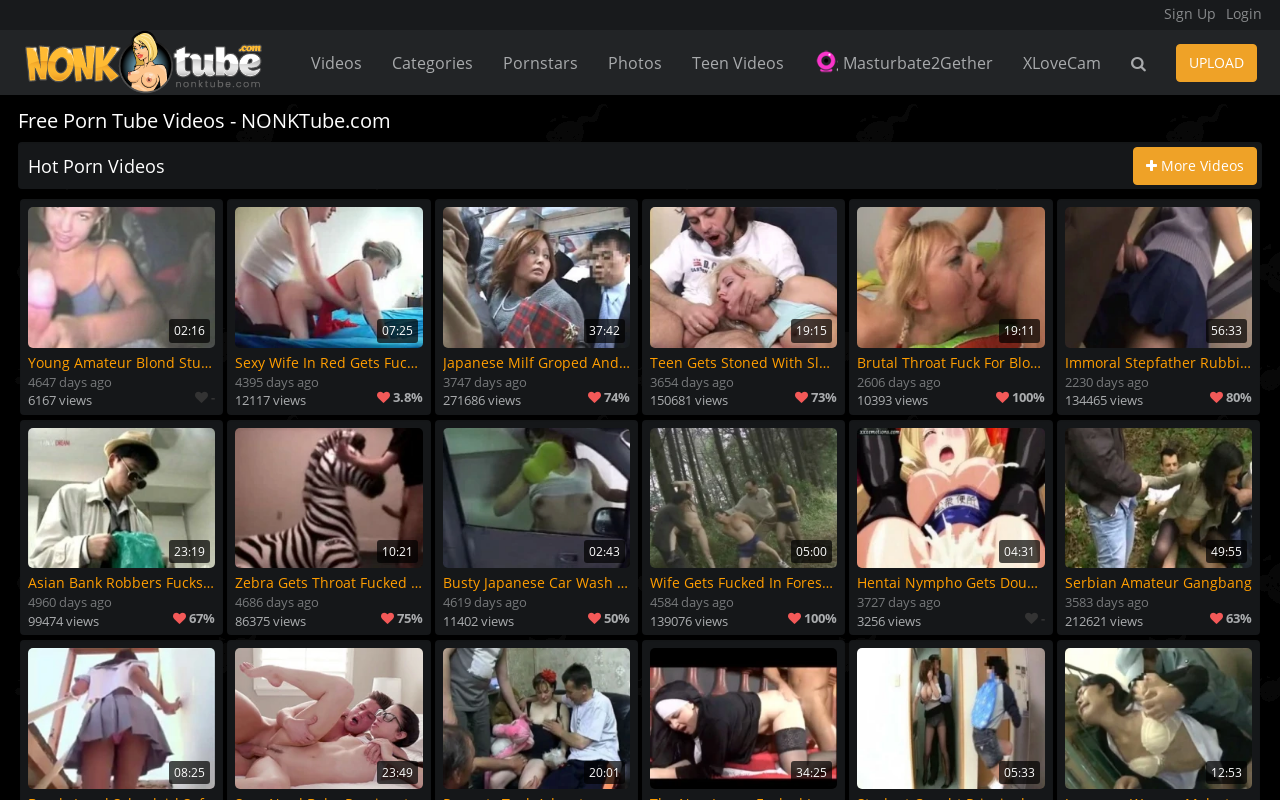 A visit to Nonk Tube
I don't know what the hell Nonk means, but what I do know is that this is a website devoted to giving you access to free porn videos. I don't think that tubes are especially rare these days, so it's going to be interesting to see how NonkTube stacks up against the competition with regard to how much porn – and the quality of the porn – that they provide you. If you're keen to learn about what this hub has to offer, continue reading and we'll get to the bottom of it together. I hope you're keen for some XXX analysis, because Fetish Dude is about to drill this place down and give you his full thoughts and feelings on the site!
First impressions of NonkTube
In terms of design, I think that NonkTube looks pretty damn good and I'm pleased to see that they've devoted around 80% of the visual real estate to displaying preview panes of various scenes you can watch. The header is probably a bit too large for my liking, but that's fine: it's not the end of the world to scroll down and I figure that most people reading this are able to do exactly that. Now as for the preview panes, these consist of a scene thumbnail, video length, title, upload date, view count and favorite ratio. The homepage defaults to showing you the scenes on the website which are currently being watched, so some of the videos here were uploaded as long as 8 years ago – pretty crazy if you ask me!
If you hit the 'more videos' tag at the top, you'll be taken through to a new section of the site that's essentially the same, but allows you to explore material here based on different metrics instead. You've got the choice between most recent, most viewed, most commented, top rated, top favorited and longest. I think it goes without saying that this is a pretty comprehensive list of options that you have, so that's pretty damn good if you ask me. It's also possible to control the timeline display based on dates, so you're able to filter further based on scenes from the last day, week or month. All in all, my initial impression of NonkTube was a positive one: They're doing a lot of good things here!
The categories of NonkTube
Sometimes, folks just want to go ahead and look at scenes within a particular niche, right? Well, NonkTube does have a 'categories' section, but I'm unconvinced that it's actually all that useful. The design here is probably one of the worst I've come across. They have a number of categories listed in alphabetical order, which is fine, but it's done horizontally and they display scenes from that niche right there on the page. It's a truly awful way of setting things up, so my suggestion is to just use the search feature instead. I don't know what the hell they were thinking here, but I'm hoping that in the near future, they switch over to something that's a little more reasonable. Honestly, I can't get over how damn awful this page is!
Pornstars pages at NonkTube
Nonk Tube also has a pornstar page and thankfully, this is slightly better in terms of its design. The ladies are presented alphabetically, but for some reason, you don't have the ability to look at the girls based on their popularity, number of scenes or whatever else. Again, these are pretty basic function tools that every major tube should provide to their users. I'm just so confused as to why NonkTube has decided not to go down this path of making sure that people have the access that they need. I guess it's good that at least when you click on the girls, they do display the scenes for you. Though that adds to another point of mine: the thumbnail quality here is really poor. They just feel quite dark and faded, as well as heavily pixelated. Not the type of thing that Fetish Dude wants to get used to: it's ugly.
A final thought on NonkTube
I have mixed feelings about NonkTube, because it does some things well and other things pretty damn poorly. Personally, I feel like if I owned and operated this website, I'd be able to point out immediately what needed to be improved, so part of me just thinks that it's a problem of laziness. Still, fingers crossed that this place will come under new management soon and they'll improve everything that I've suggested. Until then, Fetish Dude is going to give a cautious recommendation for you to visit, but to also not expect that you'll get everything you want. It's okay, but that's just it – nothing more, nothing less.
Perhaps you'll want to check out my other best tube site reviews instead? There are dozens of better competitive places out there – take a look!
Free sex videos
Pornstar catalogue
Lengthy porn uploads
Error when downloading
Average sorting features
Awful category page