NetPornSex Review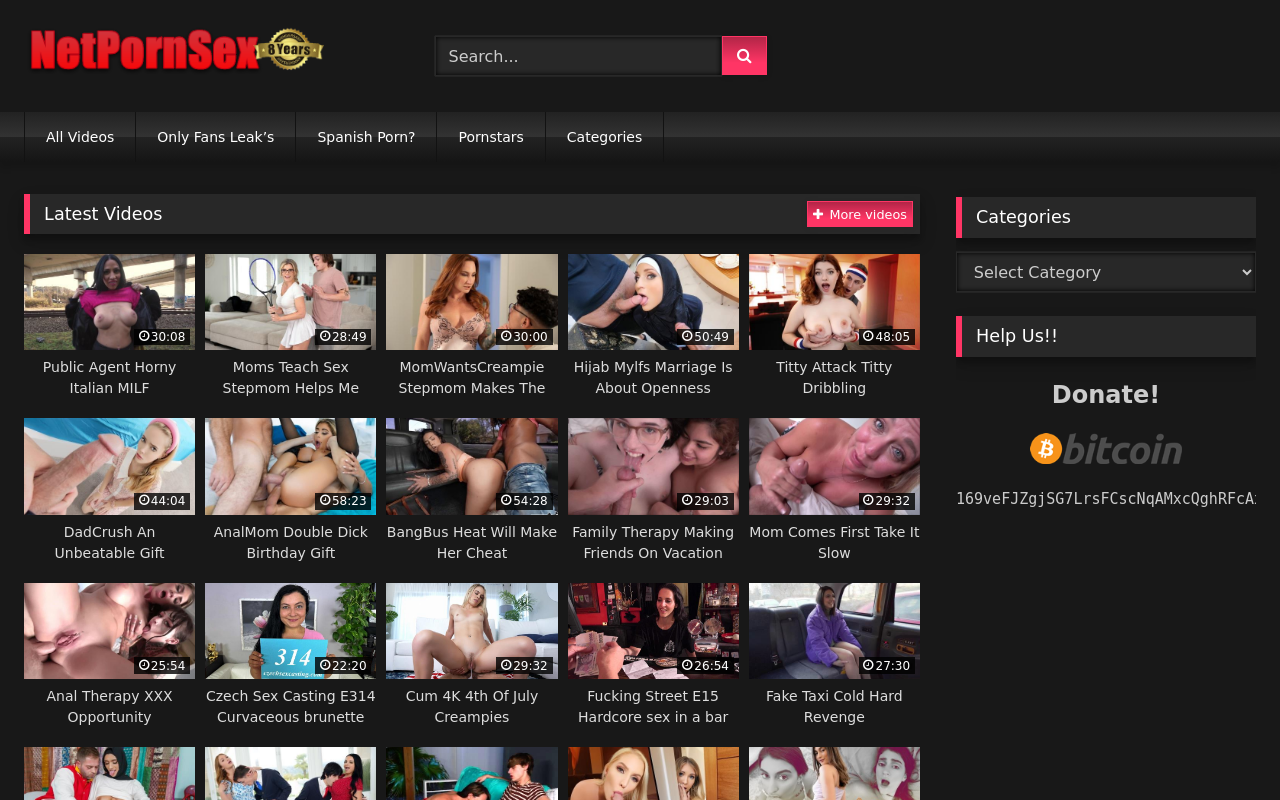 Fetish Dude reviews Net Porn Sex
With so many tube sites out there on the Internet, it's always a struggle to find out what places are good and which ones suck. In this review, Fetish Dude is going to be looking at a hub by the name of NetPornSex to see how it stacks up against the competition. I've always wanted to be able to completely cover the best tubes out there and in order to do that, it makes sense that I have to visit all of the major players. So, without wasting any more time, let's get down to brass tacks and see how NetPornSex stands up to my scrutiny.
The NetPornSex homepage
When you land on the homepage here, you'll be presented with a large number of preview panes devoted to showing you scenes that NetPornSex has to offer. As much as I'd like to be able to tell you if these are sorted based on popularity, rating, view count or upload date, there is no indication as to how this area of the website is actually structured, so I've got zero idea what's going on. As for the site's preview panes, they consist of a relatively minimal combination of a thumbnail, view count, length and title. I'd say that they do most things correct here, but I would just like to see the thumbnails increased in size by about 20% or so. I found myself having to focus quite a bit on each one to understand exactly what's going on. That could certainly be improved upon if you ask me.
If you scroll down to the bottom of the page, you'll find a pagination bar that allows you to go deeper through the archives. I did a little math and considering that each page has 50 scenes and the site has a total of 249 pages, that's just over 12,000 videos currently inside for you to take a look at. While it might not have the biggest collection of porn, I don't think it's a stretch to suggest that you're likely not going to touch even 10% of the uploads that are available here, so as long as they're a semi-decent bunch, things ought to be fine from here on out.
The pornstars of NetPornSex
If you're like Fetish Dude, you're always hoping that any place you visit has the ability for you to look through pornstars that the site features. There is a page here for models, but I'd argue that the overall structure of the area leaves a hell of a lot to be desired. My primary complaint is that they're sorted alphabetically first, but since so many girls shown here only have 1 video, it's hardly convenient to scroll through all of them to find the girl you want. In addition to that, there are no thumbnails, so you can't put a face to a name – pretty important for dudes that don't spend all day jerking. They really need to add the ability here to look at girls with images and more importantly, have a popularity or video count sorting function so you can see who the major girls in the business are. Although NetPornSex has profiles for the likes of Alina Lopez, Katie Morgan, Kelsi Monrie and Elsa Jean, it's not so easy to find them through a bunch of girls who just have one scene and didn't really do much in the business.
Category access on NetPornSex
Although there is a 'category' link here in the header, it turns out that this website uses the area instead to look at channels instead of direct fetishes. What are channels, exactly? They're the studios that output content and show you the finest babes around who're addicted to sucking and fucking in front of a lens. You'll see names such as 8th Street Latinas, Czech Fantasy, Mom Is Horny, Hunt 4K and Fantasy HD here. It's all cracking stuff and I must admit that their sources of smut are some of the best I've come across.
My conclusion on NetPornSex
I wouldn't say that this is the best site I've ever come across, but I also don't believe that it sucks either. NetPornSex is one of those middle-ground porn sites that has a hell of a lot of material and the major selling point here is the ability to download without having an account. Ideally, I'd like to see a few improvements made before I bumped this place up on my rankings, but how it stands right now is more than enough to get an endorsement. So, in short, do yourself – and your cock – a big favor by heading on over to NetPornSex and accessing some of the best porn around. Thanks for reading and may your next hog squeeze be the most enjoyable yet!
Great HD porn
Pornstars section
Can download scenes
Average archive size
Bad design choices