Motherless Review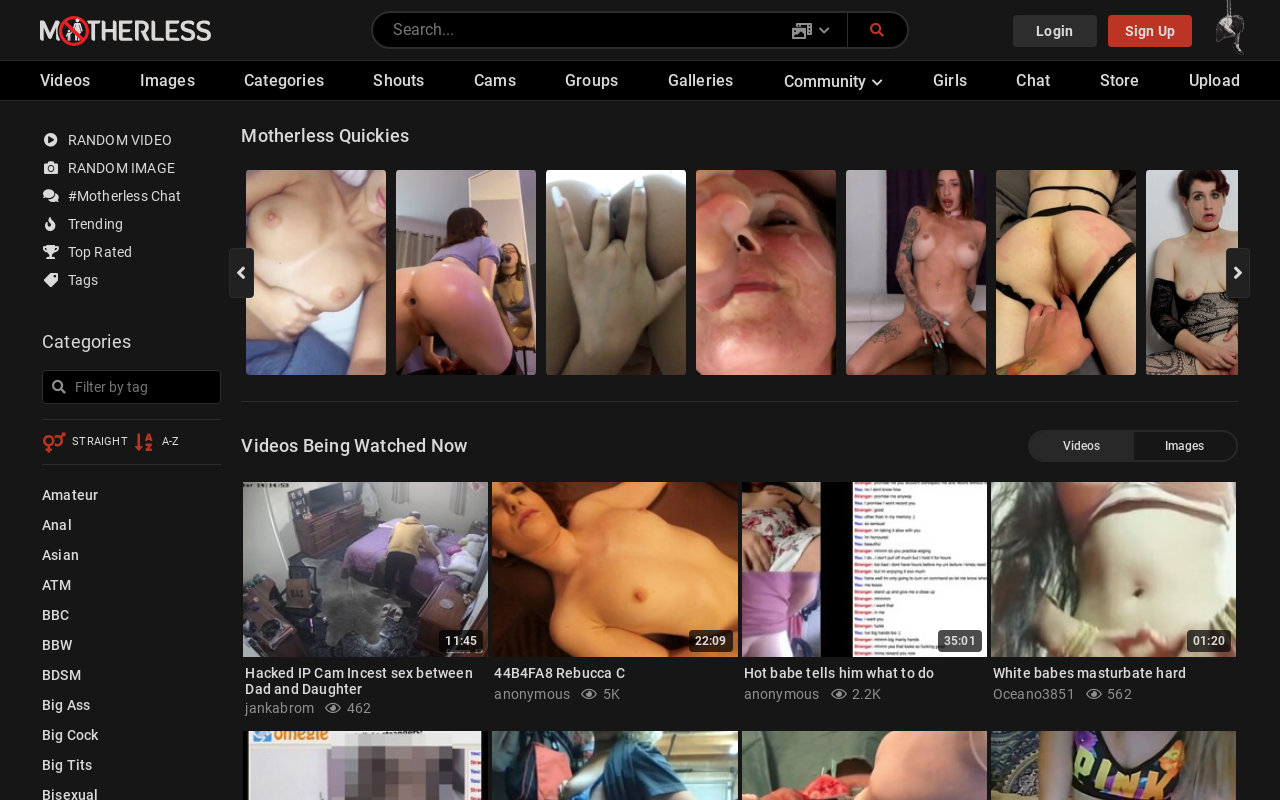 Motherless – a review by Fetish Dude
Motherless is one of the most popular tube sites out there on the Internet right now, although I should stress that this place isn't for everyone. It's also what I'd describe as being one of the biggest sex communities that isn't strictly about the tube-style approach to content access. Sure, Motherless has a bunch of videos for you to check out, but they've also got a lot of videos, active membership boards and a chat room if you want to get down to some nasty chat. It feels more like an amateur community as opposed to anything else and that's very evident when you look around the database. Anyway, enough talking flat: I want to get into the meat and bones of Motherless to tell you exactly what's going on here and what you can expect to get if you visit.
Fetish Dude's thoughts on the Motherless homepage
When you hit the homepage of Motherless for the first time, you'll be presented with a list of the 'Motherless Girls' right at the top of the page. These are images of chicks who've had the site's name written on their tits (or ass) and upload the content to the site. This is what I mean when I refer to the amateur community here: lots of girls like sharing their bodies with the world. A lot of them are what I'd describe as being particularly slutty and submissive too. Motherless has as bit of a reputation for the depraved and the nasty, so if you're not prepared for that, it's probably best that you go look for somewhere else to get your hands on adult material. This is a rough spot with a lot of nasty stuff going on – although naturally, everything here is 100% legal! It's another question entirely as to whether the content ought to be in the first place, but these guys love the sick, the twisted and the bizarre. It's part of the appeal of Motherless and I don't think that the community over there would have it any other way.
As you scroll down the homepage, you'll eventually come across what I consider to be the best part of Motherless: the 'most favorited videos' section. The preview panes for these scenes consist of a preview thumbnail, title, length, uploader name, view count and finally, upload date. What's quite interesting about Motherless is that they've got scenes here from 2009 that still somehow make it to the homepage and as you'll see, they really do like to focus on the amateur smut that's out there. While professional shoots make their way through every so often, it's hardly the focus of their operation. This also reflects in the objective quality, but I want to devote a whole section to that, so let me do so!
The quality situation on Motherless
I won't mess around here: out of all the top, say, 50 tubes out there by number of visitors, I think it's fair to say that Motherless has the lowest average video quality of the bunch when it comes to objective metrics. What do I mean by this, exactly? Well, in essence, when you hit Motherless, you're going to get a lot of 480p videos. Sure, they might house a few HD scenes, but those are pretty rare and for most people, they're just going to accept the fact that world-class content won't be here for a long time to come. I'd wager that Motherless won't even bother to have 4K videos by 2025 – that's just how behind the times they are with the videos on offer here. But, on the flipside, they load super quickly and you're always getting something interesting, so it's swings and roundabouts in the grand scheme of things. Ultimately, the decision of whether or not you want HD footage is entirely up to you. If you feel like it's something that you cannot live without, then by all means, go hunting for an alternative. Motherless is probably not going to have you shooting the ropes that you feel you ought to!
Motherless categories – a closer look
When you press 'categories' at the top of the site, a dropdown will appear with around 100 or so popular niches that you might want to check out. These include things such as Asian, ebony, lesbian, MILF and teen to name but a few. What a lot of other places don't have that Motherless does is a section for 'extreme' categories, so go ahead and click on that if you're looking for something that the other places won't give you. What will you find here? Pissing, femdom, pregnant, forced orgasm, enema and scat to name but a few genres. Fetish Dude isn't in the business of judging so I'm just going to let you go ahead and explore this area for yourself. Don't say for a second that you weren't warned, though: things can get pretty nasty here and that's part of the whole appeal when it comes to Motherless! They've got a lot of low-grade scenes and plenty of amateur material that's going to blow your mind. I feel like they also have a bigger focus on galleries than some of the other places, so if you like photos, be sure to head on over to the 'images' tab and the webmasters here will sort you out with what you crave.
A final thought on Motherless
It's fair to say that the Motherless isn't for everyone, but if this is the type of thing that interests you, then few places come close to offering the same experience. Motherless has been an incredibly popular place over the years for people who want stuff rough and weird, so as long as you're willing to sign up for that, go right ahead and visit! The community here is a major selling point and if you like to talk shop about porn and share your own content, I don't think anywhere is going to be as good as Motherless. Bottom line: if you like bizarre and amateur sex videos, one of the best spots online to get it is from Motherless.
Thanks for reading this exclusive Fetish Dude review. Now go right ahead and jerk off to Motherless and its porn tube goodness today!
Lots of amateur uploads
Huge community features
Extreme categories offered
Lots of adverts
Low quality videos