MofoSex Review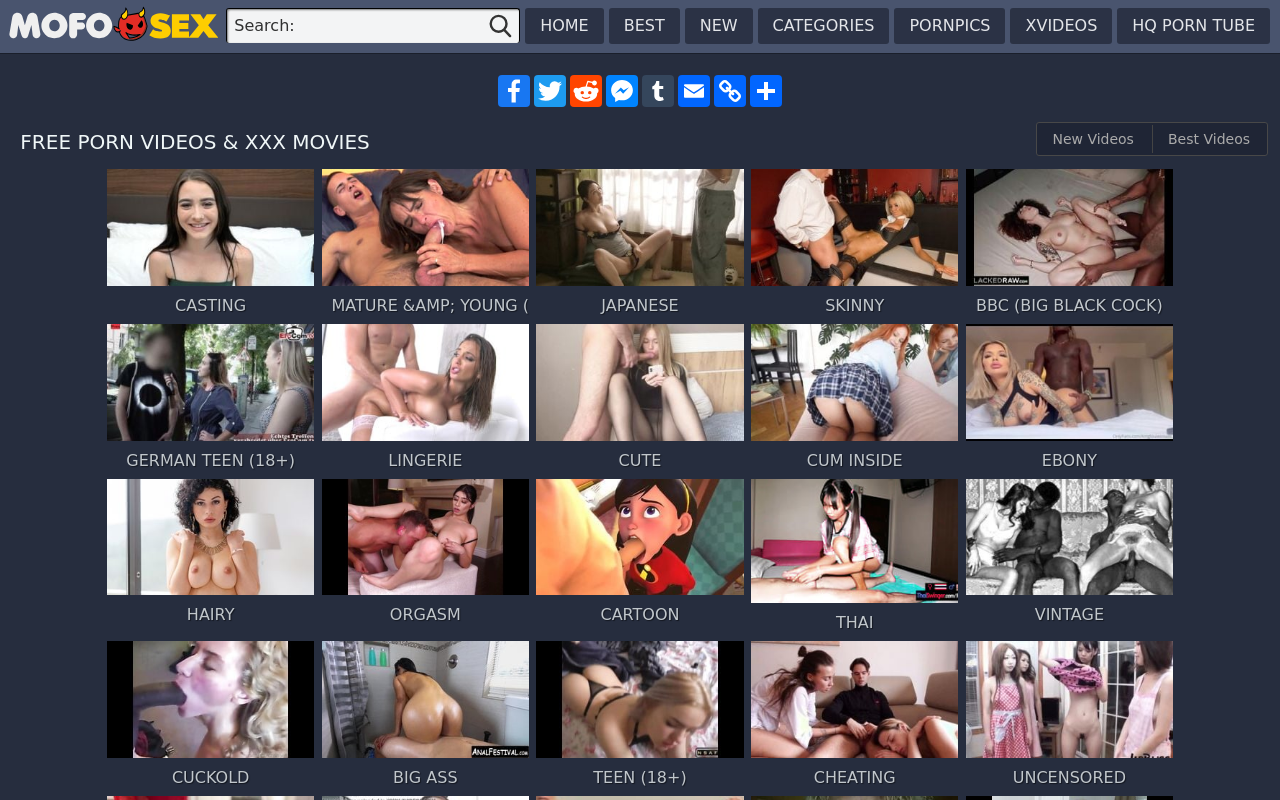 Fetish Dude visits MofoSex
Hello friends – you know what time it is, right? Well, if not, let Fetish Dude explain: I'm here to write up a review on a tube site that may or may not be a good place to go for adult entertainment! The particular project in question goes by the title of MofoSex and I'm anxious to check out exactly what this place has to offer when it comes to making the punters smile. In my full review, will we find MofoSex to be a destination worthy of attention, or a complete shithole that you ought to avoid? Read on and find out – I can't wait to get to the bottom of MofoSex and its interior.
A detailed look at the MofoSex
I'll be honest from the get go here: it's quite obvious to me that MofoSex was designed a long time ago and they haven't really kept up with the modern aesthetic insofar as tubes are concerned. I feel like the whole layout and color scheme is a bit dated, but what I will say is that the navigation here still does the job – it just doesn't look all that pretty. Now the first content block you'll find on the homepage is devoted to popular videos, which I imagine is just a combination of the best and the newest uploads. Scrolling down a little, you'll find a new section that gives you access to the latest videos added to the library at MofoSex.
Preview panes here are relatively minimal: all that you'll see is a preview thumbnail, title, view counter and rating. Perhaps my biggest complaint is the fact that the thumbnails here are pretty damn tiny, so I had to actually zoom in with my browser to have a standard experience. I'd also like to see some type of indication toward if the clip in question is available in HD. Since MofoSex is operated by SpankWire, I really was expecting more from a place that does such great things with its parent project. Perhaps they're just investing all of their time and energy into the mothership? That's fine if so, but they better realize that it's going to directly impact where they appear on Fetish Dude's list of the best porn tubes out there!
MofoSex categories: a good look
Next up, I decided that it was probably best for me to go on over to the site section where we get access to specific genre-based material that'll make our cocks cum until we can't take it anymore! I'm glad to see that all of the usual suspects are here, so you can attack your dick while looking at Asian, lesbian, MILF, teen and BBW porn without a care in the world. There are also sections on MofoSex if you're interested in hentai and shemales, so I think that they've done a good job of giving most horny dudes access to at least something they'll have a preference for. I will state for the record that overall, the number of niches here is probably one of the lowest I've come across for a tube site – just a few dozen at most. Thankfully, you can sort all of the categories based on a number of metrics, including upload date, rating, views and length. It would be nice to be able to combine two categories together for the ultimate level of control, but I fear that this would simply be asking too much from the guys at Mofo Sex. They don't seem all that interested in improving functionality!
Pornstars on MofoSex
I hate to beat this place up over and over again, but man – the pornstars section here on MofoSex just sucks. The way that you need to do it is based on some type of criteria like total video view count, scenes uploaded or average rating – what does MofoSex do instead? It's all in alphabetical order, with new preview images and no sorting features. To be perfectly honest with you, it's probably best that you just don't even bother to visit this page in the first place. Got a name of a broad you want to see in action? Use the search feature instead. In fact, that's what I'm going to do right now to see how well they handle queries that are very specific. Fingers crossed that MofoSex can at least salvage itself with a good search interface, although I won't be holding my breath.
MofoSex – trying out the search feature
I went ahead and typed in "Riley Reid" for a basic test of how well this place did: to be honest, it did exceed my expectations. What's quite impressive is that you can actually do all of the sorting features mentioned earlier after performing a search, so that's cool. My second test was for the keywords "Asian massage", I think that the outcome we got here was pretty reasonable too.
On the content side of the equation, average lengths here are pretty low, with most scenes being between 5 to 10 minutes in length. Ideally, you'd want to slip in some full uploads so that guys can sit here and jerk off until they cum, but it doesn't seem to be a primary concern for Mofo Sex. They don't have the best quality either, with a lot of the uploads only being available in 480p. Perhaps adding a little HD goodness would go a long way toward boosting the user experience.
My final thoughts on MofoSex
Let's keep this short: while you can come here and get a sufficient level of entertainment from the porn videos they house, I think that MofoSex has some serious issues when it comes to giving people access to the goods that they desire. I have a lot of suggestions moving forward and if they can act on the recommendations I've made, there is the potential for them being rated a little higher. For now, it's probably best that you head on back to my review page devoted to XXX tubes and pick out another place. MofoSex just didn't deliver in many places where it ought to – sad!
Free sex videos
Fast loading speeds
HTTPS access
Poor pornstar page
Limited HD footage
Dated site design