MelonsTube Review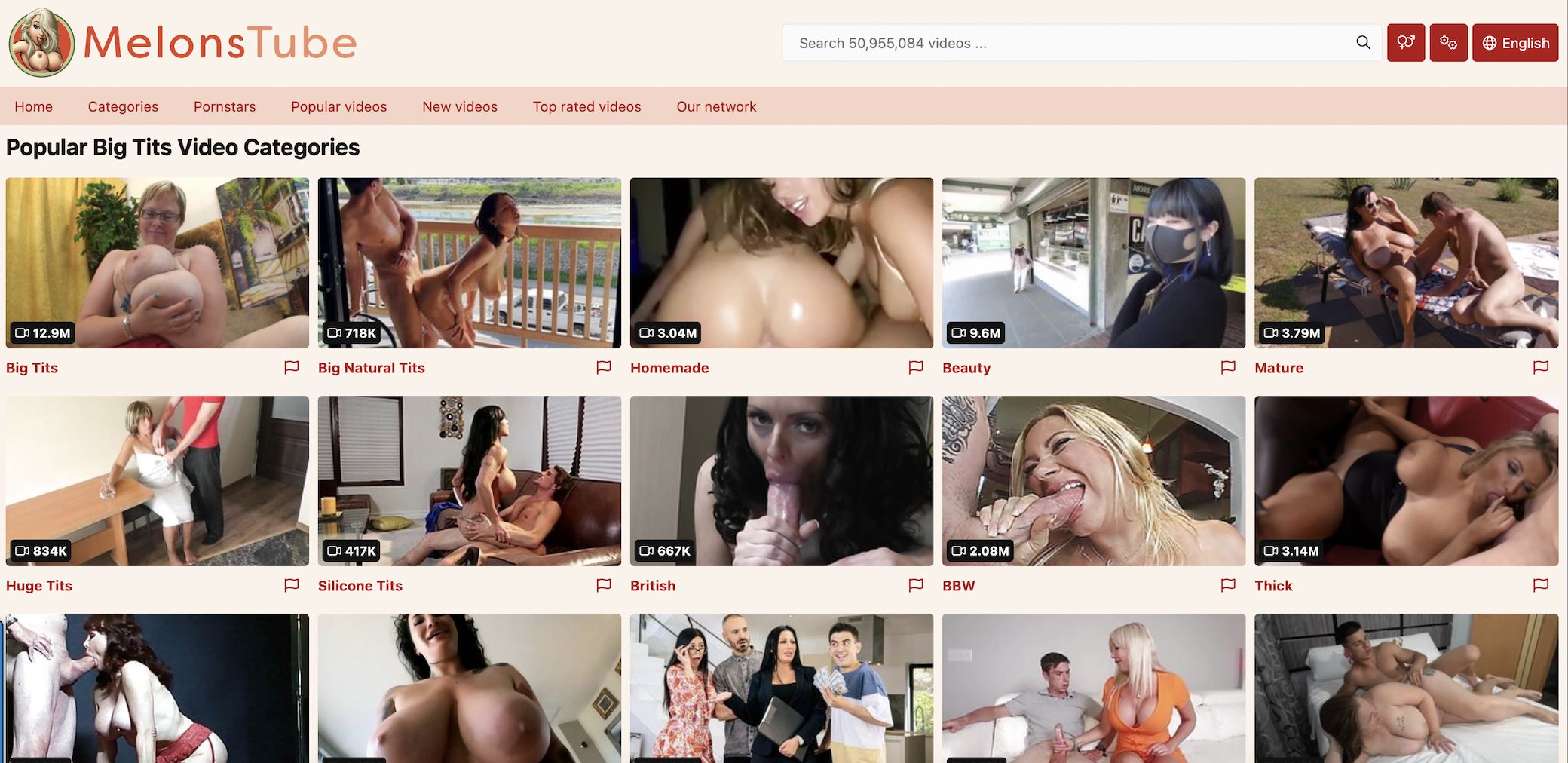 Melons Tube: big titty heaven?
Fetish Dude is naturally one of those people that understand preferences when it comes to adult entertainment and how when you want to see something very specific, nothing's going to stop you getting it. In this review, I want to talk about a free tube devoted entirely to tits and more importantly, big tits! It's called MelonsTube and over the course of the next hour, I'll be checking out their collection of videos, navigating around the site and determining if this is a buy or a sell. So let's not waste any more time talking about reviewing when we can actually kick off with the analysis – read on for my full, professional taken on MelonsTube.
Melons Tube: a homepage analysis
There are two types of tube websites these days: those that give you videos first and those that give you categories first. Because MelonsTube is focused on big tits, they've opted to go and show you a number of different niches that you might be interested in. These include greats such as busty teen, BBW, silicone tits and big nipples. Note that alongside these, you've also got some more mainstream themes, such as lesbian, ebony, hentai and MILF. Although they're allegedly focused around large breasts, it would appear that MelonsTube is more of a general database for smut as opposed to one that caters directly to busty broads. I'm not going to complain about this, but yeah: you will see girls who have essentially no tits getting down and dirty here.
According to the search box of MelonsTube, there are 45+ million uploads which you can look through. This number might seem fake, but it's somewhat accurate. The exact setup of MelonsTube and how they conduct themselves as a business needs to be explained, so let me break down exactly how these guys operate in the next paragraph. Not everything is as it seems!
How MelonsTube works
Instead of being a local host of content, MelonsTube instead indexes material from third-party tubes. What does this mean, exactly? Well – MelonsTube is essentially grabbing uploads from places like RedTube, PornHub, Beeg and so on. So while they technically have millions of clips, it's important to stress that many of these are going to doubled up. The reality of the free video hosting service out there is that most tubes have a huge database overlap issue, where 80% of what you see on one site is also hosted on another. Generally, MelonsTube does a good job of making sure that no two identical videos appear next to one another, but a quick search of 'Riley Reid gangbang' will show that they haven't been too successful in that pursuit. Maybe one day in the future they'll know exactly how to weed out doubles, but for now, it's simply not a thing.
Exploring the categories at MelonsTube
When you decide upon a category, you'll be taken through a new index page which displays a bunch of preview panes with scenes in the niche that you requested. Here, you'll have the ability to sort the content based on a number of different metrics. They're relatively simple in function, but the outcomes can be incredible. Videos are shown by default based on popularity, but you can switch that to date, duration and rating if you so desire. I have to give massive respect to MelonsTube for also allowing punters to filter out anything which isn't available in HD. Selecting this option will only display 720p and above quality content: a killer option for folks who really do care about objective measurements for adult material. Next to that button, you'll also find a list of sources (tubes) that you can fiddle around with. My advice is to just keep all of them, but you may choose to remove some of the lesser-known ones if you're not too sure about their trustworthiness.
The search feature at MelonsTube
I tried out the search feature with a few different requests and found the results to be pretty good, all things considered. The search box will also give you some recommendations based on what you type in, so it's sort of like Google in that respect – fantastic stuff! My test of 'Asian massage' (a regular way to determine how good sites are at this type of thing) returned a bunch of on-niche videos that looked great. Especially the one with Jade Kush getting fucked hard in her oiled-up pussy – hard to beat that, right? Videos also have a 'like' rating, which is great if you want to get a rough idea of just how good the scenes are. All in all, a good porn-facing experience at MelonsTube.
What Melons Tube can do better
In the interest of leaving a balanced review, I do want to touch briefly upon what MelonsTube could do if they wanted to make the site more accessible. Firstly, I feel like the preview thumbnails are just a little too small – they should be increased by a factory of around 33% or so: it's better to have more eye candy, right? On top of that, a section of the site where you're able to look through a bunch of world-famous pornstars would be nice. In the heat of the moment, it can be tough to put a face to a name, which is why I'd like an index page devoted to the likes of Brandi Love, Lucy Doll and Vina Sky.
A final word on MelonsTube
That's about all I want to talk on regarding Melons Tube. I've had a really good time here and I think that anyone reading this who's interested in accessing a lot of porn will feel right at home thanks to these folks. Suffice to say that if you're hunting for a place to access bulk amounts of adult videos, Melons Tube is probably going to be the spot for you. Sure, they have big tit porn here, but more generally they're accounting for all niches. So, in short, grab the coconut oil and be sure to load up incognito – you're going to need both when you decide to utilize Melons Tube!
Huge video indexing service
Plenty of big tits
HD tags on scenes
Advanced search filtering
No pornstar database
Small thumbnails
Third-party hosting