MegaTube Review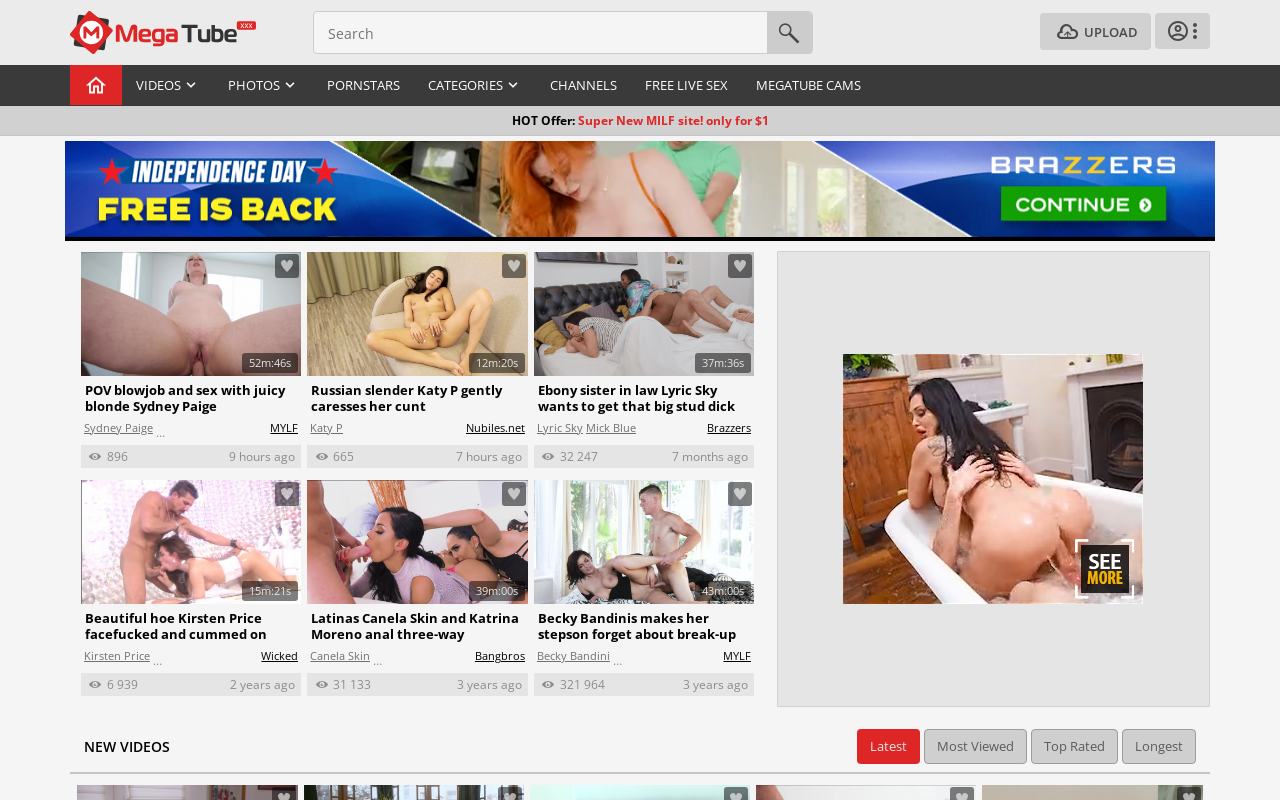 MegaTube: what's going on?
I think everyone knows that if you're looking for porn online, one of the most popular services are free streaming websites. They're like YouTube, only the focus is on giving you access to pure smut that you wouldn't find on the Google-owned clip database. I've discovered a spot by the name of MegaTube and I will say that on the service, it seems like I've opened quite a delicious hub of adult material for everyone reading this to check out. Question is, will MegaTube be worthy of your time, or just another generic site with no bite? Read below: I'll let you know.
Checking out MegaTube
First impressions here are pretty good, all things considered. I'm happy to see that MegaTube has a modern design and has kept up with the aesthetics of the modern era. They're very much in the business of giving you access to top quality videos too: you can tell that by virtue of the fact that they have a few different sorting options available to you on the homepage. In the surface, I do feel like I've come across a winner, but I don't want to speak before I've actually put in the hours here, so let me tell you all about the homepage.
Homepage of Mega Tube
The first content block area you'll come across appears to be recommended scenes, all of which are from reputable studios that have a track record of publishing great porn. Note that these are provided by direct channels on Mega Tube, but we'll talk about those a little later. Further down below these 6 suggested uploads, you'll find all of the latest scenes added to the library of MegaTube. Everyone will be pleased to know that there are dozens of fresh flicks which you can access here on a daily basis. I'm licking my lips looking through the data on these two: it would appear that MegaTube really does care about giving the people who visit fantastic returns on their time investment.
Display of MegaTube
So when it comes to the preview panes for the scenes on the homepage, I think that MegaTube really does nail it. First of all, you've got a well-sized preview thumbnail that when you mouse over it, it'll turn into a preview GIF of the clip in question. This is becoming a popular feature of most tubes and I'm pretty happy that Mega Tube is able to provide it: says a lot about their commitment to being a cutting edge hub for smut, right? Now alongside that, you'll find a title, length indication, pornstar tags, channel source and upload date. For me, the only thing missing is an indication of what uploads are available in high definition. If they did that, I'd be pretty willing to give Mega Tube a 10/10 for design and maximizing the information they convey without making the previews look bulky and unattractive.
Exploring MegaTube channels
One of the things that you might not realize when it comes to tubes is that they derive a lot of their material from third-party studios. This is something that MegaTube does and they've got a whole page devoted to the studios which fuel the jerking here. You'll find some incredibly familiar names, including the likes of Perv Mom, Porn Pros, Fantasy HD, Daughter Swap, Elegant Anal and Family Strokes. As you can tell, there's a real demand here for the hottest incest action around, so if that's something that gets your banana rigid, I think you're going to feel pretty comfortable when you land on over at MegaTube. Prefer to explore by niche instead? Well shit – why didn't you say! Let's check out the Mega Tube categories.
Genre-based access via MegaTube
Hitting the 'all categories' link in the header will take you through to an index page with the most popular porn niches that the site is able to collect scenes in. At the top, you've got the groupings with the highest number of clips, which includes the likes of anal, petite, threesome and amateur. I have problems with this place, though – so don't go thinking it's all peaches and cream. Firstly, a lot of the categories could be combined, such as 'babe' and 'babes' – they're the same damn thing! They've also got what I'd consider to be fairly redundant niches in addition to 'babe', like blonde, ass and blowjob. I mean, almost all videos have blowjobs, and these clips aren't specifically themed around sucking cock – it's just any clip that's got a little dick-in-mouth action. Maybe I'm being cynical, but yeah: there can certainly be a lot of tidying up here. The good news is that you can scroll down to find your more tradition desires, such as public, POV, interracial and MILF.
Viewing clips on Mega Tube
Watching content here is more than reasonable, all things considered. The average length is really high and you tend to get full-length videos, which is good. I mentioned earlier that you don't get a HD indication button: this might just be because all of the scenes are available in at least 720p. I took a random sample of 15 clips and all looked to be available in high definition, although you're not able to switch bitrates or anything: one format is all you get. There is a download button here, but when you press it, nothing happens. Not too sure what's going on there, but they'll hopefully have that fixed up in no time at all.
My conclusion on MegaTube
So, the reality of the situation here is that you do get a decent amount of consumable adult entertainment when you visit MegaTube. Where this place really shines is in its provision of HD clips and moreover, their commitment to professional, lengthy smut. It's because of these factors that I hereby declare Mega Tube to be a top-tier place for you to masturbate. They've got the library of adult sex videos to make sure any horny visitor can bust nuts – if that's not the definition of great, I don't know what is!
Anyway, thanks a lot for reading, friends: come back any time you need Fetish Dude to recommend places to go when you're hungry for some free porn!
Lengthy porn videos
Lots of HD footage
Full channel database
Fast loading speeds
Advert heavy
Limited scene descriptions
Needs more homemade porn