LobsterTube Review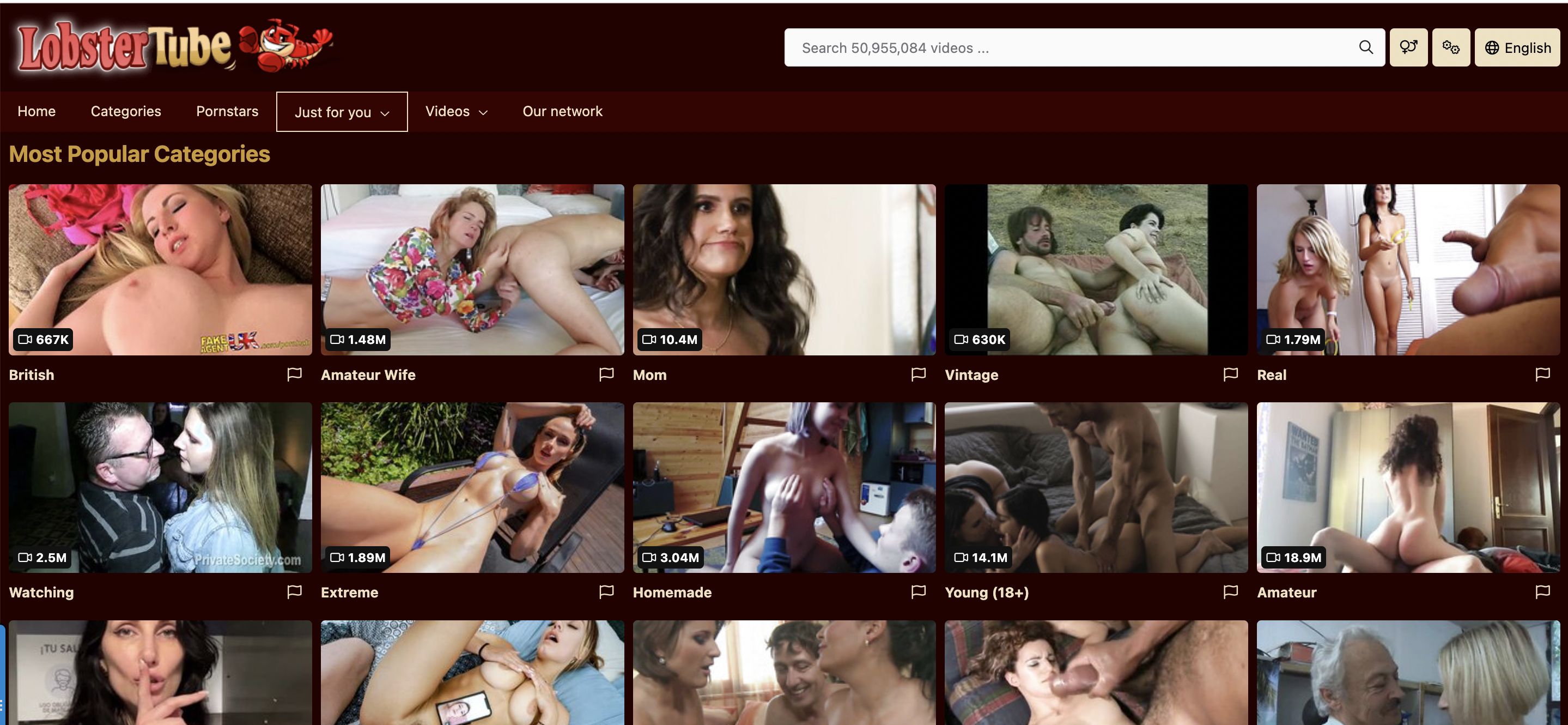 Fetish Dude visits LobsterTube
I know what you're thinking: this is the porn destination set up by Jordan Peterson! Turns out it actually isn't, though: LobsterTube has been in the business of adult material for quite a long time and while I have come across it in passing, I've never actually devoted any reasonable amount of time to checking it out. Today, that changes – in the rest of this analysis, I'm going to look at LobsterTube and what it has to bring to the table for horny punters who want to find a great place to jerk off. Will this hub be worthy of my recommendation, or fall short of anything reasonable? Continue reading and we'll find out soon enough – Fetish Dude is about to give this place his full attention.
Homepage of LobsterTube
After landing on the homepage here, you'll be presented with a list of what LobsterTube refers to as their most popular categories. I'd estimate that around 90% of the screen real estate here is dominated by the preview thumbnails for the genres – not too bad in terms of giving you exactly what you want. Perhaps my only complaint is the fact that they don't seem organized based on what I would have expected. For example, 'real' is the #1 niche here – is that really what most people are clicking on? News to me. Thankfully, they do have more sane suggestions as you scroll down, including Asian, vintage, celebrity, amateur and lesbian. If you scroll down further, you'll uncover yet more niches, but this time a full database of them, so you'll get a bunch of strange ones, such as Indian doggystyle, Turkish, footjob and Asian massage. Not that I'm opposed to this structure – it's always good to be able to get your hands on the exact type of content that you're after. Fetish Dude thinks we all prosper when we specialize – that concept holds true for the adult industry too!
Exploring a niche at LobsterTube
After you decide on a Lobster Tube genre, go ahead and click on it. After doing so, you'll find all of the videos that they have indexed, as well as some advanced sorting and filtering options that make it an absolute breeze to find what you want. Now one thing I do want to mention before going forward is that LobsterTube doesn't actually manage any material locally: they instead source their content from third-party tubes. They tend to rely on the popular choices too, such as SpankWire, YouPorn, Extreme Tube and xHamster. All of the videos that you select will require you to visit a third-party destination, so please be prepared for that – you won't be watching stuff here on LobsterTube.
Now in terms of sorting and accessibility, by default, the scenes are shown depending on their popularity. You have the choice to instead see everything based on its upload date, duration or rating – not too bad if you ask me. Alongside the sorting options, LobsterTube has a bunch of filters that you're able to apply, including the date that the content was added, how long it is, the objective scene quality and finally, the sources. I'd estimate that there are around 70 tubes in total that contribute content here, and you can pick which ones you want to see indexed and which ones to remove. I don't know how many people will actually utilize this feature, but I guess that it's better being there than not, right?
My favorite aspect of Lobster Tube
I really like the fact that you can toggle HD videos here – in the current time period of porn online, I think all sites really must make a stand to forget 480p or anything lower. We have the bandwidth and the storage space to justify making it all 720p and 1080p, so why do so few places actually ensure that you get this? Well, the good news when it comes to LobsterTube is that you can only see the high definition material if you want – sheer perfection. Oh, and I think I should also point out that since they collect material from so many sources, you've got a huge library of porn videos to select from. The Asian category here has 3.3 million uploads alone – this only reduced to 520,000 when you state that HD is what you're after.
The downsides of LobsterTube
Far be it for me to just make ouit that the situation here is all peaches and cream – LobsterTube isn't perfect and because of this, it's actually hard to find all of the scenes associated with a particular pornstar. Now while it is possible to type in a search such as Piper Perri and get results that are accurate, it might simply be the case that a number won't be there. I find this slightly disappointing, so yeah – I think they should have sections and tags for the best girls in the business. You'll also find that Lobster Tube doesn't host the material here locally, so you're going to have to go to third-party destinations if you want to get the goods. This isn't the end of the world and neither of these things makes it rough for me to suggest visiting, but it is important for me to mention nonetheless.
The final analysis of LobsterTube
There are quite a few indexing services like the one offered by LobsterTube, but they're not quite as good when it comes to filtering and sorting, so I think the edge actually has to be given to these guys and their non-nonsense ability to give you what's good. Perhaps the best feature here is the HD filter, because if you're anything like Fetish Dude, you only want the cream of the crop delivered to your computer. After balancing up all of the available evidence, I'm more than happy to go ahead here and recommend that you sign up. I think that LobsterTube has done a great job of giving you access to world-class professional porn with some of the hottest sluts in the business. Don't believe me? Go take a look for yourself and tell me that I'm wrong!
Anyway guys: that's the end of this Fetish Dude review. Make sure you come back to my platform whenever you want the latest and greatest recommendations of adult porn video destinations.
Millions of videos
HD content filter
Very little advertising
Third-party video hosting
No pornstar profiles