Likuoo Review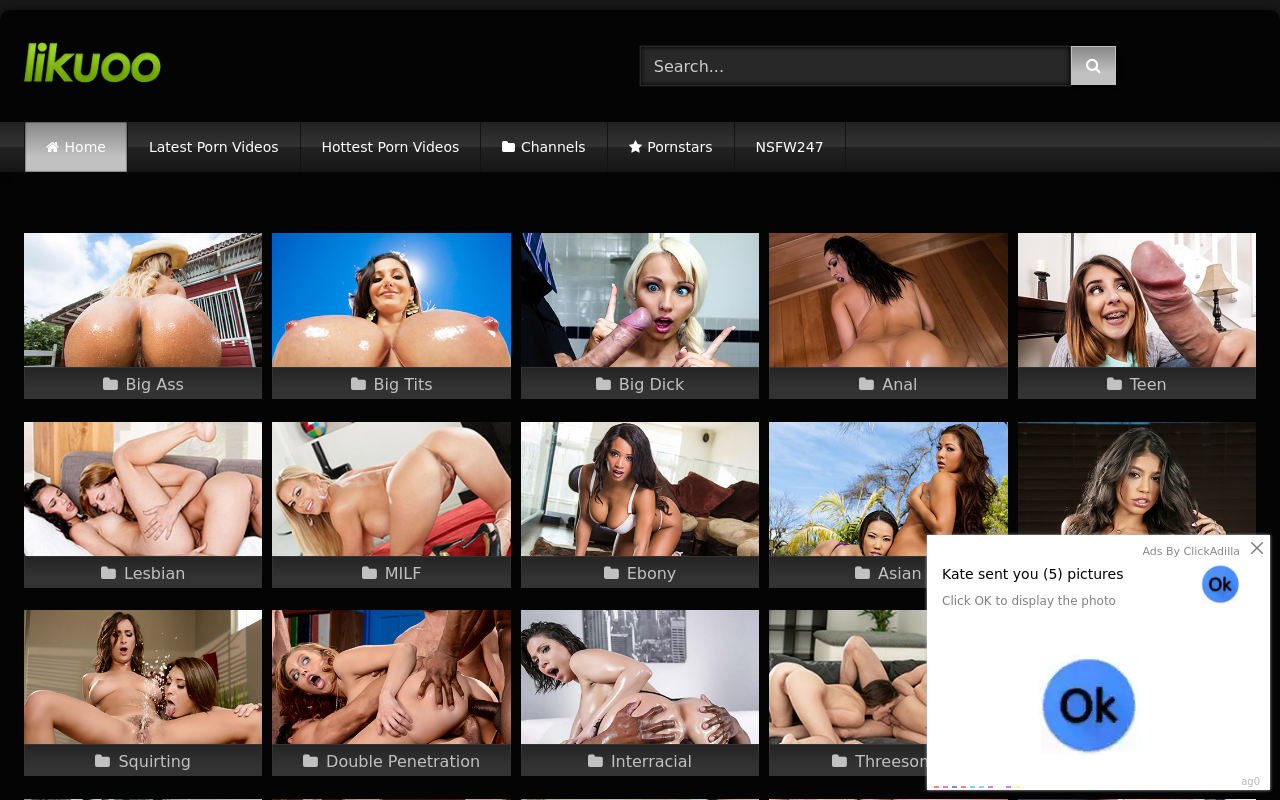 Likuoo: a visit from Fetish Dude
Hello and welcome back to Fetish Dude – the king in the business of porn analysis. I'm set to head on over to a spot called Likuoo for this review in order to determine what it has to offer and whether or not I recommend it for the bulk of readers here who're looking for a place to enjoy porn videos. With so much competition in the online tube space for pornography, it's going to be interesting to see how Likuoo stands up against the other places I've written about recently. With cautious optimism, I shall proceed and see what the deal is – so let's get to it, shall we?
My first thoughts regarding Likuoo
As you might suspect, I'm going to kick things off here with a look at the homepage of Likuoo. Around 80% of the visual real estate is occupied by previews of porn scenes that you can then click on if you want to immediately enjoy some of the content that Likuoo has to offer. By default, these videos are sorted based on when they were added to the platform, so the freshest porn is given to you before anything else – not too shabby. The panes themselves consist of just a thumbnail, title and length: that's literally it. I'd maybe like to see them include a HD tag for scenes offered in high definition, but it's not the end of the world the way it's currently set up.
At the bottom of the homepage you do have a pagination bar, but that's essentially it for this part of the site: except for the categories on the left-hand side of the page! I think it's probably best that I talk about them in the next paragraph, though: I've got a lot to say about the niche access situation here on Likuoo.
Niches on Likuoo
There's no actual page on the Likuoo website that allows you to look at content from a specific genre, which I find to be pretty damn confusing. Almost every single tube I've come across has at least had one to click on, but that's not the case with Likuoo. It's not the end of the world by any stretch of the imagination, but these small accessibility issues can really be the difference between pure erotic bliss and average porn access. Anyway, the niches that you will find here include the like of stepmom, school, maid, babysitter and wife. They really don't have anything which I'd describe as being standard in this regard – really strange. I mean, where are the Asian, lesbian and gangbang links, fellas? I'm scratching my head trying to work out why the site is set up like this.
A look at Likuoo content
I realize now that actually, the categories are available after you scroll down on the sidebar. Fetish Dude is a smart guy, but the fact that I didn't realize this suggests to me that the interface has an issue, not me. At least show a scrolling bar there when I'm not mousing over it, right? Anyway, content here is actually almost completely professional in nature and comes from the biggest studios around, so I hope that you like porn which comes from professional outlets known for their ability to publish world-class fucking videos. A decent chunk of what Likuoo has to offer is also in 720p and 1080p formats – pretty cool!
Pornstars on Likuoo
Right at the bottom of the sidebar, you will see a 'pornstar' click that you can click on to see various ladies who've appeared in productions hosted on Likuoo. I don't know what the default sorting is, but it would appear to be somewhat themed around popularity. I say this because in the first 20 broads, I saw the likes of Natalia Starr, Kissa Sins, Brooklyn Chase and Angela White – doesn't get much better than that, right? These girls are known for their ability to get down and dirty, so I'm glad that they have a bunch of HD porn videos waiting at Likuoo.
The final word on Likuoo
Friends: I think that Fetish Dude is pretty much done here when it comes to his opinion of Likuoo and what it has to offer. I'd like to thank you for reading this far into my analysis and naturally, I am going to sign off on this place as being a good spot to go for horny fellas that want to jerk it to top quality smut. I can promise you that most other tubes won't be much better than this place, so if you don't like what you see, you're a lost cause! Take care and happy fapping – Fetish Dude signing off.
Pornstar catalogue
Focus on HD content
Good preview pane display
Quick loading videos
Average sidebar interface
Low quality thumbnails