LetMeJerk Review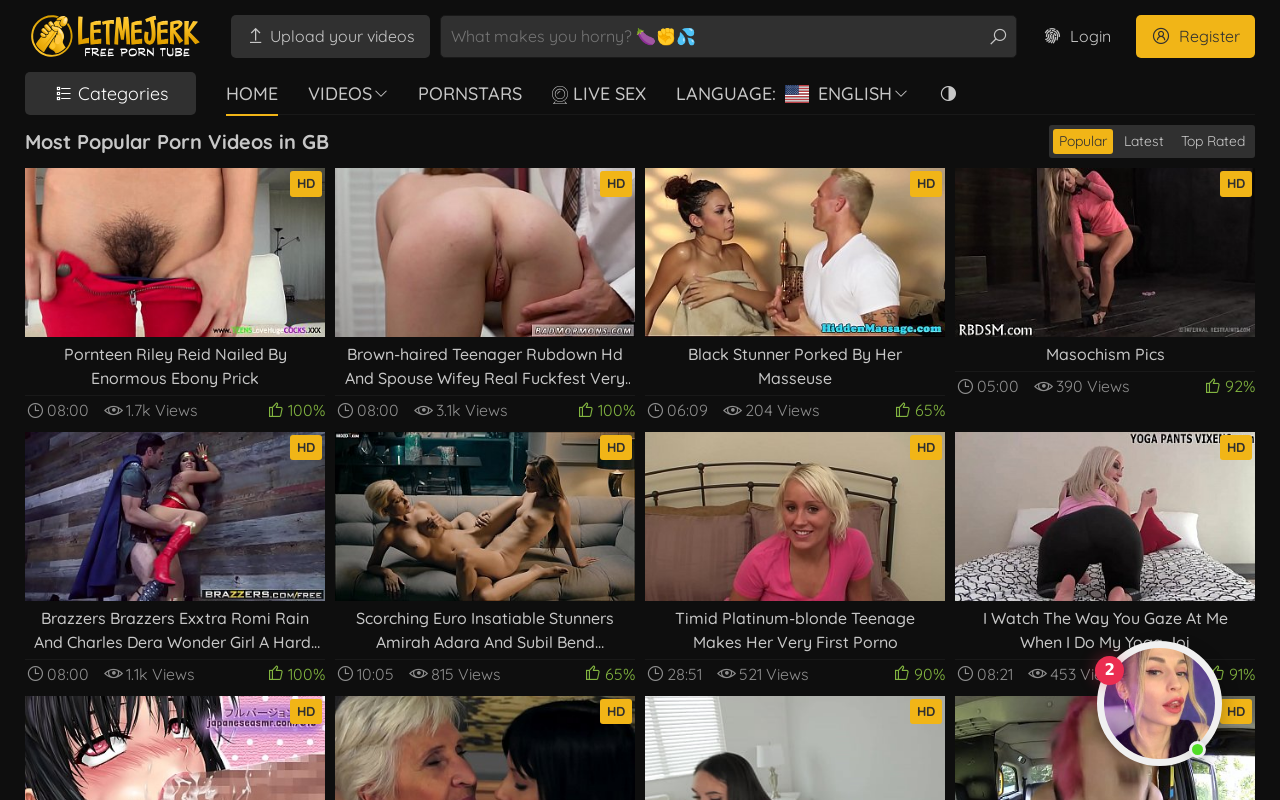 Fetish Dude reviews LetMeJerk
Hello readers: it's Fetish Dude back again with another website analysis! Today, I'm going to be looking at a website that claims to offer free porn videos. Now, while a few years ago, places like this would've been pretty few and far between, the Internet is chock full of tubes these days that all provide pretty much the same service. I'm keen to find out whether or not LetMeJerk is a good place to go for the average punter that wants to enjoy XXX content online. So, let's go ahead and check this place out – I hope you're as excited as I am!
The homepage of LetMeJerk
Let Me Jerk doesn't have the most attractive of homepages, but in terms of layout and function, it does the job it sets out to do pretty well. When you land here for the first time, you'll see that around 90% of the screen real estate is devoted to showing you preview panes from content that LetMeJerk has to offer. These panes consist of a thumbnail, like rating, scene length, view count, title, associated tags and finally, an icon in instances where the material in question can be enjoyed in high definition. I'm generally okay with this setup, although I do think it makes a little more sense just to remove the tags here – I don't know if they really fit the setup. It's not going to ruin the experience, but I think most people are happy to do without those.
Layout and LetMeJerk content
Scenes are sorted by default based on popularity, with a suggestion that these are country-based (as in, people in Australia will have different recommendations to those in France). Note that you'll be able to also hit the 'latest' and 'top rated' buttons in the top right-hand corner if you want to sort based on those objective measures instead. Scrolling down the page just shows some pagination and nothing else, so maybe it's time for us to go and explore the other areas of this free tube. So far, I don't mind what Let Me Jerk is offering, although again, the design could do with a little bit of an improvement.
Let Me Jerk categories
I think it goes without saying that places like this pretty much have to have a section devoted to niches. You never want to create a tube and get caught without a category section, so I suppose it's a good thing that LetMeJerk has us covered in that regard. One complaint from the get-go though: the categories are just listed from A to Z and there are so many of them, so you have to sift through a lot of useless ones in order to get to what you want. I think there should be a main section, with your blue-chip genres such as teen, Asian, gangbang, bondage and lesbian porn. LetMeJerk has hundreds of niches currently, including some pretty boutique options, like self-fisting, long nails, bikinis and delivery guy. Sure, these might appeal to some, but certainly not the jerking majority. I'd also like to recommend that they had thumbnails here: you currently don't have any visual indication as to what you're looking at, which sucks. If I'm in the mood to watch porn, I want some eye candy shown at every possible junction!
Exploring a category click at LetMeJerk
After you select a category, you'll be shown all of the videos that belong to that specific genre. Note that these clips are sorted by relevance, but you can elect to go with popularity, upload date and rating if you want. I think that the popular and rating choices are probably the best: lots of long-term goodness that you can access via these links. Perhaps one of my biggest issues with the category pages is the fact that you can't filter content based on whether or not it's available in HD. Sure, there are tags here for high definition material, but you have to manually check every preview pane in order to determine if they've got it or not. That doesn't seem like the most efficient way to do things, so please, LetMeJerk, include a toggle option which will get rid of anything that's below 720p.
Watching LetMeJerk porn
After selecting a video, you'll be taken through to the embed page that features the action in question. The playback options are somewhat limited, but you've got enough to be going along with here. My only real concern is the fact that you can't change quality, so you'll be stuck with whatever it is they have to offer. You can download content here, but you'll be required to create an account in order to do that. Meta information is somewhat limited and they have no pornstar database to link girls to other uploads – quite disappointing. There are associated tags though, so that makes up for the shortfall somewhat.
Other suggestions for LetMeJerk
Ideally, I'd like for there to be a pornstar area here where you can go and check out your favorite girls in action. I also feel like as I mentioned previously, a HD toggle would be fantastic. In the current year, it's important for dudes to be able to get their hands on the best quality porn possible, which this type of thing would help with. The search could also do with additional functionality, but it's okay as-is and in line with what similarly sized tubes have to offer.
My conclusion on LetMeJerk
So, how would I rate my overall experience at Let Me Jerk? It was incredibly good! Despite the flaws that I came across, I feel like they've done a stellar job of giving you access to world-class content for free. Anyone who visits here is going to find content that they find enjoyable and I don't think we'll ever run out of fresh flicks from the team at Let Me Jerk, since they appear to release regular new content. So, in short, I think it's a good idea to visit LetMeJerk and to enjoy their wide array of XXX videos.
Thanks a bunch for reading and remember to come back to Fetish Dude whenever you need suggestions on the best places around for hardcore porn videos. If you thought LetMeJerk was great, you haven't seen anything yet!
Some HD content
Lots of niches
Downloadable content
Fast loading speeds
No pornstar database
No HD toggle button