KeezMovies Review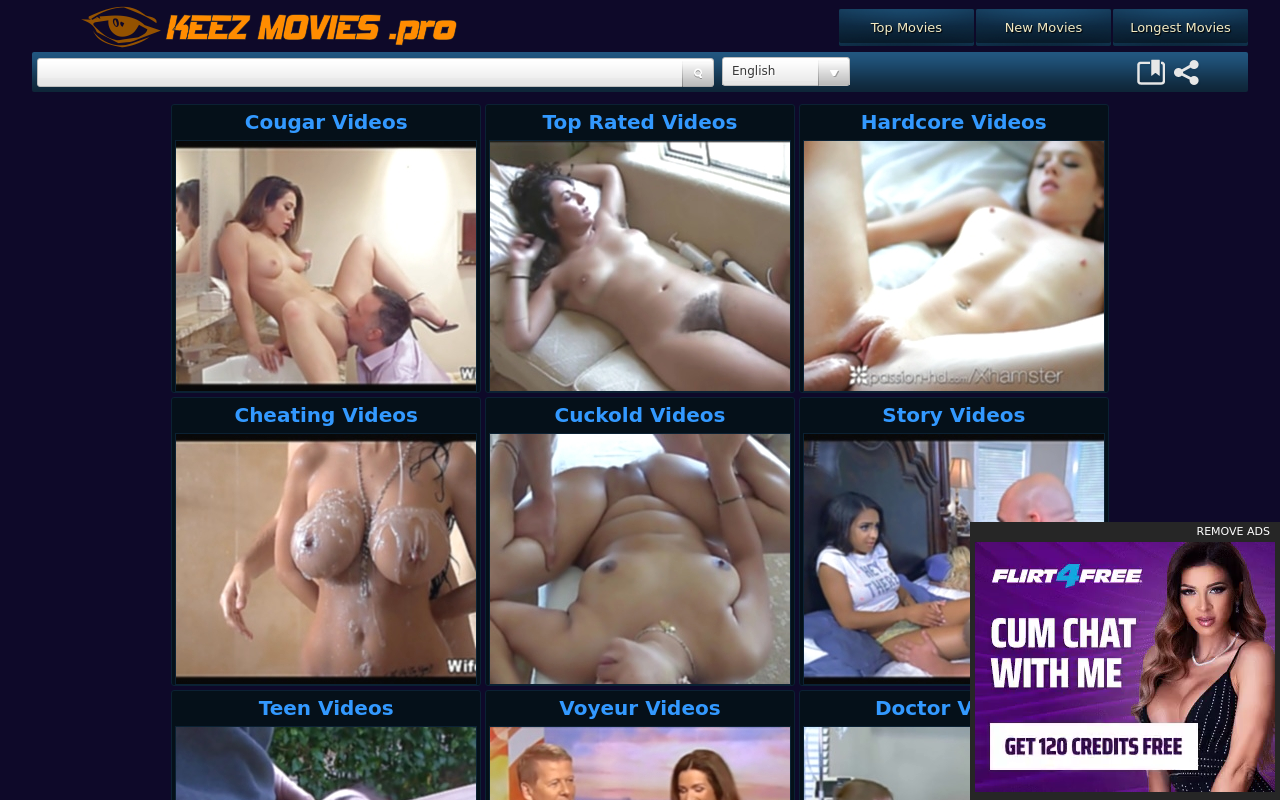 KeezMovies: a professional opinion
With so many free tube services out there, it can be incredibly hard for people to find the hottest spots around to get their hands on the porn videos that they want. Today, I'm going to be talking about a contender for your attention that happens to be pretty popular with the porn addicted masses. It goes by the name of KeezMovies and it's operated by the same folks behind SpankWire – that's a good sign if you ask me! Alas: Fetish Dude doesn't just give out recommendations based on association, which is why I'll take the prudent approach here and give this website my full analysis and critique. Will it survive the wrath of Fetish Dude? Read on – you'll find out soon enough.
A look at the homepage of KeezMovies
I think it's fair to say that KeezMovies deviates slightly from the norm when the first meaningful section of adult material they have is devoted to showing 'hot trending pornstars. It's only a thin strip at the top of the homepage so it doesn't exactly reinvent the wheel, but you'll see some girls here that you might want to check out. Names that it spewed out for me included Nina Rotti, Marta Sanz and Ann Angel – girls I'd never heard of before, but they looked semi-decent and might be worth a session of jerking: I'll keep you informed of how that goes a little bit later. When I say that I'm going to put this place to the test, I really do mean it!
Looking down the page a little, we'll come across a pretty large chunk of scene teasers in a content area dubbed as 'hot videos'. To the best of my understanding, these are clips which are both recent and highly rated by the community: a method I like, since it mirrors what services like Reddit do. When it comes to porn videos, you rarely want the all-time best rated (since you've likely seen them before) nor do you want the latest uploads, but a middle ground between the two is right where the good stuff sits.
Heading on over to the KeezMovies pornstar database
Sometimes, you just want to see one particular girl in action, and Keez Movies assists the porn addicts among you of getting this by having a dedicated part of their website devoted to performers. This section is sorted by default based on ranking, which appears to be a combination of video count, views and potentially rating from the viewers – pretty cool if you ask me. The end results are about in line with what I'd expect too, since out of the top 10 recommended girls, you'll find Madison Ivy, Faye Reagan, Asa Akira and Eva Angelina: these are some of the best names in the business right now and you're in a safe set of hands if you get access to the porn videos here from KeezMovies!
I'd say that out of the top 100 or so girls here, most of them have 50 to 500 videos – some chicks are a little busier than others when it comes to producing smut in front of a lens! The pornstar profiles allow you to also sort the scenes they're tagged in by a number of metrics, including upload date, rating and length. There really isn't all that much missing here, so I feel like it's reasonable for me to give full marks to KeezMovies with regard to their management of pornstars and the porn scenes they've appeared in!
Checking out KeezMovies niches
Since my name is Fetish Dude, it would seem obvious that the categories section is my next port of call – and it is! Here, you're going to find a number of different erotic preferences which you can select and explore. Perhaps my favorite feature is the ability for folks to mix and match their desires, so you can actually pick any combination of 3 genres and have only the appropriate scenes appear. So for instance, I can select 'Asian' and 'teen' if I only want to look at the youngest, freshest Eastern pussy the Internet has to offer. I hate to repeat myself, but the same sorting options offered for the pornstar libraries above also apply here – top stuff in terms of filtering and sorting if you ask me. Fetish Dude loves it when tubes give you ultimate control over what's put in front of you. Since I'm the one masturbating, let me decide what I jerk off to!
The quality and scenes of Keez Movies
The last thing I want to touch on is the content. Let me speak frankly on this topic: you're getting access to thousands of works from a bunch of different countries, studios and models, so it's practically impossible for me to say if subjectively, the porn here is 'good' or 'bad'. It's akin to me going to a library and saying that the writers suck: you have certain expectations of receiving an average (in the statistical sense) experience, right? So instead, I'll state that around 40% of the scenes I found here were offered in 720p or 1080p formats – great for those who actually love to enjoy material in HD. The length for many of the productions is also really high, so if you're someone who wants to sit around for a long-ass time masturbating, then KeezMovies has you covered. Perhaps my only complaint here is the simple fact that you're unable to download content locally, since a lot of it is embedded from third-party destinations – too bad.
My conclusion on KeezMovies
For better or for worse, I think that Keez Movies is a pretty decent place to get porn. They promise one thing and actually deliver, which I think we have to give them credit for. There is no doubt excessive levels of competition in the domain, but KeezMovies seems to hold their own and yeah: that popularity exists for a reason. For me, the feature that really brings them over the line is your ability to multi-select categories. That combined with the high average incident rate of HD sex videos just makes them a good choice for anyone who wants a decent chunk of porn available at their fingertips. Bottom line: KeezMovies is a decent free sex video tube that you ought to visit.
Lots of pornstars
Multi-category selection
Decent HD videos available
Third-party embeds
No download features