JoysPorn Review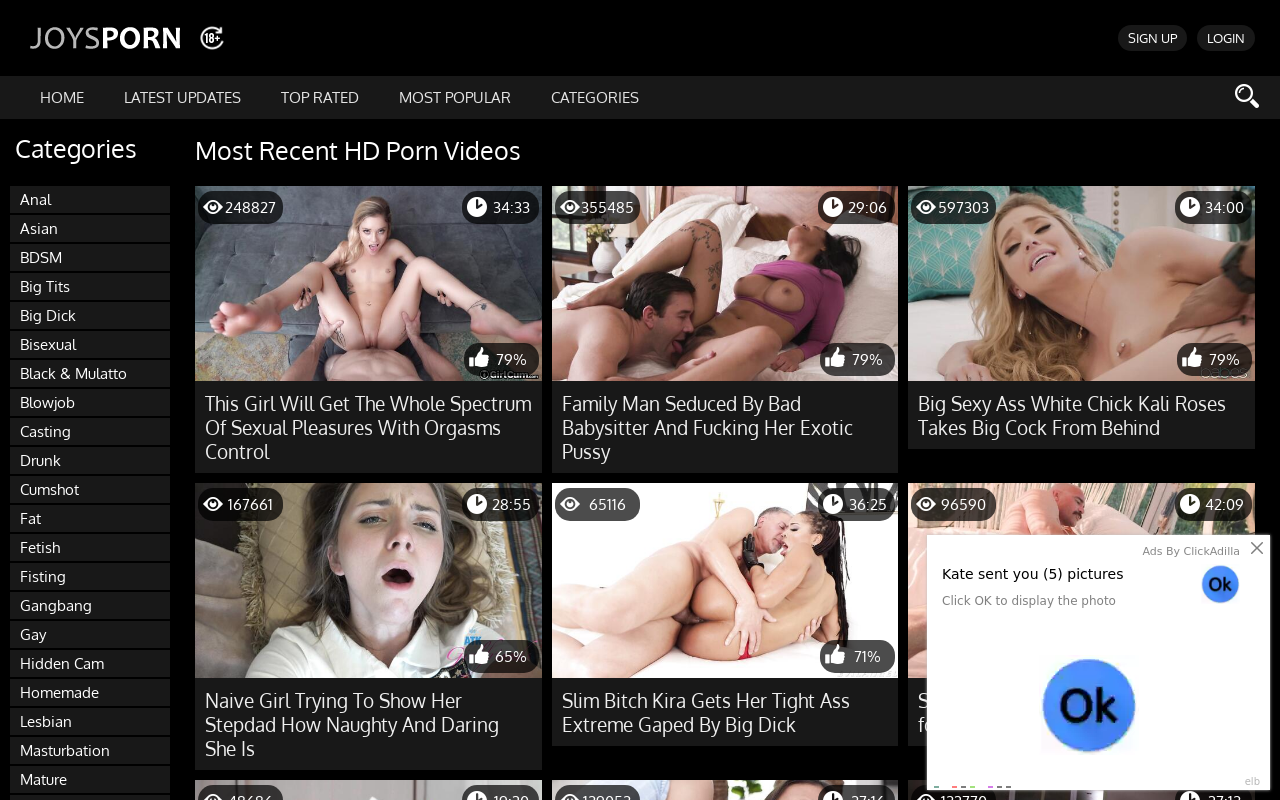 Fetish Dude's visit to JoysPorn
With so many free video tubes on the Internet, it can be quite difficult to find the ones that are worth your time. Thankfully, Fetish Dude has devoted the last few months to writing up reviews on the best places out there so you don't have to do the first-hand analysis for yourself. So, with that in mind, how about I tell you all I found out with regard to JoysPorn? This site looks fantastic from a surface-level look, which is why I'm itching to get down to business and see what it offers for all horny porn punters. Read on if you'd like my complete analysis – it's gonna be good either way.
Fetish Dude's first experience with JoysPorn
As most people coming here will be visiting the homepage as their first port of call, it seems reasonable for me to focus on that above all else. I'm pretty pleased with how it's constructed, since you do see a bunch of the latest uploads here presented in pretty useful preview panes. They consist of a thumbnail from the scene in question, a title, view count and length indication. I'd say that the information they convey is fantastic, except for the fact that they have no HD indicator for scenes offered in high definition. There might be a good reason for that though: JoysPorn claims that all of the uploads they have are offered in HD! Quite the claim and if true, it's big.
Perhaps the only thing I'd change is the thumbnail size. While most sites are generally a little too small, JoysPorn's thumbnails are too large! They have just three across that appear on my 1080p monitor, which could probably go down to 5 without it being too horrible. This isn't a major issue since you can scroll down, but yeah: perhaps just dialing back in the size a tiny bit would make the viewer experience a bit better. I admit it's hard to get the right ratio, but this is surely too large, otherwise most other tubes would be offering it.
JoysPorn: the categories
If you like to look at porn based on categories, you'll be pleased to find out that JoysPorn has a section for you in order to do that. These are sorted alphabetically by default and sadly, you have no option to change this to anything else. The good news is that they only bother with showing you a few dozen of the major players, so you're not getting bogged down with genres that barely anyone wants. Some of the usual suspects you'll be pleased to find out about include anal, gangbang, teen, mature, lesbian and blowjob. They've also got a BDSM section here if you're someone who links things a little kinky, although I do think it's fair to say that even that is a little more vanilla than what you're used to finding elsewhere.
A look at the JoysPorn content
What I really noticed from watching around a dozen scenes here at Joys Porn is that they really do focus on giving you access to full-length videos and yes, they're all offered in high definition too. This is pretty much a perfect situation for anyone who loves HD porn, because not only are you getting a hell of a lot of it, but it also looks magical. Fetish Dude is also pleased to see that you can download scenes locally if you want there to be a copy on your own PC, but you will be directed to a third-party destination in order to get this called Fap Media. Don't worry: you won't need to create an account or anything, and it also allows you to pick the quality, so if you want to go below 720p into 480p or 360p, you can do exactly that. The only thing that I believe to be missing from JoysPorn overall is a reference point for the pornstars – you can't see their pages, so sometimes it's hard to find content from any one performer. Too bad!
Weighing up the JoysPorn experience
While I struggle to determine with a lot of websites if they're any good, in the case of JoysPorn, I think that they're doing a stellar job and because of that, it's getting the official Fetish Dude endorsement. I've spent enough time exploring what the competition has to offer and this place is blowing a lot of the other destinations out of the water, so in light of that fact, it's a no-brainer to say that this place is worthy of a visit. It's especially fantastic for people who love to download HD Porn – so much free smut here to enjoy! Anyway friends – thanks a bunch for reading another Fetish Dude review. Come back any time you need advice on the best sites around, because I'm here to tell you all about them. Peace and love!
Lots of HD porn
Free download feature
Great category choices
No pornstar catalogue
Limited amateur material