iXXX Review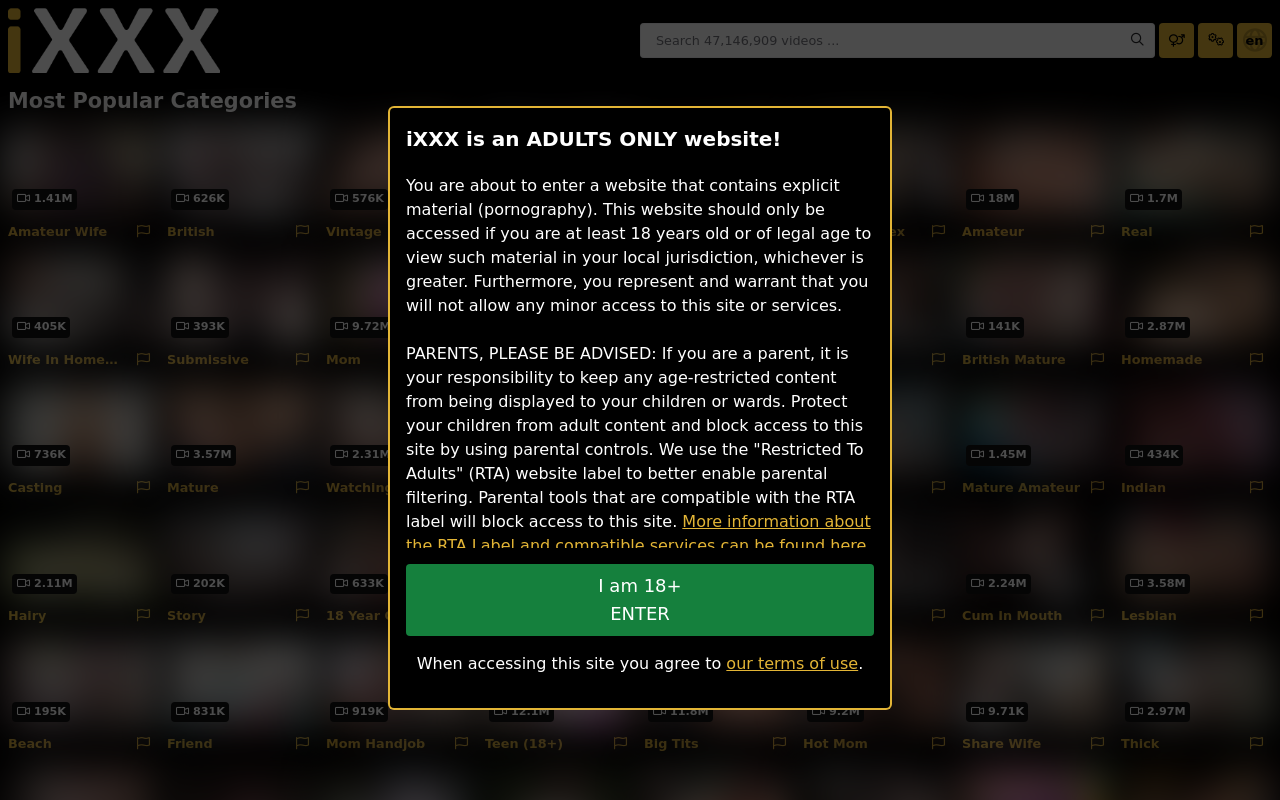 Fetish Dude visits iXXX
Hey everyone – what's going on? Fetish Dude here and today, I'm going to be heading on over to a little tube by the name of iXXX. Do you ever feel like you just want to sit back after a long day at work and masturbate your cock until you cum over and over again? Well the good news is that the guys behind iXXX are here to help you do exactly that! It's pretty crazy to think about it, but they're on the cutting edge of offering you world-class porn, or so they say. I haven't seen it for myself, but I plan to right now – read below and I'll cover all you need to know on iXXX.
First thoughts on iXXX
After you visit the homepage here, you'll notice that iXXX puts a focus on the niches as opposed to the videos as your first contact point. That's fair enough if you ask me, but I often find that this approach for similar websites can have downsides. Those downsides are obvious here, and I do want to go into them, because I feel like so many tubes out there just aren't really thinking all that much about the end user. Fetish Dude has to make this industry as good as it can be, so he won't beat around the bush: let's talk about where iXXX fails.
The categories of iXXX
Like I mentioned, there are a lot of categories here and as far as I'm concerned, they need to do a lot of tidying up so that when people visit, they're actually getting a good experience. My first pain is the fact that the categories toward the top just don't seem like they're all that desired. iXXX has "Real" as the initial niche they offer – what on Earth does that mean? Do you just click here if you're not interested in animated material? Seems like a weird approach to go for. Additionally, they can combine a few of the fetishes, because 'hot mom', 'mom', 'MILF' and 'mature' are practically all the same thing, right? I can't think of any real reason why they'd be in their own sections, so yeah: that's annoying me from the get go.
Another problem is the simple fact that they have a bunch of niches toward the top of the page that just don't deserve to be there. I don't think there's a huge demand for 'amateur threesome' material, so why is it on the second row? Especially when greats such as Asian, lesbian and gangbang aren't featured here. On the whole, I feel like iXXX isn't really paying much attention to their homepage. Lots of work needs to be done here in order for me to get super excited about visiting this particular website.
iXXX: trying out the search
Next up, Fetish Dude decided that it was a good idea to try out the search feature, which I'm going to put to the test by looking up 'Riley Reid BDSM'. The results were pretty good and almost all of the returned links were exactly what you'd expect: this little whore being used and abused like the sex slave she loves being. One thing I will say is that I'm very impressed with the sorting and filtering options once a search has been conducted – let me go ahead and talk you through a little of what you're actually able to do here.
For a start, sorting is available with 4 metrics: popularity, date, duration and rating. I highly recommend leaving it on the popular default, simply because this shows you the best scenes featuring whatever it is that you search. Rating is also good, but often, I find that this can be dominated by a few dudes who give 5 stars to one clip and so it technically has a perfect score. Alongside sort, you can also filter. Included options cover date added, duration, quality and source. The 'source' option here is a little interesting: it's probably best I explain how iXXX functions and what you're actually getting here.
Tube indexing by iXXX
So it turns out that iXXX doesn't host any content locally – instead, it merely acts as an indexing service for third-party destinations. All of the major tubes are archived here, including world-class outlikes such as xHamster, BravoTube, PornHub and Tube8. iXXX lets you watch the content directly from those places instead of having it on their own servers. These types of tubes have become highly popular as of late, since what you really maximize here is your access to scenes. From what I can tell, iXXX is sitting on tens of millions of uploads that you can look through. With so much content, you're pretty much bound to be shooting ropes in no time at all. At least that's how I see things, and since I am Fetish Dude, what I see is the right stuff!
The downsides of iXXX
I don't want to go griefing these guys, but I will mention a few improvements. Firstly, I'd love to be able to see a list of the most popular pornstars. Even if they just manually add 100 or so ladies and link it to a search, that would be great. The reason is because when you're in the heat of the moment, you don't want to be typing and thinking about the girls you enjoy. Instead, just seeing their pictures and then selecting them is the best way to go, right? Oh and the thumbnails here should be slightly bigger – they feel far too small.
Is iXXX worth visiting?
In the previous paragraphs, I have gone to great lengths to explain exactly what's hot and what's not with specific regard to iXXX. What I will propose here is that you check them out for yourself, because I had a great time and I think everyone will welcome their own experience more than anything that I could. It's my honest belief that the tube here is good, but yeah: do yourself a bit favor and go see whether the sexy stars taking cocks hosted by iXXX are good enough to have you masturbating all night long.
Thanks for stopping by and reading yet another top-tier review written by the definitive source on world-class porn: Fetish Dude. Take care and happy jerking!
Millions of videos
Advanced filtering options
Popular videos section
Not many adverts
Links to other tubes
No pornstar database