iWank Review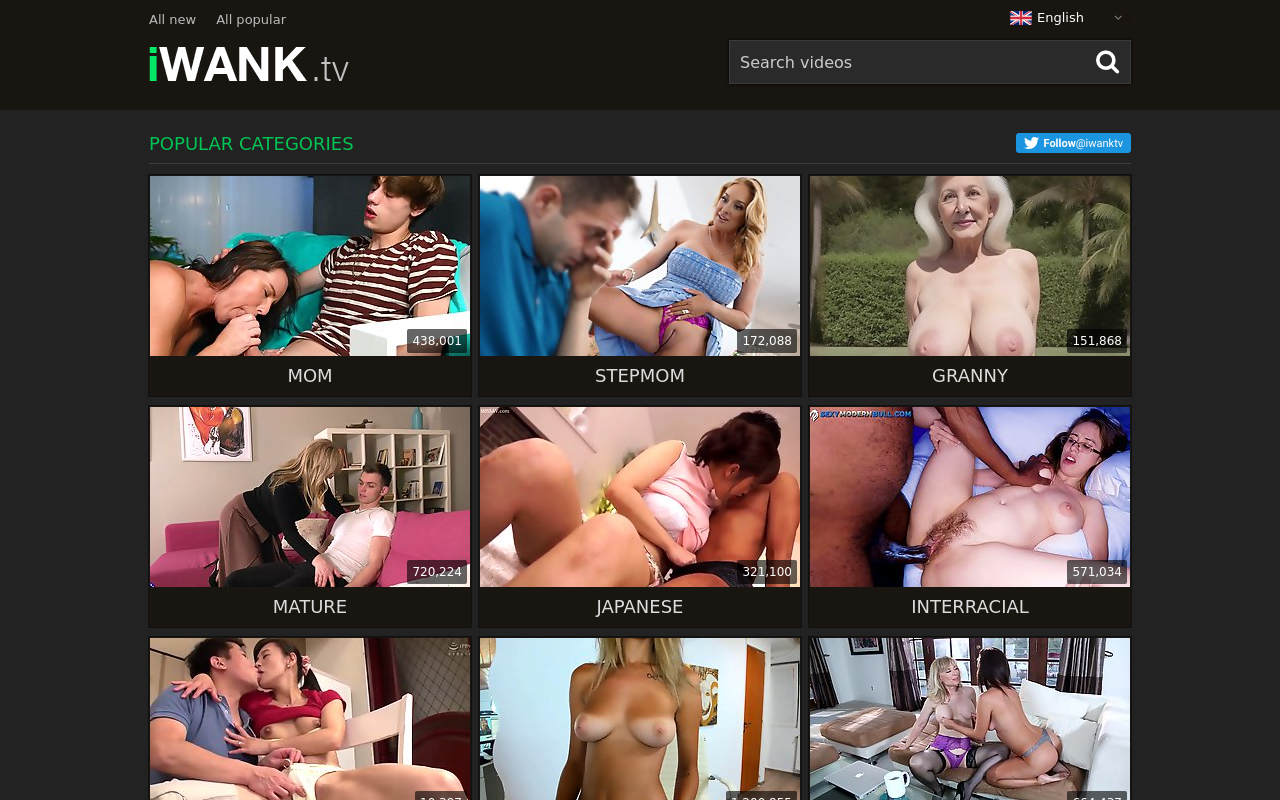 Fetish Dude reviews iWank
What's good, boys and girls? Today, I'm set to go ahead and talk to you all about a tube site called iWank. As you probably already know, I'm one of the main people in the business when it comes to suggesting the best spots out there for you to get a real meaty meal of pornography and erotic bliss. It's my task to take a look at a hub by the title of iWank today: I'm cautiously optimistic about what I'll find here. So, if you're looking for a peach of a place to masturbate, read on and I'll let you know in due course whether or not iWank is the spot to be at.
First thoughts on iWank
So the very first thing that I must talk about when it comes to iWank is the fact that their homepage defies the decision that most of the big spots out there focus on. See, instead of displaying the latest scenes, or the highest rated uploads, iWank instead decides to focus on the niches and genres that you can get access to. That's fine as far as I'm concerned, because naturally, Fetish Dude is someone that wants you to get your hands on the exact type of adult entertainment you want. I'd say that around 20% of the biggest sites on my list do this, although I must admit – it's becoming more and more of a thing: I'll explain why a little later. For now, let Fetish Dude talk to you about these niches.
The genres of porn on iWank
Right at the top of the website, you've got what I'd guess to be the most demanded niches. We're talking about the likes of interracial, shemale, lesbian, MILF, teen and Japanese porn: not a bad assortment of erotic assets, right? The only thing that I figured wasn't quite right was the repeated elements of some niches. For me, I don't think you need to have different places for mom, mature and MILF content, but for whatever reason, these are 3 separate categories on iWank. Couldn't you just go ahead and combine the bulk of them? It seems like such a simple thing to do, although maybe I'm just stupid and don't know what I'm talking about – that's always a possibility. Anyway, the last thing to say on the niches is that they're tagged with numbers and most have over 100,000 uploads. Teen alone is sitting on close to 3 million – so yeah, lots of content.
iWank structure: what to realize
One of the things that you absolutely must realize when it comes to iWank is that they don't actually host any content locally. Their uploads are derived from third-party places, which are all popular tubes you've probably visited before. There are pros and cons to this approach, but generally speaking, I think it's just a different style of tube service. The benefit of spots like iWank is that you get a huge amount of material to look through. Lots of tubes want to compete against one another with huge deposits of porn: why not take advantage of that and search them all at the same time? Seems like a no-brainer situation for me. Do note, however, that nothing here is embedded. Instead, you'll visit the third-party provider of the clip when you click on one. This isn't a huge issue, but it can leave you out of luck if a particular scene has been taken down or whatever else.
Trying the iWank search feature
I'm going to perform a search here to see just how good iWank is at returning very specific queries, so I typed in 'Riley Reid massage'. In return, I did get a few scenes of Riley getting fucked and yes, in some cases, she was on the receiving end (or giving end) of a nice rub. You'll notice when performing specific researches like this that a lot of the tubes have repeated material. Thumbnails don't always give it away, either: they can often have different displays because they're not all the same length or the screenshot is taken at random locations. Overall though, I think that this search was good: iWank doesn't make it too hard for you to get exactly what you want.
Sorting on iWank
You don't have too much by way of sorting functionality here, but you can go ahead and see videos based on upload date or popularity, with a default for the latter when searching and visiting categories. There is also an option to only see long scenes, but I don't know what the criteria here exactly is. With a surface-level analysis, it would appear that anything over 15 minutes in length is considered 'long' – for tubes, that seems pretty reasonable. It basically allows you to trip any previews, trailers and that type of thing, so it's getting a thumbs-up from Fetish Dude!
Downsides of iWank
I always want to balance out my reviews wherever possible, so what is it that iWank lacks, exactly? For starters, there are no model directories here, which means you have to manually type in any performer's name and hope to god that they've got it in the title – if not, you're going to struggle to find the porn that you want. Additionally, I would like to see iWank have a HD toggle. Lots of us on the Internet only have an interest in high definition pornography, so if we click on a video and it's 480p, we're pretty much ready to riot.
My final thoughts on iWank
Is this going to win the award for best website ever? Hell no, but that's not the point. I think the take-home message here should be that if you love enjoying porn videos and want a huge amount of them available at your fingertips, iWank can assist. As the name implies, they're a top-tier provider of smut that'll have you masturbating all night long. Remember: if you're not happy with your time at iWank, you can always go ahead and check out my main category page where I cover the best of the best when it comes to free sex video services. I'm big into this industry and know where you can go to get the best jerking action!
Anyway, thanks so much for reading: may your next porn video viewing experience be a good one!
Millions of porn videos
Sort by popularity
Plenty of niches
Useful search feature
No model directory
Third-party embeds