IMZog Review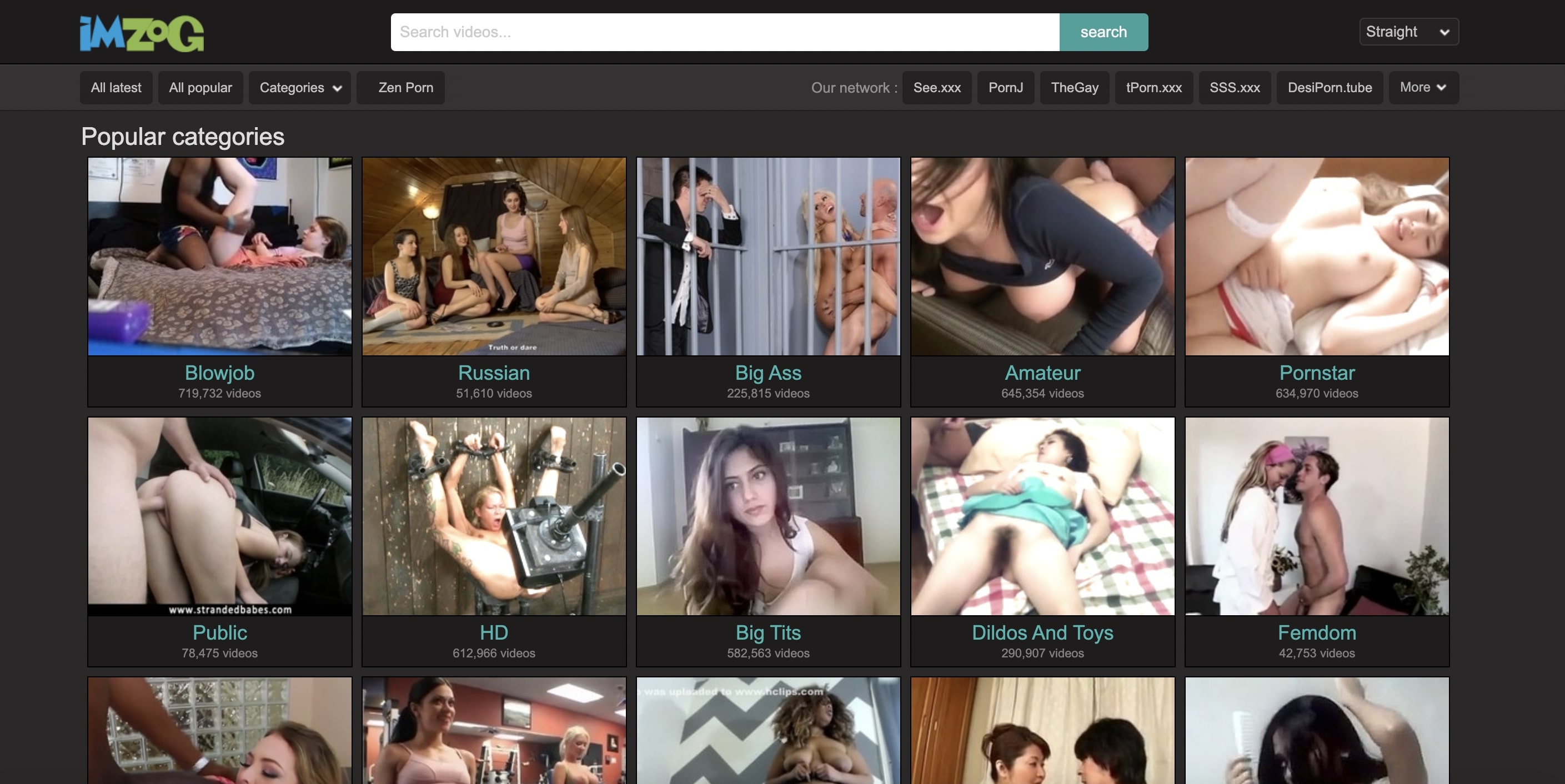 My analysis of IMZog
Fetish Dude is back at it again: today, I'm going to be writing up an analysis on IMZog. This is a tube website and if there's one thing you should know about this particular business, it's that the world of free video platforms is an incredibly competitive one. I'm really excited to see how well IMZog stands up to scrutiny, because my job is to give you guys professional, high IQ reviews of the top spots out there. Will this be a place worth checking out, or should you ditch it for another hub? Read on: Fetish Dude will let you know real damn soon.
Initial analysis on IMZog
In the tube business, you've typically got websites that show you videos first and those that go down the category route. IMZog has opted for the latter, which means upon hitting the homepage, you'll find a display devoted to all of the various porn categories that you might want to check out. These include things such as big tits, webcam, MILF, extreme, femdom, lesbian and anal. Overall I'd say that the niches on offer here are pretty good, but some really do have issues. For instance, videos tagged as close up, friend, pornstar and husband don't make much sense to me. Surely these are too vague for people to actually want to click on? Maybe I'm just clueless, but Fetish Dude is fairly sure these are low-yield requests.
The category drilldown at IMZog
After you pick a niche, IMZog will then go ahead and show you all of the scenes that they have available within that specific genre. I do want to point out that IMZog doesn't actually host anything locally: they gather up content from other tubes and just send you over to them when you're ready to squeeze your hog. There are some pretty popular names here though, including the likes of Txxx, HClips, HDZog and VJAV. One of the benefits of this approach is the fact that you're able to go ahead and look at porn from dozens of different places all in one location. This increases the exposure you have and basically ensures that you're able to get your hands on as much porn as you could possibly want. In the eyes of Fetish Dude, this is one major selling point!
Organization and searching at IMZog
Content is shown by default based on how popular it is, which seems reasonable to me and it's likely what most folks are going to want. Note that at the top of the page, you do have the ability to switch over to the latest releases and the longest videos. These are pretty good if you're in the mood for something that might be uncommon or rarely seen by others. The 'latest' option is particularly preferable, since it allows you to grab the newest smut. They update on a regular basis with new porn too, so if you're someone who gets off to the latest material, this might very well be the option for you.
The downsides of IMZog
I think everyone understand and appreciates that balanced reviews include a little bit of criticism, so let me go over what I think IMZog could be doing a hell of a lot better. Firstly, I'm somewhat disappointed that they haven't got the ability for you to toggle off non-HD content. Some folks only want to see 720p and above, so I think it makes the most amount of sense to include that, especially since other websites do have it. In addition to that, IM Zog hasn't got a section of its site devoted to various pornstars. This seems like an obvious oversight, since I sometimes just want to look at productions that feature my favorite girl. This ought to be fairly trivial to add too, so please – think about including that for all of us horny fuckers that want to watch their favorite broads at IMZog!
A conclusion on IMZog
I don't think that this website brings much to the table in all honesty, but that doesn't mean it ought to just be ignored. IMZog is doing what a lot of other places do, so that's fine and yeah – some folks might just want a low-key hub that doesn't beat around the bush. In that case, it's probably more than okay for you to goa head and access the IMZog database. This isn't the best tube aggregation service that I've come across, although Fetish Dude doesn't necessarily think that it's the worst either. Bottom line: check out IMZog for yourself and if it seems like your cup of tea, masturbate until your cock falls off!
Thank you for reading another professional analysis here at Fetish Dude. Come back whenever you need advice and recommendations on the best places to go for XXX fun!
Lots of adult videos
Plenty of categories
Very few adverts
No pornstar catalog
Third-party hosting