HClips Review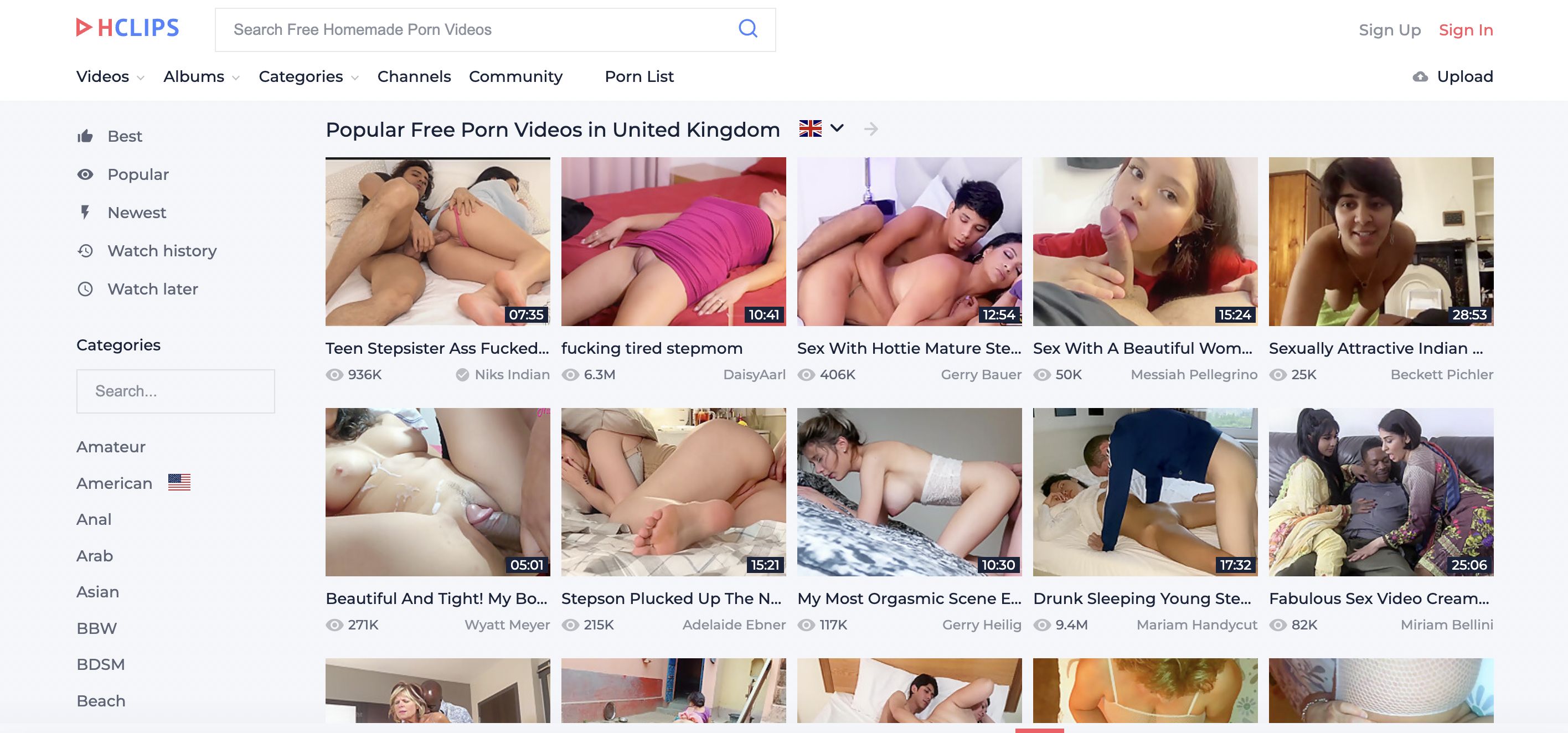 HClips: my professional take
Fetish Dude back at it yet again: you know what's about to be served up by your boy, right? Well, if not – I'm happy to inform you that my platform is devoted to the very best in reviews for XXX websites. Instead of giving you my own smut, I just nudge you in the right direction so you don't have to delay with jerking yourself off. For the longest time, I've been considered one of the leading authorities when it comes to free sex tubes, which is why it's both a privilege and an honor to write my coverage on HClips here today. Find out how my session of porn viewing went by reading on – I'll give you the full story!
First thoughts on HClips
When you land on the homepage of HClips, you'll be presented with a large content area with a number of scene previews embedded for you to take a look at. These preview panes consist of a thumbnail, length, title, view count, uploader name and finally, a potential tag if the video in question has a HD resolution available. Now I know what you're thinking – just how are these clips sorted? Well it would appear that it's based on popularity, but not only that, country popularity! So in short, it'll show you the best, and most recent, uploads based on what people around you are interested in. This isn't a bad method at all, plus you can use the sidebar to sort based on other preferences if you want.
Fancy checking out material based on the number of votes it has? No problem! What about the newest flicks available? Sure, go right ahead. I love the level of interactivity afforded by HClips: I'll thank them for keeping the user experience in mind when designing this place. Note that it's also possible to use the dropdown next to the country if you want to check out what other folks around the world are jerking off over. They cover almost all nation states, including Bolivia, Thailand, Norway and Iraq. I guess no matter what's going on in your country, there's always time for a little jerking fun, right?
A look at the HClips channels
Once you're done exploring the homepage, it might be an idea for you to go and look at the channels offered by HClips. For those unfamiliar with the concept, channels are basically the major studios on the Internet which produce professional material. To give you an idea of what I'm talking about, here are just a few of the channels I found with content on HClips: GF Revenge, Stranded Teens, Asian Sex GFs, Porn Latina and Backroom Casting Couch. One of the best things about this is that they've got a hell of a lot of genres for you to explore, so no matter your specific premium interest, H Clips can probably assist you with jerking off. After you click on a category, you can then go and sort the uploads based on the same metrics mentioned before, which I think is pretty damn cool. Hell, they've even got a HD toggle here, so if you have little interest in anything below high definition, you can get rid of it!
H Clips categories: the genre experience
I have to say that while a number of niches here are shown, I don't think that the overall design of HClips' database is all that neat. One of the biggest sins that they commit is not showing you preview thumbnails of each category, so you're not getting any of that visual appeal as you go hunting for a genre that tickles your fancy. An apt analogy would be you going to a supermarket and all of the boxes being white with black writing – you'd really struggle to get anything that you found interesting, since your eyes would just be seeing the same thing time and time again. Anyway, on the flip side, you've got a bunch of genres here, including teens, amateur, changing room, skinny, squirt and vintage. They also have a 'HD' tag, which allegedly has 384,000 scenes associated with it – pretty impressive.
A look at the content from HClips
I wouldn't exactly say that I had the ability to check out the complete archive of material here on HClips, but I did a good enough job to let you know what's going on. There is a really good mixture of professional and amateur shoots here, with quite a reasonable focus on the homemade material. I've always been a fan of the combination of media styles and since most of the biggest tubes out there don't have amateur videos, this is a good thing for punters who're sick of the professional touch. Average lengths for the uploads is more than acceptable, plus the 'similar' suggestions were bang on. I can't fault HClips in the porn video department: they've got this all covered and then some.
The downsides of HClips
In the interest of balance, I'm going to go ahead and mention a few things here that are less than preferable. The biggest issue that jumps out to me is the fact that there isn't a spot to just look at the pornstars available on the website. I'm not sure what's up with this, but from time to time I want to browse based on the ladies, yet this simply isn't an option with HClips. Going forward, I'd really consider them heroes if they'd include this – fingers crossed, eh? Oh and also give your viewers the ability to download scenes!
A final analysis of HClips
After going ahead and balancing up all of the evidence available to me, I do think it's fair to describe HClips as an accomplished platform where you'll get your hands on a comfortable quantity of juicy, pornographic delights. Adverts here aren't terrible, plus it's not all that difficult to find a scene that really gets your cock hard. As such, this is a clear recommendation from me – I had a lot of fun and I'm confident that you will too. Anyhow, that's all I'm going to say on the topic of HClips: be sure to read my other reviews if you want to check out more great tube websites!
Lots of amateur videos
Plenty of channels
Free sex scenes
No account required
Some adverts
No pornstar database
No download function