GotPorn Review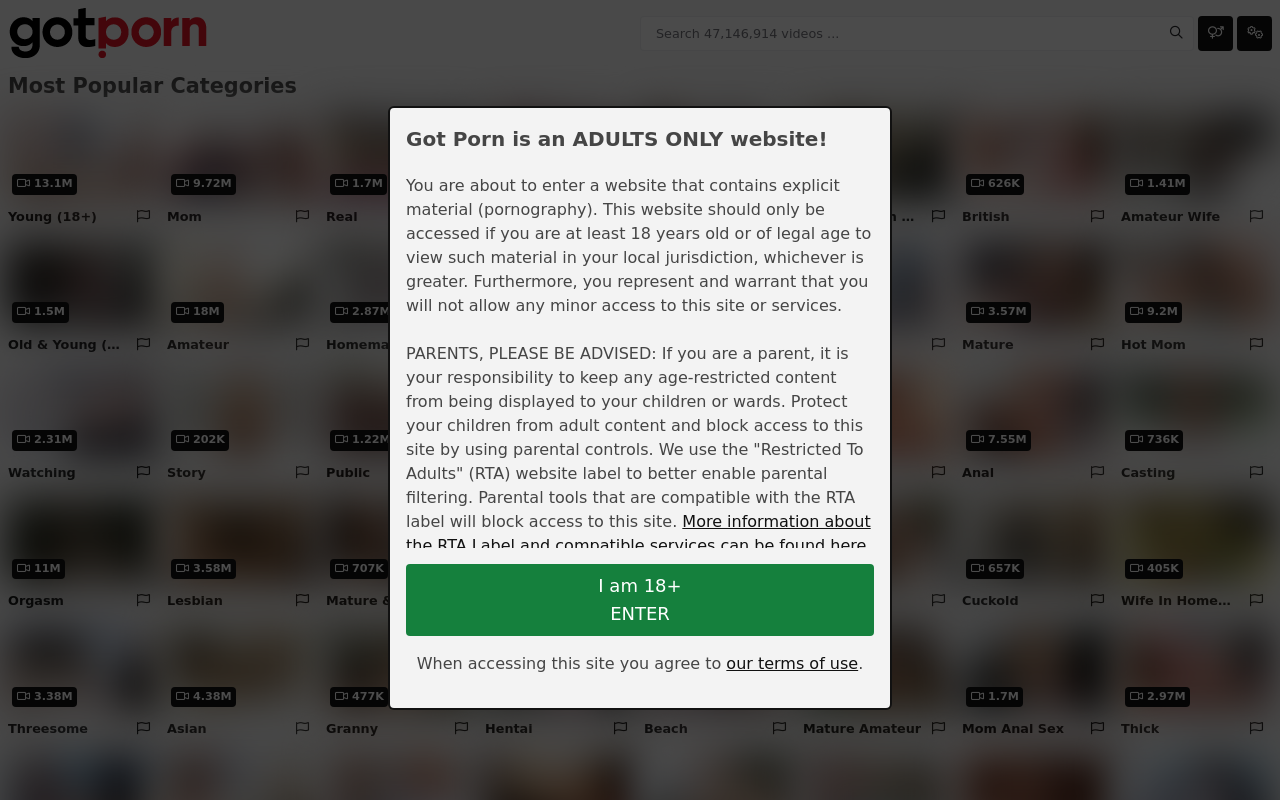 Got Porn: my expert opinion
One of the great things about the world of porn online is that there are so many places out there that are willing to give you access to top quality smut. In today's analysis, I want to head on over to a spot by the name of GotPorn. My purpose is to determine – for your exclusive benefit – what the hell is going on with this site and if it's worth visiting. You should know that Fetish Dude only suggests the best, so if it's clear to me that GotPorn sucks, I'll tell you immediately! For now though, let's adopt an open mind and see exactly what the deal is with this free tube.
Homepage bound for GotPorn
As is tradition, I feel like it's best for Fetish Dude to look at the homepage of GotPorn before doing anything else. I'm glad to see that they stick to the standard method of showing you videos instead of categories straight out of the gate – always sucks when you have to pick your poison immediately without getting a sample of what's on offer! Anyhow, the first content preview area on GotPorn is devoted to showing you what I'm guessing is the latest porn videos that have been added to the archive. I'm not entirely sure if this is the actual organization method they've gone with, but there are no clues as to what exactly is going on, so I'll have to take that as my best guess!
Scrolling down to the next content section, you'll see that this has a header which states it's for 'featured' material. My guess is that these are hand-picked shoots that GotPorn has obtained and believes is worth jerking over. I think my biggest issue is the inability to go from the homepage and actually change what it is you're looking for. What do I mean by this, exactly? Well, suppose I want to look at all of the content on here sorted by length, rating or another metric – it doesn't seem possible. That's too bad, because I know that a hell of a lot of the competing places out there present this functionality for you to fiddle with. Still, the show must go on, so let's check out the niche categories on GotPorn.
The genres offered by GotPorn
If you feel like you know exactly what type of adult material you're looking for, it might be an idea to go and click on the 'categories' page. Here, you'll find a huge number of adult topics that you can select for instant access to sex videos within that interest group. For example, GotPorn has specific locations where you can pick up amateur, massage, gangbang, creampie, celebrity and Asian porn movies. If you scroll down a little on this page, you'll also find a bunch of tags, so if what you want is a little more unique, it might just be offered here. These boutique alternatives include things such as anal fisting, lesbian bondage, long legs and redneck. I think it's cool that regardless of what gets your cock excited, GotPorn can probably provide something that's going to make you shoot ropes all over the place – good to know, right?
Channels on GotPorn
Okay, so you might not be so keen on the niche approach to GotPorn – how about instead, you try checking out the channels? For those who're unaware, channels are basically professional studios that provide GotPorn with a bunch of clips in exchange for exposure. There are lots of incredibly decent outlets here that I'm sure you've seen before. Names include the likes of JAV HD, Reality Kings, Mofos, Naughty America, Anal Teen Angels and Footsie babes. Most of the smut that comes from these guys is all offered in HD too, so if you like things at their maximum possible quality, it's good that Got Porn has you covered and then some.
After clicking on a channel, you'll have the ability to look at all of the associated tags they have, as well as their complete video archives. Many of the studios elect to provide hundreds of scenes to get punters in the mood: if you like what you see, don't be afraid to head on over to the source for an even larger collection of what it is you enjoy. My one and only complaint with the channel system would be that you're unable to sort or filter like you can on most other tubes. This isn't going to make or break your jerking experience, but since it's relatively trivial to include something like that, why not just do it? Seems like a wasted opportunity to me, but maybe GotPorn knows something I don't.
Some changes for GotPorn
I don't want to call these weaknesses, but instead, areas for GotPorn to improve on! First of all, the lack of a pornstar database is really big issue here. If I want to see all of the shoots from Riley Reid, Lucy Doll, Lucy Gresty or Lizzy London, I should be able to do that. I'd also like to point out that there are a few adverts here and they can get in the way of the scene previews, which is a bit of a pain in the ass when you miss a juicy looking thumbnail. Thankfully, they can be closed and it's not too annoying to put me off coming back here.
Is GotPorn a delight? My conclusion
Out of all the tube websites I've reviewed over the last few months, I think I have to say that GotPorn is certainly one of the best. This place isn't perfect, but based on my analysis and experience, it's a pretty good spot that'll help you cum – no questions asked. Perhaps if they worked on their project just a little bit, Fetish Dude could go ahead and bump them up a few places on my list. Until then, it's still a top spot that I think you ought to consider for your daily jerking needs.
Your patronage to this review and indeed, my platform is very much appreciated. Fetish Dude wishes you the best of luck with your next jerking session – I hope that Got Porn was able to assist!
Lots of channels
Good HD content ratio
Scenes can be downloaded
No pornstar directory
A few adverts