Fux Review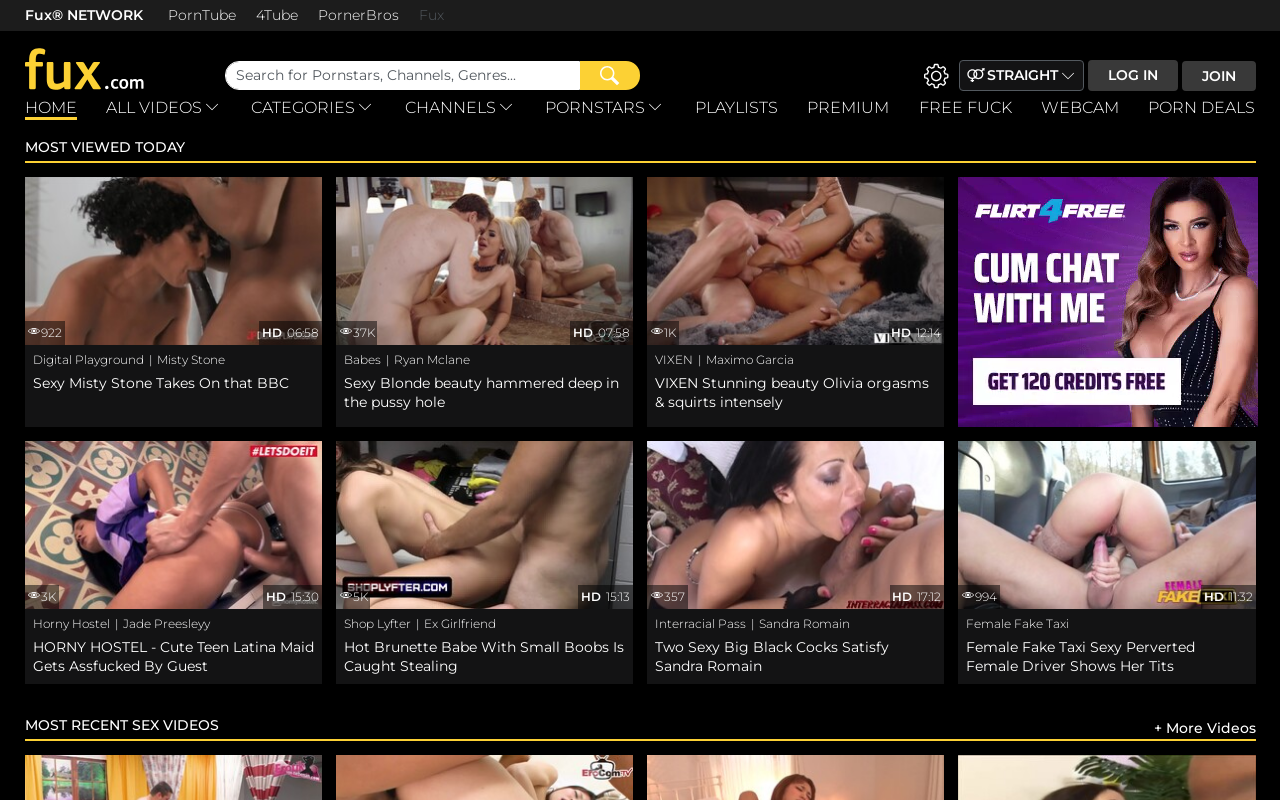 Fetish Dude reviews Fux
Hello my loyal readers – it's Fetish Dude here and oh yeah: you know what time it is! See, for the last few years, I've been putting in the research online to help people like you find the hottest spots online when they want to start playing with their sausages. It's been a long and enjoyable road – today, I'm going to tell you about a new place that I haven't mentioned before. It's known simply as Fux and I don't think I could be more excited to head on over and give my full thoughts and feelings on what this spot has to offer. So, without wasting any more time, let's get into the swing of things and see what Fux is all about. Sound like a plan? I sure hope so!
The homepage of Fux
When landing on the homepage of Fux, you'll come across a pretty standard layout and design that sticks to the basic principle of giving access to the content as the highest priority. There are a bunch of scene previews here, with the default sorting in the top area based upon number of views in the last 24 hours. If you scroll down a little, Fux will then show you the most recent uploads – good if you're the type of person that likes to enjoy fresh flicks. Go down even further and you'll see a bunch of channels that Fux works with, but I think we'll talk about those a little later. On the whole, I do feel like Fux does a good job of providing you with a great pornographic experience: it looks fantastic and they've really got a good thing going for them. I just hope that the content is as good as it looks!
The categories page at Fux
As everyone knows, Fetish Dude is very much a fan of websites that allow you to look at specific categories of material. This is highly important when you've got a genre in mind that you think is going to really help you blow a load. I'm a man of simple pleasures, so when I see a tube site that has a focus on this, I'm naturally excited. The great thing about Fux is that you're able to look at bondage, anal, amateur, fisting, Latina, teen and MILF porn all in their specific areas. I don't know about you, but I'm very much someone who enjoys exploring the world of adult entertainment through predefined genres. That's something which will always get my pecker hard – Fetish Dude is a man that just gets off to being able to control exactly what porn he's watching!
The situation in the genres at Fux
After you pick a genre, you'll be able to go ahead and see the clips sorted by the default model of upload date. Note that at the top of this area, you'll actually see a number attached to the niche in genre, so it's good to be able to get an idea of just how much footage each smutty focus has to offer. Additionally, you'll be able to go ahead and sort by rating, length, views and popularity if those are metrics which interest you. I've always been a massive fan of places that allow you to do this, so props to the development team behind this free sex video tube: they've clearly got a good understanding of what the requirements are for your standard horny visitor. Call me crazy, but I'm pretty happy thus far with what I'm seeing from the folks at Fux. Could this be the best tube around? I don't want to jump to conclusions just yet, but Fetish Dude is getting some good vibes from this hub.
Channels on Fux
If you're the type of person that prefers to look at porn through the lens of various channels, it's a good thing that Fux has you covered in this regard. What are channels, exactly? Well, if you're unsure, they're basically studio names that output premium content for people that want to pay. Sometimes, they give free smut out for tubes to stream and that's exactly the case here on Fux. You'll see content from the likes of Vixen, Passion HD, Naughty America, Family Strokes and Pure Taboo. Essentially, whatever it is that gets your cock nice and hard, Fux is on hand to assist with your desires. They've got a huge amount of content in these areas too – most of the larger studios have well over 500 clips for you to watch, with some places in the thousands! Wild stuff, that's for sure.
The pornstars at Fux
Consider yourself to be someone who's more interested in pornstar action? Well, the good news is that Fux has a section on its site for you! Here, you'll find over 6,000 world-famous girls that really know how to pleasure dicks in front of a lens. Some of the ladies I'm sure you'll be pleased to see here include Janice Griffith, Riley Reid, Alexis Texas, Lexi Belle and Asa Akira. Perhaps my favorite part is that when you do hit the pornstar section, it's sorted by default depending on how many subscribers each girl has, so naturally, the more successful girls are right at the top. Fux also has extensive filtering, so if you want to look at a specific age bracket or cup size, you can. It's also possible to sort based on twitter followers, video counts and number of likes – comprehensive to say the very least.
My final thoughts on Fux
Friends: Fetish Dude doesn't want to beat around the bush any longer, so he's going to go ahead here and suggest that you visit Fux immediately, if not sooner. Their commitment to quality content is clear and their interface is one of the best that I've come across. In short, if you're looking for a great tube that isn't one of the big names, feel free to head on over to Fux now. It's clear to me that they genuinely care about helping you have the best jerking session possible, so what could be better than that? Anyway, thanks a heap for reading and come back to my review platform any time you need advice on the hottest spots around for masturbation greatness.
Lots of channels
Focused on HD videos
Advanced sorting features
Fast loading speeds
Some adverts
Needs more amateur porn