Fuq Review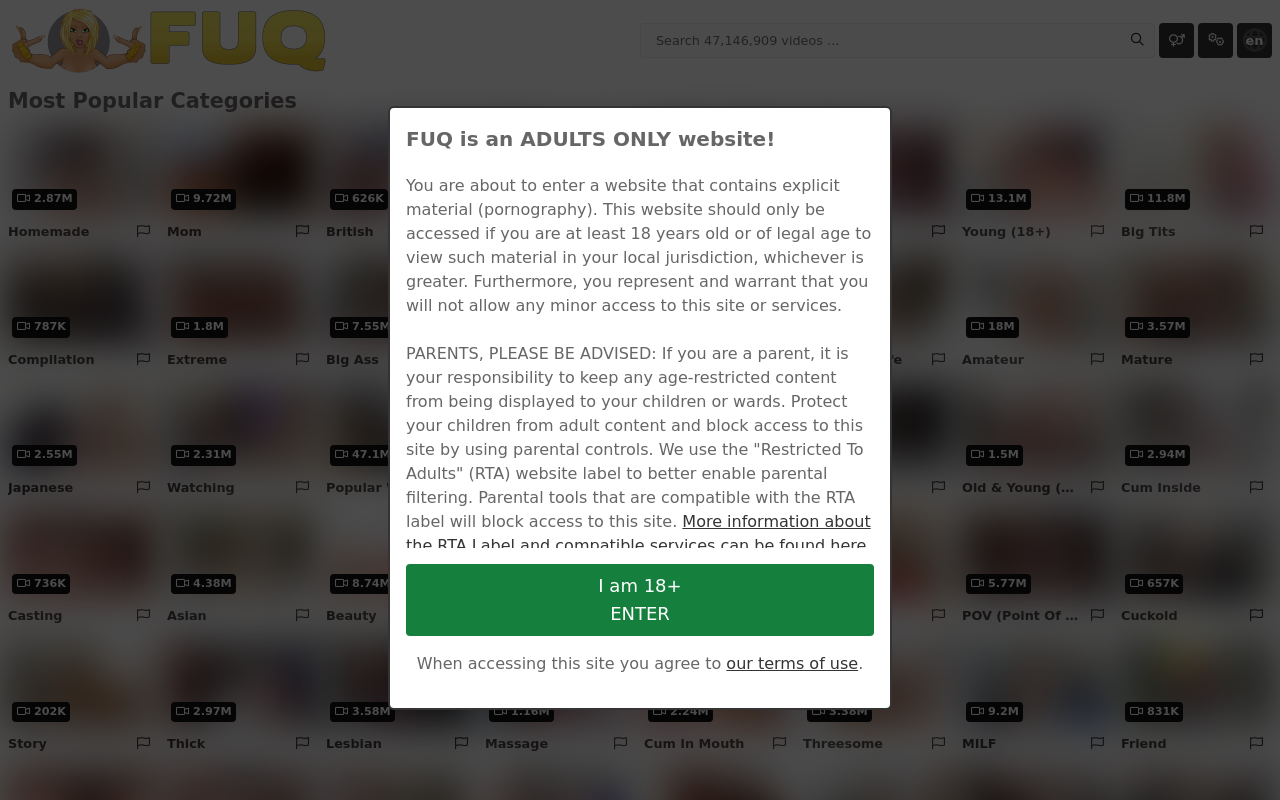 Fuq: a Fetish Dude analysis
Everyone knows that when it comes to reviewing the best websites out there, few people do it quite like Fetish Dude. See, when you come here, you immediately realize that in this game, no one writes reviews quite like I do. The words that come out of my mouth are some of the finest in the business and that's why people always come back: they know they're getting premium, high quality analysis from an expert. Anyhow – I'll stop tooting my own horn here and just tell you what I'm set to do in this analysis. See, Fetish Dude plans to visit Fuq and tell you all about it. This is a free tube and yeah: I'm keen to see what's going on. Continue reading down below for my complete, professional analysis on Fuq!
The Fuq homepage
So when you land on the homepage here, you'll notice that they take a pretty non-standard approach for their layout, but this has become a relatively new thing that quite a few places are doing. See, instead of sticking to tradition and showing you videos, Fuq instead elects to just give you a full list of categories that you might be interested in. Fine as far as I'm concerned, but I do feel as if they could tidy this section up quite a bit. For instance, why is 'real' here as a niche? It's in first place, too – just what on Earth is that about? Sure, it's fine to have stuff like Asian, hentai, threesome, ebony and lesbian, but we might want to cut down on stuff like compilation, hot mom and surprise: these just aren't good tags as far as I'm concerned.
If you scroll all the way to the bottom of the homepage, you'll uncover a metric ton of niches that are further refined into some pretty specific things. We're talking Thai massage, trans domination, BBW mom, ebony MILF and even Indian threesome. Essentially, whatever it is that you're looking to jerk your sausage over, Fuq is probably going to have some form of material which'll help you do that. Now do remember I'm not jumping for joy when it comes to this design, but the good news is they do show you videos if you want: let's do that now, shall we?
Popular videos at Fuq
Right at the top of the website, you'll see a button that just says popular videos: click on it if you're looking to get down to business with some content sooner rather than later. I'm not entirely sure what their criteria is for showing stuff here that's allegedly 'popular', but the good news is that what they do show all comes from pretty established studios. It's fair to say that Fuq is mainly going to offer you professional content here, although maybe one or two amateur clips will slip through every once in a while. Note that in this area, it's also possible to go ahead and organize material based on date, duration and rating. Fuq also has filters for video length and quality, with the second option being my favorite. You can literally remove anything that's not offered in HD, so that's great news for people who only really have an interest in enjoying high definition smut.
A note on Fuq and sources
One thing I do want to stress is that while these guys claim to ship 45 million clips, there are a few issues with this claim. Firstly, it turns out that nothing shown here is hosted locally: Fuq acts as a tube indexing service that merely collections content from third-party hosts. We're talking about the likes of RedTube, PerfectGirls, SpankWire and xHamster. These are pretty big names in the business and when you do select a scene, you'll be taken through to their direct page. This has its benefits as well as its issues, but yeah – it turns out that Fuq actually has 0 videos. Additionally, because they have so much material from a bunch of tubes that don't work together, you will find repeat clips from time to time. Tubes often have a large level of overlap with their content, so don't be surprised if you utilize the search feature and get dozens of results that are all quite similar. The site isn't broken: it's just the limitations of the content structure that they've gone for.
Some improvements for Fuq
Fetish Dude is always looking to make places better, so my first recommendation for Fuq would be to allow us to visit a pornstar page where, say, the top 1,000 girls all have profiles. Often times you'll struggle to put a name to a face, so it's always nice to have a place like that where someone else can do the hard work for you. Note that it is possible to use the search feature if you know who the broad in question is, but yeah – just a little improvement on that front would do wonders.
I also feel like Fuq should try to remove all doubled scenes that it can. For instance, uploads that have exactly the same name and length should probably be culled – it's quite obvious that they're the same damn thing uploaded multiple times to a number of tubes. Additionally, letting us know what tubes have downloads enabled and not would be beneficial. I really do enjoy being able to grab something locally for later sessions of joy hunting with tissues and coconut oil.
A conclusion on Fuq
Okay folks: it's about time that I wrap up this review. I've given you a bunch of my thoughts and feelings, so I suppose it's a good time to go ahead here and finish with my verdict. All things considered, I'm happy to slap my seal of approval on Fuq: they clearly know what they're doing in the tube space and you'd be wise to go visit if you're looking for a website which will help you cum. They might not be the best folks in the business, but Fetish Dude isn't about to complain, since you do get to explore 40 million or so scenes! Anyway, thanks a bunch for reading: have a great day and may your next session of jerking be the best one yet!
HD content filter
Huge porn video archive
Top rated scene area
New uploads daily
Nothing hosted locally
No pornstar section