FreeoMovie Review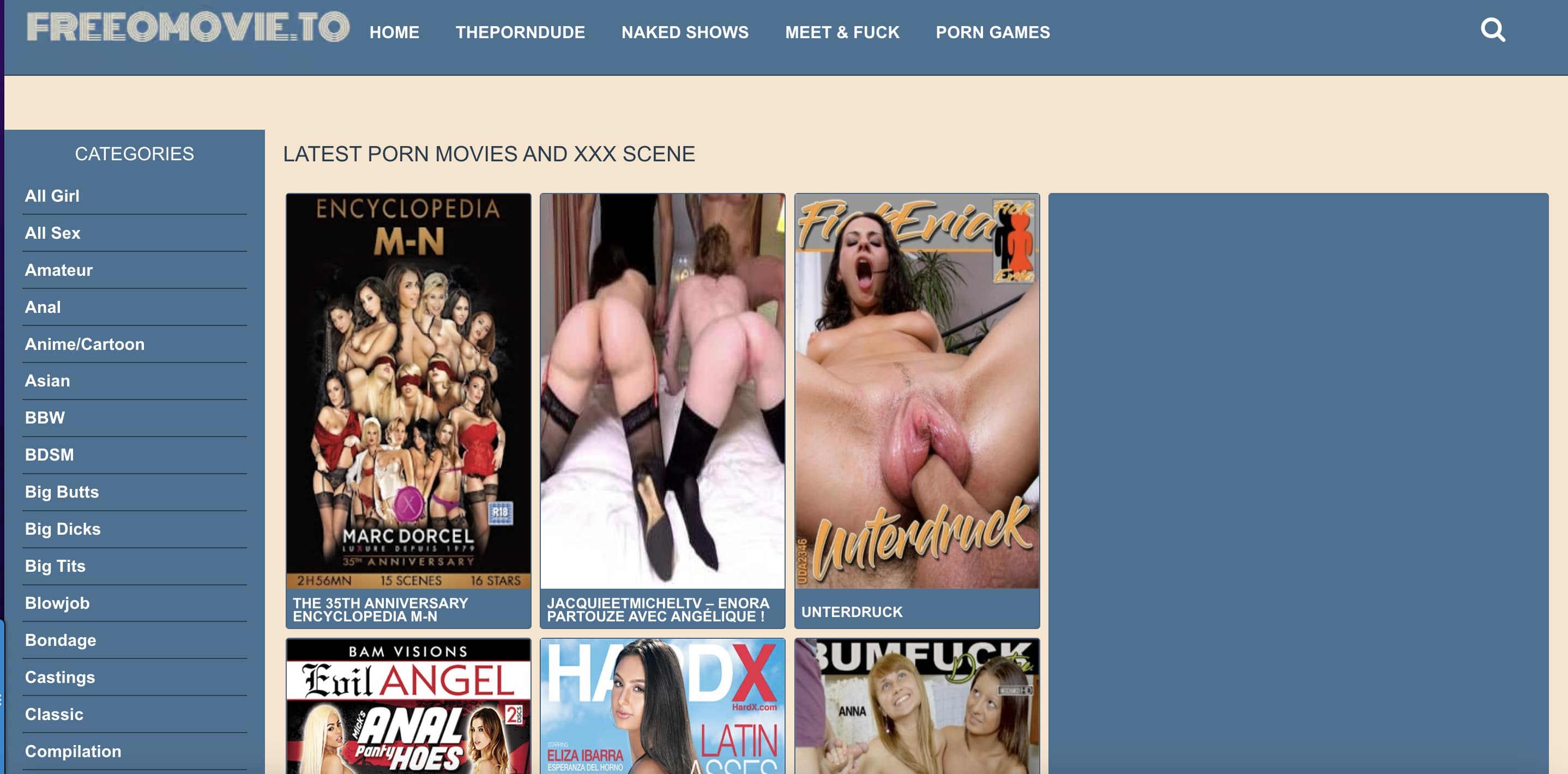 Fetish Dude visits FreeoMovie
Over the last few months, I've devoted a huge chunk of my time to trying to uncover the very best destinations online where people can go for the purposes of jerking. I know, I know – the job isn't the most noble on the planet, but I genuinely believe that if you want to enjoy world-class porn, one of the best things you can do is listen to the advice of Fetish Dude. Today, I want to talk about a spot called FreeoMovie. I've heard great things, but haven't been able to verify anything myself. So naturally, that's what I want to goa head and do! Read on: I'll tell you everything you need to know, and more, on the topic of FreeoMovie.
Homepage analysis of FreeoMovie
When landing on the homepage here, I have to admit that the initial impression I got was pretty damn awful. The design of this place is far behind the times and I wouldn't be surprised if the person behind it didn't have all that much knowledge when it comes to web design and whatever else. My major problem is the simple fact that the preview panes look completely ridiculous – they're vertical instead of horizontal, the titles are cut off after a few words and the only thing you really get is a thumbnail and title. So yeah, both of the elements that they provide to assist with searching through the content on offer here suck – pretty damn disappointing if you ask me.
The categories on FreeoMovie
Along the right-hand side of FreeoMovie, you'll notice that there are a number of categories that you can look through. I'm happy to see that the usual suspects are here: those niches which make everyone cum whenever they decide to visit a free porn website. We're talking about the likes of anal, Asian, shemale, webcam, femdom and fisting to name but a few. They also have some more boutique interests, with coverage provided for BBW, Thai and femdom addicts. Fetish Dude genuinely believes that variety is the spice of life, so I'm happy to see that FreeoMovie has done a good job of showing us exactly that. I'm convinced that they know the ins and outs of good porn accessibility – at least when it comes to content types. The same cannot be said for the design, which again, is absolutely bloody awful.
The viewing experience on FreeoMovie
When it's time for you to watch porn on FreeoMovie, you'll get a pretty standard embed area with the scene loading directly from the site itself: not too strange or whatever else. The player has pretty basic features, but that's okay, since most people just need the buffer bar, full screen and volume control – all features offered by FreeoMovie. There is a meta section for stuff like a title and tags, but to be honest with you, it's relatively underwhelming in terms of what it does display. Note that while there is no download button here, FreeoMovie does allow you to right-click on embeds and then select 'save as' if you want a local copy of whatever it is that you're watching. These types of features are fantastic as far as I'm concerned: especially since so few tubes allow you to download material without having to sign up for an account.
The missing areas of FreeoMovie
Freeo Movie sadly doesn't have a pornstar area, which means you're going to really struggle when it comes to finding content from a specific performer that makes you shoot thick ropes. I suppose it's not absolutely terrible because you can use the search (and the results were pretty good), but I'm not confident that a section here devoted solely to that purpose would be well received by folks who frequent the website. Additionally, the ability to sort and organize content is a must here. I want to be able to filter out anything that's not offered in HD and in addition to that, have the ability to sort based on popularity, views and length.
My conclusion on FreeoMovie
I was told to visit this website by someone that emailed me with a suggestion – I'll be honest and just state that the whole experience here was pretty damn awful. It almost feels like a parody website where the person behind the project has tried as hard as possible to essentially make it difficult and unenjoyable to get the porn that you want. While lots of tubes out there are edge cases, I have literally zero issues stating that FreeoMovie is really quite awful. Bottom line: search elsewhere on the Internet in order to get the XXX material that you want. This place is terrible at delivering anything remotely good.
Some HD footage
Easy to save locally
Good category organization
Awful website design
Regular buffering
No advanced sorting