FoxPorns Review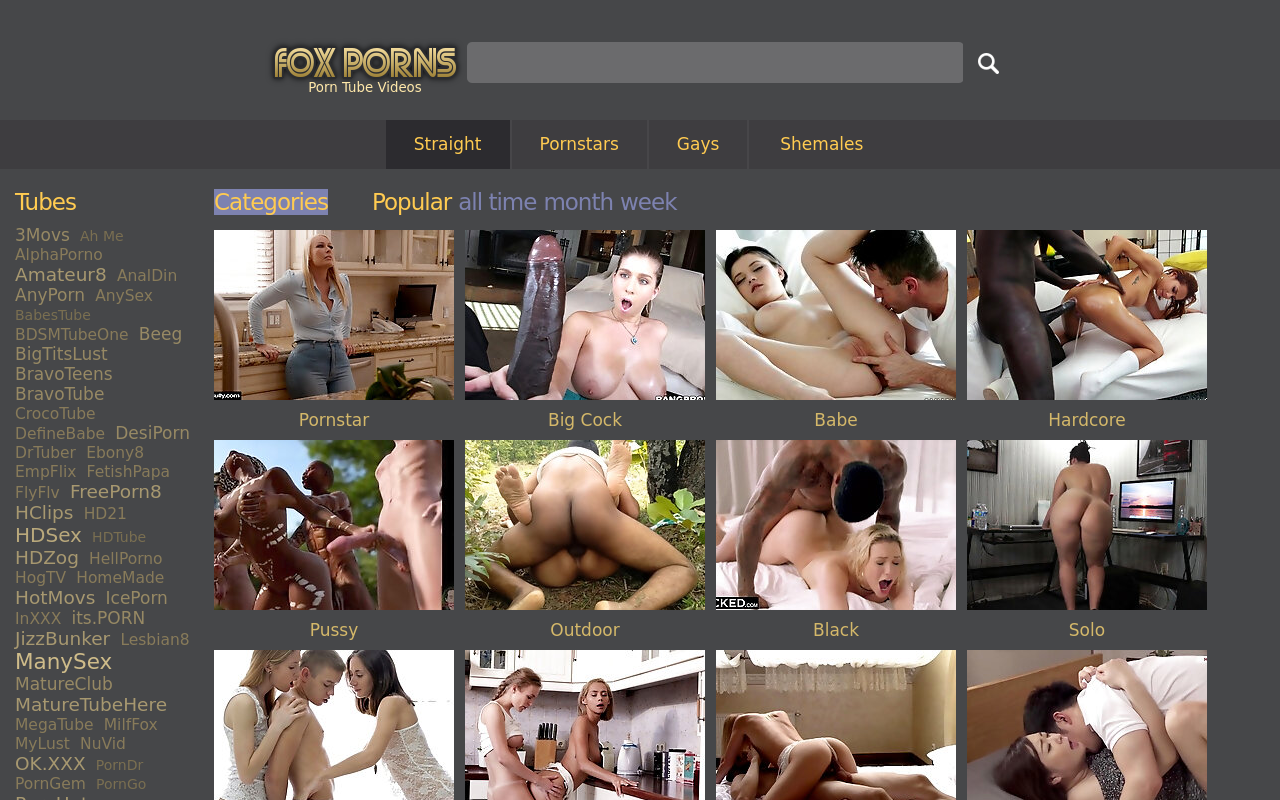 FetishDude visits FoxPorns
What's going on, gang? It's Fetish Dude here and yeah: you know what time it is, right? For the longest period, I've been searching far and wide over the Internet for the top spots online where you can go to jerk off over the porn that you want. Today, that adventure brings me to a little smut hub that goes by the name of Fox Porns. I've read some things about this place elsewhere, but haven't actually checked it out myself. I suppose it's a good time to go ahead and do exactly that, right? Read on – I want to tell you all about what goes on at FoxPorns.
First thoughts on FoxPorns
So the very first thing that I want to do is head on over to the homepage here, since that's where most of you horny fuckers are going to be visiting on a regular basis. Note that FoxPorns does things a little different here: while most places will show you content, Fox Porns focuses on the niche first. There is a good reason for this, but I'll go into the structure and setup of FoxPorns a little later: this isn't your standard tube and because of that, there are some pros and cons on both sides.
Homepage of FoxPorns in focus
So right at the top of FoxPorns, you've got a few links to take you to various places, but the vast bulk of the home area is dedicated to showing you the niches that you can check out. At the top, you'll find the likes of massage, public, MILF, interracial and ebony. One thing that I don't like is the fact that they have doubled up on a few different niches, such as MILF, cougar and mom – these are all the same erotic focus, so just bundle them together and be done with it. Additionally, I would like to see some type of indication with regard to the objective number of scenes that are located in each area. FoxPorns doesn't give you any immediate indication with regard to how much material they have, so yeah – that sucks.
Exploring the pornstar area at FoxPorns
The link at the top for 'pornstars' is going to be my next port of call: naturally, I'm expecting this to be where you go when you want to find a particularly famous broad in action. By default, the ladies are sorted based on 'popularity', but there are no other filters or features here to organize the girls differently. What I would like is some sort of ethnicity divide, age range and body type at the very least. Still, you'll no doubt come across quite a few horny broads that you love seeing take cock. We're talking Alexis Fawx, Amy Brooke, Ivana Sugar, Sasha Grey and Holly Michaels. My advice on this page is to Ctrl + F in order to find your favorite performer. They list hundreds together, so chances are if she's even semi-famous, you'll be sorted.
The structure of FoxPorns
Fox Porns does have a lot of content, but at the same time, it has absolutely none. Sounds weird, right? Well – that's because they actually index material from third-party tube destinations, such as HD Zog, Txxx, xHamster, AnyPorn and so on. Essentially, they're like Google – nothing here is hosted, but they will point you to the direction of what it is that you want to massage your sausage over. Now I've seen quite a few places like this recently, but one feature missing from the FoxPorns edition is your inability to go ahead and filter from different sources. That could be added pretty easily as far as I'm concerned, so yeah – one point off because they're not offering the full suite of features that other folks are.
Trying FoxPorns' search feature
Right at the top of Fox Porns, you'll see a search input area. This is pretty decent, as it allows you to potentially find the exact type of material that you're after. To put this to the test, I wrote 'Riley Reid gangbang' and was presented with a number of scenes where this naughty minx has taken lots of cock at the same time. Very much what I like to see from an index service: the ability for you to get the exact type of adult entertainment that you're looking for. Perhaps my only problem is the inability to further go and filter or sort. What do I mean by this? Well, suppose you only want to see HD clips of Riley Reid taking a heap of cocks – no ability to remove anything that isn't 720p or above. One good feature is that you will find associated searches, so consider clicking on those and explore the variety of smut at FoxPorns.
My beef with FoxPorns
For the purposes of balancing out this review, I do want to go ahead and point out a few things here that are less than perfect. For starters, I'm slightly disappointed that Fox Porns doesn't have some type of section where you can see the most viewed, highest rated and so on content – that should just be standard. I also feel like their design with the tags at the bottom of each available clip doesn't look very modern or neat. It's much better to just remove these and give punters another row of thumbnails to masturbate over.
Wrapping up my analysis of FoxPorns
Despite its flaws, I do feel like FoxPorns did a pretty good job of giving me access to good pornography. That's their purpose, right? So I'm not going to sit here and suggest for a moment that Fox Porns isn't the type of place that you should visit. It's patently obvious that they know what they're doing and by all means, I'm willing to goa head and give my full, professional recommendation. It's a tube indexing service and ultimately, the value proposition for horny jerkers like you is the fact that you've got such a huge amount of porn to watch. Sound good to you? Well then: stop reading this review and go get yourself a slice of the good stuff from Fox Porns.
Lots of porn videos
Plenty of categories
Very few adverts
No advanced searching
Some repeat clips