FapVid Review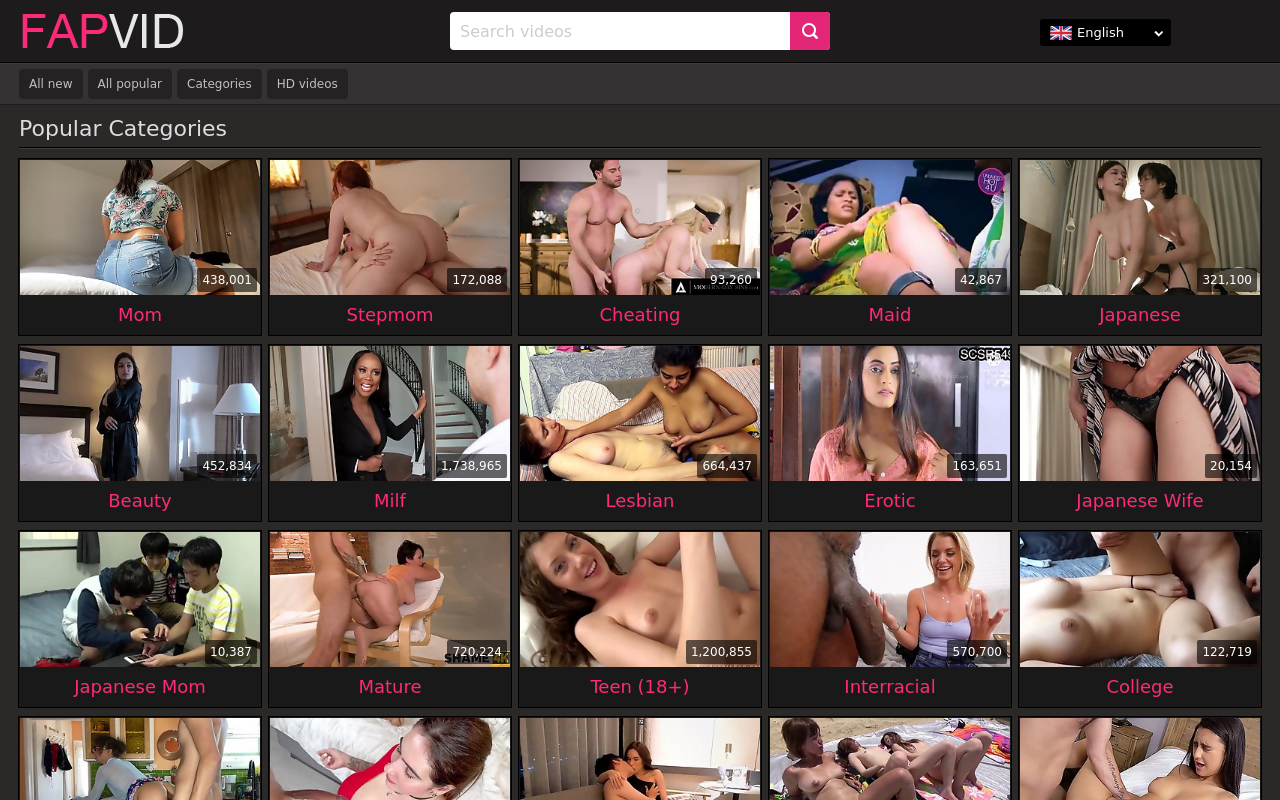 A visit to FapVid by Fetish Dude
Howdy gang – it's Fetish Dude here and yes, I'm bringing you another world-class review! In this particular analysis, I'll be heading on over to a spot called FapVid. As the name suggests, it's a place for videos and they're all free too! Sounds great on paper, but I think we all know by now that with so much competition in this particular space, you've got to be better than good if you want to get a recommendation from Fetish Dude. With that in mind, let's venture on over to the website now and see if we like what's on offer at FapVid. I'm keen to see if they deliver – it'll be interesting to find out, that's for sure!
The homepage of FapVid
Kicking off with the homepage, I'm pleased to see that FapVid shows you a huge number of preview scenes that you can click on and watch immediately if you so desire. A good 90% of the screen real estate is devoted to this purpose and the preview panes are constructed of a preview thumbnail, scene title, associated tags and finally, a length. The panes go from side-to-side of the website and I really do like this approach: no point having empty space when you can have porn there, right? Scrolling down a little, you'll find a pagination bar to go deeper into the archive (scenes are sorted chronologically) and an area for different sources. This is probably a good time to talk about the FapVid structure: not is all as it seems!
FapVid's structure and formation
While there are thousands of videos here, the technical fact is that there are none. How can that be? Well, FapVid doesn't actually host anything locally: it just indexes third-party places that you can visit if you want to get your hands on some porn from various tubes. There are lots of popular names here and I have little doubt that you've heard of some of the tubes that they index. We're talking about the likes of Beeg, xHamster, YouPorn, PornHub and more. These places have a proven track record of providing punters with world-class porn, so it makes sense that FapVid would go to them in order to grab what they have and share it with the world. I like the idea on paper and to be honest, the execution is quite good too. We'll see how it goes in the long-term, but I've got my fingers crossed that these guys will continue to be a world-class source for adult material from various quality tubes.
The pornstars on FapVid
There are actually quite a few competitive indexing services like FapVid, but I think this is actually the first one I've come across that has a section devoted to pornstars! It's pretty basic in its structure, but they do show you the most popular girls around and allow you to click on them if you only want to see uploads from your favorite girls. So be sure to visit here if you've got a love of Valentina Nappi, Lisa Ann, Angela White, Ariana Marie or another lady who's skilled when it comes to pleasuring shafts. No doubt that you're going to love watching them in action and enjoying every last second of their naughty activities. Fetish Dude really does have to give credit here: it's great to see this type of thing from FapVid.
The 'best videos' on FapVid
If you're not sure what you want to watch on this particular website, feel free to hit the 'best videos' link in the header and you'll be shown a whole host of world-class porn from the best studios out there. I do want to stress that most of what you'll see will actually come from popular channels and outlets that work with famous pornstars. Maybe one or two amateur flicks will make their appearance here from time to time, but the vast majority of uploads that I'm seeing come from premium destinations.
A conclusion on FapVid
I had a lot of fun exploring FapVid and while it's a little bare in terms of features, search tools and whatever else, it does the job of providing you with a place to go for porn quite well indeed. I'd be interested to see just how far they can take this going forward and perhaps with a little edit on their pornstar section, FapVid would very much be a top-tier hub that I can put in the highest sections of my tube category. For now, it deserves its spot, but yeah – time will surely command me to revisit this spot in the not too distant future.
Thank you for reading a professional porn site review here on Fetish Dude. Be sure to explore more of my site to find the very best places online for XXX entertainment!
Offers a pornstar section
Millions of indexed videos
Good thumbnail layout
Fast loading speeds
A few adverts
Limited sorting functions
Low on amateur content