Faphouse Review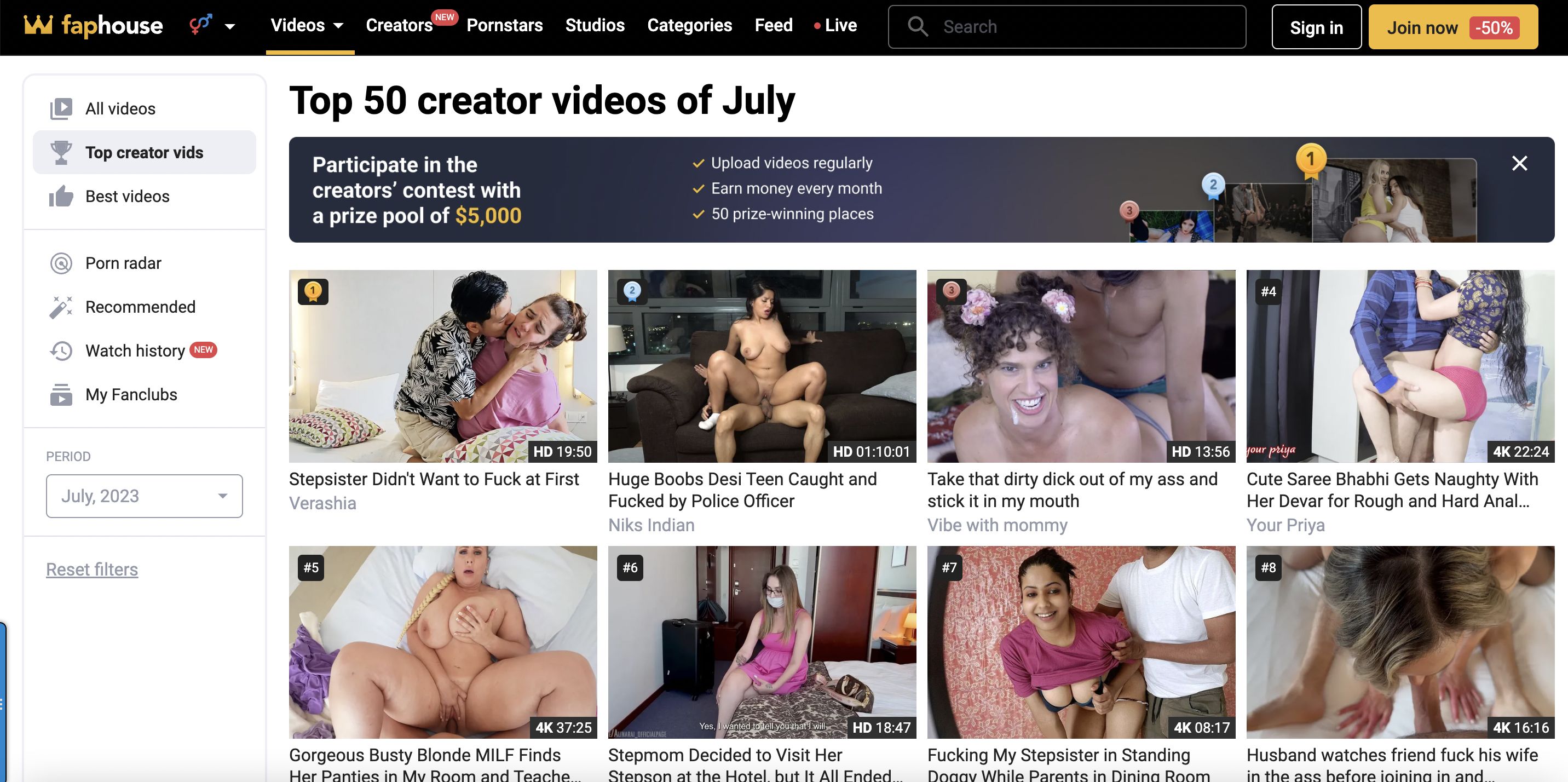 My take on Faphouse
What's Faphouse? Well, I'm glad you asked, because Fetish Dude is about to spend the next few hours writing up a full review on this particular spot so you can know what it's all about. First things first: it's a huge website with a lot of content and if you're someone who likes variety, this place is going to hook you up with so many different types of media, you won't know what to do with it. Second – I want to give you a complete and professional look at what's on offer here, so how about I provide you with a full review? Read below to get Fetish Dude's complete opinion on Faphouse!
Faphouse: the premise
The first thing I want to say about Faphouse is that they don't actually have any of their own content – instead, they license porn from studios all over the world that you'll likely want to watch. This is why they have so much variety – there are hundreds of studios that provide this site with what you can watch, and that means so many different niches, angles, approaches and so on. It's a real pick and mix if you ask me – there's material for everyone and anyone, no matter what it is that gets you solid between the legs.
I suppose it's worth pointing to a few examples, right? Well, let's start with Bratty Sis: a studio where you'll get to see young, nubile babes that need to be fucked hard by their brothers! Next, you've got Trike Patrol if you want to watch skinny sluts from South East Asia give up their pussies for a few bucks. Perhaps you're more interested in lesbian material? Just as well that Faphouse can provide you with scenes from Lesbian Stories, ATK Girls and Lezdom Austria! Like I said: it doesn't matter what you're trying to access, Faphouse is going to be able to provide you with media that'll get you horny as fuck and hot under the collar.
The quantity at Faphouse
Look: the quantity here is something that's really hard to wrap your head around. There are 400,000+ videos in total – which I mean, it's just obscene. Not only are these videos available, but they're original quality and full length too. There are plenty of tubes with millions of scenes, but they're almost always low quality snippets – if you want to get a higher tier of content at a rock bottom price, that's the pitch that Faphouse is giving to you. Oh, and I think this goes without saying, but I'll mention it anyway: they constantly add new content to their archive on a daily basis, so check back and there's likely to be 100+ fresh flicks for you to wank your willy over.
Faphouse's creator portal
Faphouse has a new 'creator' section on their portal: this is basically their version of OnlyFans, except it comes with access to the website itself, so it's just free amateur content. I say amateur – that word can mean many different things these days, but you've basically got girls and guys who aren't working with a big studio and are instead outputting their own smut. It's a great idea and after looking around, there's quite a decent assortment of releases. Seems like Indian uploads are quite common here too – I guess it's a way for our Desi friends to make a few bucks by banging! Don't worry though: they've got tens of thousands of uploads in their creator segment and it covers all sorts of wants and wishes.
A look at Faphouse pornstars
I want to give you an idea of the girls who are available here for you to watch, so how about I mention a few names? Seems like a good idea – especially since some of the girls have dozens, if not hundreds of scenes! Let's kick things off with Riley Reid: she might be retired, but with 200+ videos at Faphouse, you can spend days watching her fuck! Next, it's Kenzie Reeves: what could be better than skinny, petite submissive blondes like her? Oh, and let's not forget the busty vixen known as Alexis Fawx – such a classic pornstar that knows how to get down to business. Finally, my personal favorite – Lulu Chu! She's sitting on 24 videos at Faphouse and I love watching this naughty Asian fuck. She's got a great approach to incest: definitely something to watch out for.
Other points on Faphouse
Signing up to the website is real quick and simple – they've also got discreet billing available, so it won't say "Hardcore Sex Website" on your bank statement. I love the fact that plenty of the scenes here are offered in 4K and in addition to that, download speeds are incredibly impressive. Support's around if you need their help and there are even creator blogs here that give you updates and information on the social side of Faphouse. I mean, you can even join as a creator and make a few bucks if you put videos up that are successful! I really do like this approach that Faphouse is taking toward supporting homemade content: I really do love it when girls can make content on their own terms, and I think you'd be surprised at how many more ladies are willing to put smut out there when they control what's going on.
Faphouse: my final thoughts
There's such an immense amount of pornography here and yeah: it's a place that I think you'll join and then basically never have to worry about going elsewhere again. No matter what niche, no matter what star – Faphouse is here to provide you with what you seek. Their amateur arm is just the icing on the cake too: it's a great idea and the implementation is really on the side of the creators. All things considered, Fetish Dude cannot think of a single reason why you wouldn't want to make this spot your go-to hub for XXX content. Sure, you have to pay a little to get inside, but believe me: it's totally worth it. Anyhow, thanks so much for reading my honest review of Faphouse: this is a legitimate spot and I think you'll love it! Go check it out right now.
Hundreds of daily uploads
Over 500k scenes
Good navigation tools
Paid membership access
No porn games