Fapality Review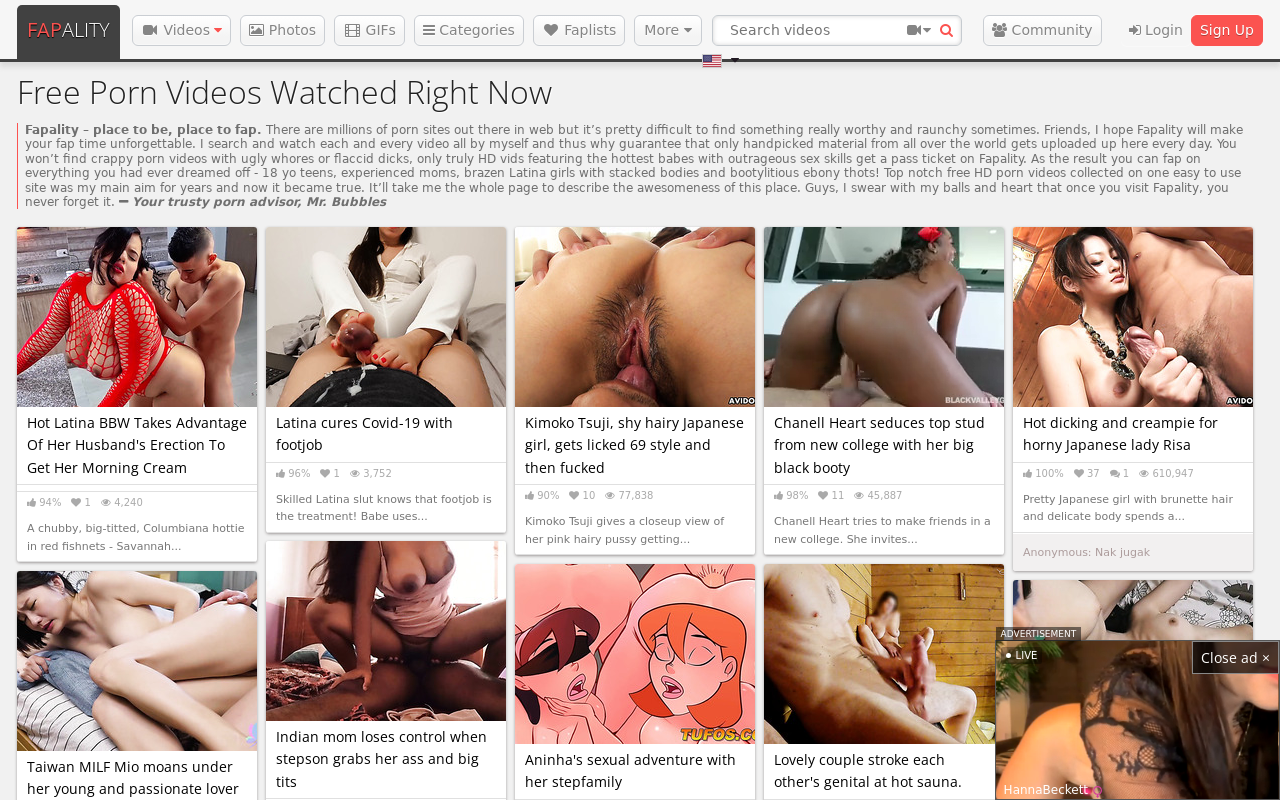 Exploring Fapality with Fetish Dude
Fapality is a free adult porn tube that claims to have some of the hottest content in the business. Now with so much competition in the space when it comes to XXX tubes, I'm going to be quite interested to see exactly how Fapality performs when compared to the average spot I come across. The initial reaction I had to this place was a positive one, but everyone knows that Fetish Dude is not a person to judge a book by its cover – especially when I have the ability to actually read the damn thing! Anyhow, let's get down to brass tacks and see what Fapality has to offer.
Homepage thoughts on Fapality
When landing on the homepage here, you'll see that the vast majority of screen real estate is occupied with preview panes of videos that you're able to watch straight from the Fapality library. The panes are pretty standard in terms of structure, with a thumbnail, title, like ratio, view count and mini description. I don't know if I like the description, but I do like the fact that some scenes are actually moving while you look at them. Only a few tubes have this type of technology and it's not the easiest thing to do, so believe me when I say that I think Fapality is going above and beyond in this respect: it's quite good indeed to see how various girls are getting fucked in the videos displayed without actually having to watch them.
Note that the homepage here has some type of sorting, but I can't be sure what it's based on, since they don't actually tell you! Conveniently, the header has a 'videos' dropdown that allows you to sort the scenes based on rating, popularity, number of comments and number of favorites. Oh, there's also a button for the newest scenes, so if you're the type of dude who likes fresh flicks over everything else, that's going to be the thing that you'll want to click. All in all, I'd say that Fetish Dude is pretty happy with what he's seen here thus far: it's quite clear that the guys behind this gig know what they're doing. Still, onward to the niches!
Fapality categories and accessing them
Want to look at the porn on offer here by just looking at the niches? No problem – that's a walk in the park! Simply click the 'categories' dropdown and you'll be presented with all of your favorite sub-genre desires. I'm happy to see the likes of MILF, lesbians, BDSM, Latina, teens and anal here – a good assortment of goodies for the fellas, right? It's also worth me pointing out that they have a section for passionate porn too, so if you feel like watching some porn that's a little more intimate and saucy, that can be a good option. Pro tip from Fetish Dude: go to that area if you ever feel like enjoying adult material with your partner. Girls generally don't like the standard style of porn, but they'll squirt all over you if you decide to go for that approach!
Some pornstar access on Fapality
Got a favorite pornstar that you love to see in action and wish you could just focus on her exclusively at Fapality? Well, wish no more! This platform has a pornstars section and all of the best broads are featured here for you to watch. By default, they're sorted based on the number of scenes they've got, with the following top five girls providing the most amount of smut: Abella Danger, Adriana Chechik, Gina Valentina, Apolonia Lapiedra and Piper Perri. Some top quality pussy right there, huh? After selecting your favorite slut, you'll be shown a bunch of their scenes and also have the ability to subscribe to them if you want constant updates whenever their new videos are released. Honestly, Fetish Dude absolutely loves this setup and I think that the pornstar displays here are some of the best I've come across. In short: it's awesome.
My conclusion on Fapality
That should just about do it for this review on Fapality: Fetish Dude has made the moves and is more than confident in his recommendation for this particular spot. The fact of the matter is that this wonderful tube has so many full-length, high definition porn videos that you can access in an instant that it'd be silly for you to go hunting elsewhere. Sure, there might be some places that do a couple of things better, but Fapality is absolutely killing it right now. So, in short, if you want to get your hands on some stellar smut from a quality outlet, Fetish Dude recommends Fapality. Thanks for reading: now go squeeze that hog, buddy.
Good search features
Pornstar catalogue
Regular new releases
Lots of HD scenes
Some adverts
Downloading requires account