Faapy Review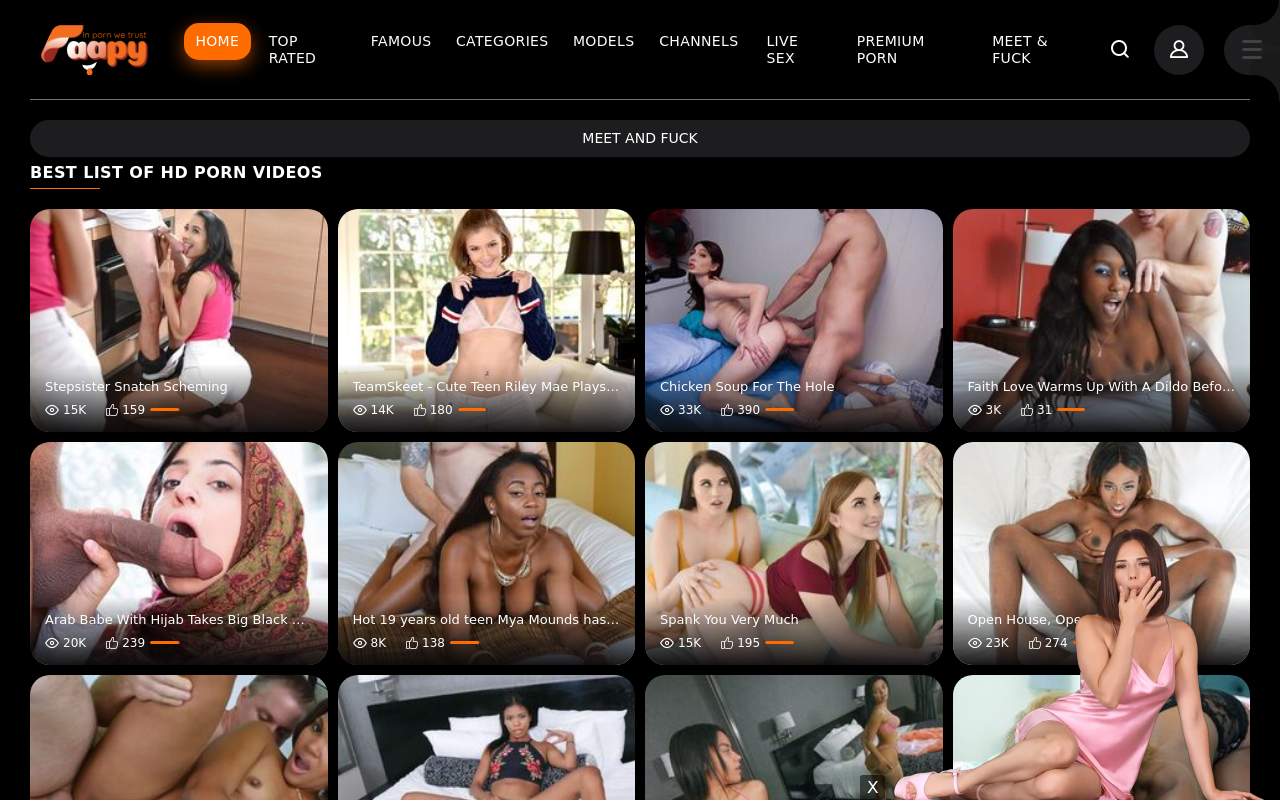 Fetish Dude reviews Faapy
Hello friends! Fetish Dude here and yes: it's time yet again for me to talk to you about a specific tube destination. As all of my readers ought to know by now, my job is to protect you from the rubbish sites out there and only point you into the direction of hubs that I've personally recognized as being top spots online for folks that want to have a serious jerking experience. Faapy presents itself as a top-tier candidate, but I want to do my own research before getting to the point where I'm happy to endorse them. Sound like a plan? Well – continue reading and we'll see what's going on.
My initial thoughts on Faapy
I'm pleased to see from the homepage of Faapy that they place a huge amount of focus on giving you access to content before anything else. Around 80% of the homepage's real estate is devoted to showing you preview panes that you can then click on in order to get what you want. These preview panes consist of a thumbnail, title and view count – that's it! It would appear that the default organization here is based on popularity or view count; although I can't be sure that this is 100% the case. Note that along the header, you've got a button for 'top rated', which is a good one for you to smash if you're only really interested in getting your hands on smut that has been vetted by your fellow jerkers. Call me crazy, but I'm of the opinion that when we pool our resources, we really do come out with the best results for everyone. Just part of the way that the adult industry works, right?
The Faapy channels
It's fair to say that Faapy is almost completely committed to material that comes from professional outlets. If you're hunting for something that's genuinely amateur and homemade, then it's probably a good idea for you to go elsewhere – this tube isn't going to be helping you! If you're keen to know which studios are providing you with the goods, hit the 'channel' header link and you'll be shown all of them. You've got the likes of Little Asians, Family Strokes, We Live Together, Fantasy Massage and Let's Try Anal here. From my perspective, I see these as being fairly generic and vanilla spots, but that's okay! After all, this is what's going to appeal to 90% of the people visiting, right? Now after clicking on a category, you'll be taken through to the database of all the scenes that Faapy has from that particular outlet. Sorting is based on upload date, but can be switched to length, view count and rating if you'd prefer those methods.
My experience with the search at Faapy
You can use the search here if you want and in my professional opinion, it's pretty damn good with regard to content output. All of the queries that I made gave relevant results and I didn't feel as if I was being served up trash. My only complaint is that unlike the studio pages, you're unable to actually organize anything here based on the good metrics you want, like popularity, length or rating. Ideally, Faapy will include this further down the road, because it just makes dudes like me that much more happy. When you come to a tube you want to bust fat nuts, right? So it stands to reason that Faapy should be doing everything it can to assist with this!
Downsides of Faapy
Just a quick downside section here guys, because there are a few improvements to be made. Personally, a toggle for HD content only would be fantastic – I always want to know what content is available in high definition. Second to that, Faapy should also have a page where you can go to look at the pornstars they've got here. Browsing via models in the adult business is one of my favorite things to do – so let me do it, for god's sake!
A conclusion on Faapy
I had a good time looking at the content here on Faapy. They're a decent outlet all things considered, so that's going to be great for any dude that seldom finds a tube which is focused on good quality professional porn. Sure, there are some changes to be made down the road, but I'd be skeptical of the ability of other tubes to do better than this one, all things considered. So, in short, do yourself a favor and go check out Faapy now – you're going to love it!
Thanks for reading another porn tube review here by Fetish Dude. May your next jerking session be the best one yet.
Lots of professional content
Plenty of categories
Good channel sorting
No pornstar database
Some adverts