DrTuber Review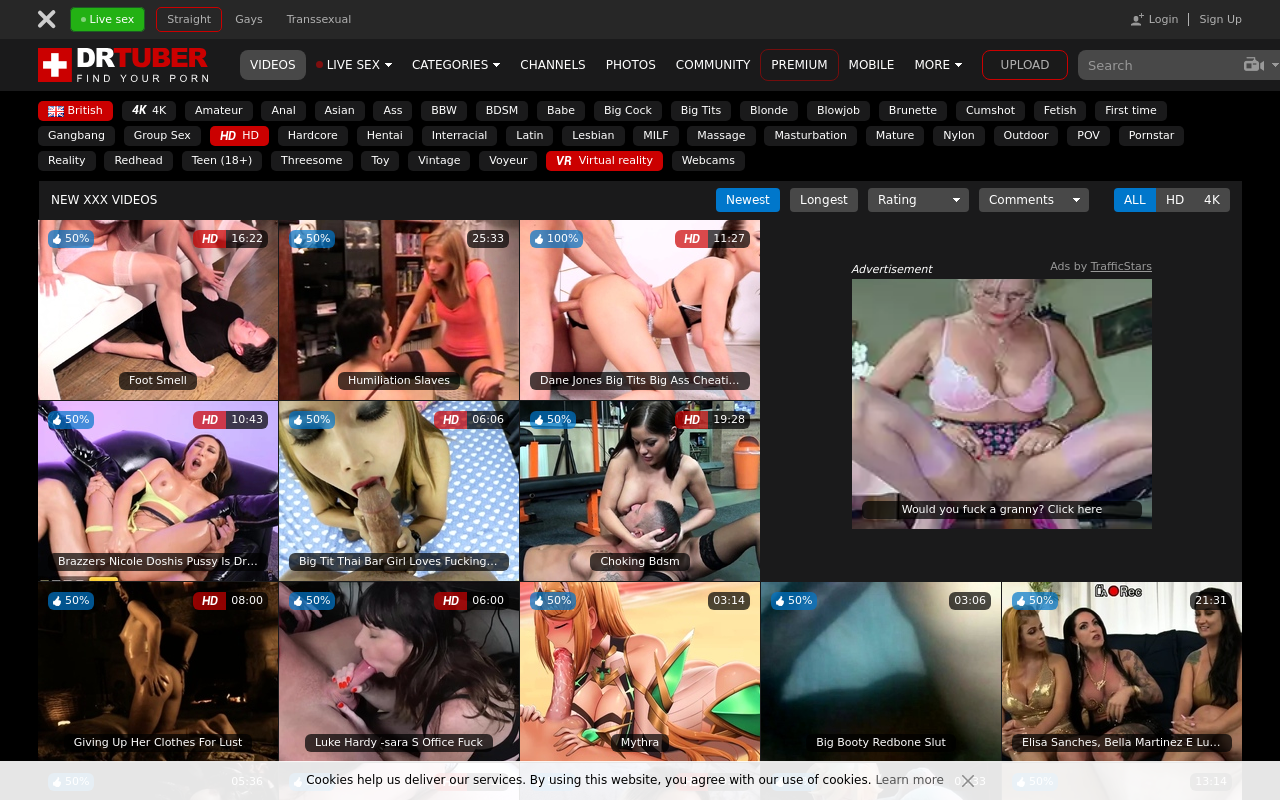 Fetish Dude: my take on Dr. Tuber
Hey there. I hope for your sake that you've managed to find this page because you want to know all about DrTuber. If not, might I suggest you leave as quickly as possible? The reason being that I'm about to spend the next few hours checking this tube out to get a sense of what it has to offer horny visitors that want to jerk off to the porn that's housed here! Fetish Dude is about to spit some straight facts, so let's cross the threshold and see what the deal is at DrTuber. I'm excited – this could very well be one of the highest rated places I've ever covered.
Initial thoughts on DrTuber
One of the first things that I want to do here is talk about the homepage, since that's where a lot of people are going to begin their adventure. So to start with, the bulk of the preview content area is devoted to showing you the newest uploads to the platform, with the preview panes being particularly well crafted. The scenes that are displayed to you consist of a thumbnail image, title, upvote ratio, length and in some cases, the HD tag if it's actually offered in 1080p or 720p formats.
Note that in the top right-hand corner, Dr. Tuber gives you the ability to organize the material by other systems instead of just upload date. Options worth mentioning include length, all-time comments and monthly rating. Something else that I absolutely love about DrTuber is the ability for people to hit the 'HD' toggle if all they want to see is high definition material. I can't say for sure how much of the backdated content here is offered in HD, but out of the last 100 or so uploads, I'd estimate around 60% of them are 720p or above. This is pretty good, especially when you consider that visiting DrTuber is completely free of charge. Doesn't get much better than not having to pay for HD sex videos, right?
The categories on DrTuber
As much as I admire the homepage here, I will be honest with specific regard to the category section, because in all honesty, it absolutely sucks. They've just pumped together all of the niches and while they allegedly have a 'popular' list, this includes plenty of niches that simply shouldn't be contained within. For instance, you have Asian MILF, Asian outdoor, Asian panties and so on – there are around 15 different 'Asian' themed niches, and while it's nice to have them, surely not every single one is popular. Fetish Dude would consider it far better for Dr. Tuber to just stick to the main ones, such as Amateur, teen, gangbang, petite and so on. The overly specific nature of the genres, while useful for some, just make the overall feature pretty unusable. It's a shame, but I'm not going to pretend that what you get here is anything better – it's not.
Channels: the DrTuber way
Lots of the biggest tubes out there obtain a decent chunk of their material from the various studios that produce premium content. At DrTuber, it's possible to get samples from those sites without having to pay for access, thanks to the 'channels' section on Dr. Tuber. They've actually got some really good quality sources here, including the likes of Mofos, Reality Kings, JAV HD, Latina Fuck Tour and Nubile Films. With such a great array of smut, I think it's pretty easy for me to say that you'll never be disappointed with the content here. They've also got some more specialized content, including Female Muscle, Pascal's Sub Sluts, Fantasy Massage and so on. Suffice to say that regardless of your sexual proclivities, Dr. Tuber is probably going to give you the goods.
Pornstars on DrTuber
You know that sometimes, you just want to go ahead and look at girls who perform on various platforms instead of going through the other channels? Well, the great news with regard to DrTuber is that they have a bunch of your favorite girls available with their own specific pages, all of which you can find on the 'pornstars' section of the website. By default, these appear to be sorted based on popularity, although it might also be the number of scenes which they've taken part in. Some of the adult performers you'll find on DrTuber include Brandi Belle, Phoenix Marie, London Keyes and Alexis Texas: not a poor assortment of broads, right? Now once you've clicked on a babe, you'll be shown all of their porn videos hosted on Dr. Tuber, but unfortunately, they're not able to be sorted based on any metrics. Too bad – I really would like to see the highest rated HD videos of Riley Reid!
Some negative points on DrTuber
As much as I love to sing praises, from time to time it's wise to offer up some professional advice. With specific regard to DrTuber, I'd like to see them enable multi-niche selection instead of their current method. What this means is that you can basically pick, say, 2 to 4 different genres of porn and the website will spit out whatever it has grouped under those topics. Naturally, the more refined you get, the less media that's available – but it sure as hell beats the current system, which seems like a complete mess. Also, please provide sorting on search results pages and pornstar profiles – every other major tube manages to do it!
The conclusion on DrTuber
Friends: as much as I would like to spend the next 2 hours continuing through Dr. Tuber, my time here is up and I think that I've presented all of the pertinent facts with regard to what it has to offer. It is of my professional opinion that anyone who's hungry for some good porn ought to get their asses over to DrTuber right now. They might not be the highest rated hub on my list, but they're still a good alternative if you want to try something new.
Thanks a bunch for reading my analysis on Dr. Tuber. It's been an absolute pleasure – come back any time you need fresh advice on the best places the Internet has to offer for XXX fun!
Lots of HD scenes
Pornstar profiles
Fast loading speeds
A few adverts
Limited sorting options