DinoTube Review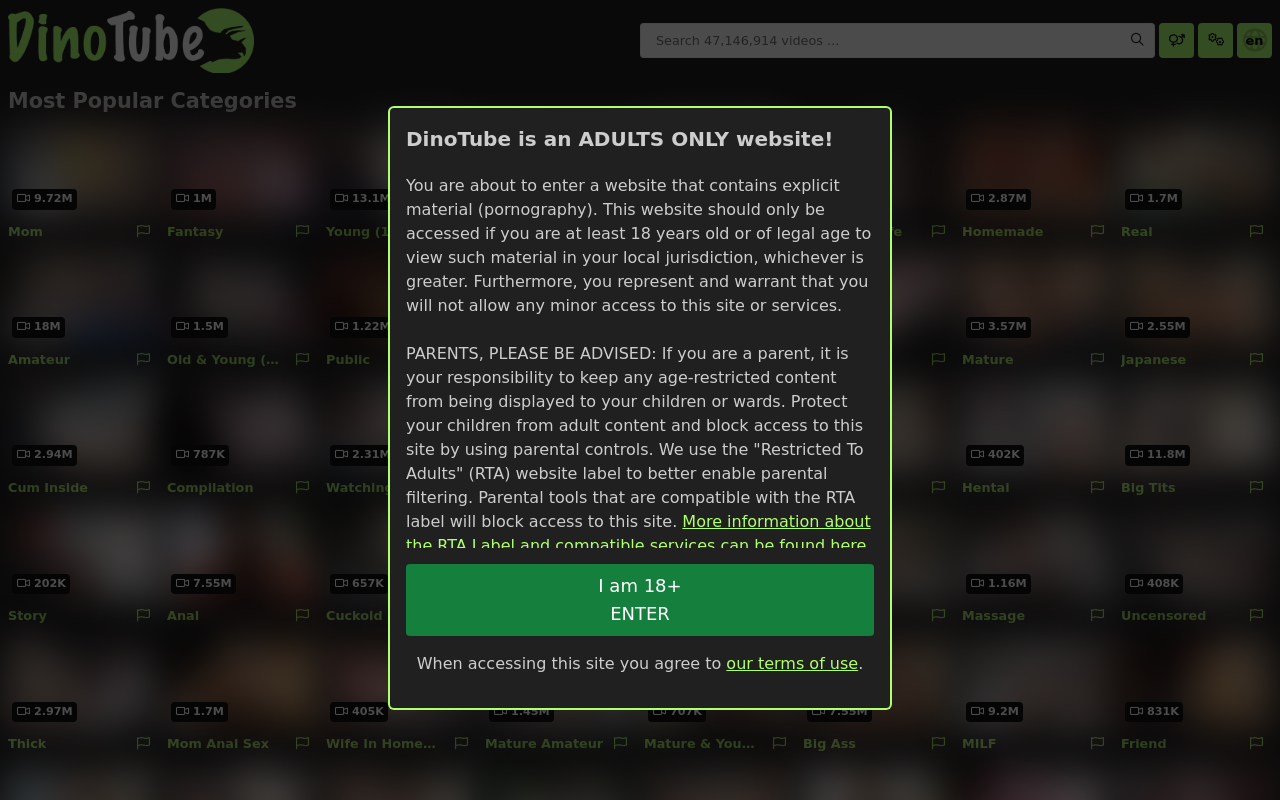 A visit to Dino Tube by Fetish Dude
What's up, sports racers? Fetish Dude back at it again: today, I'm going to be reviewing a tube website. I think we all know by now that if you want to access free sex videos online, few places are going to give you an experience that's even close to what this hubs have in store. DinoTube is the name of the place in question and I'm really keen to see if the juice is worth the squeeze. It's been a long time coming for a fresh site review, so let's get down to business and see what the deal is – read on for my full analysis regarding DinoTube.
The DinoTube homepage
While some tubes like to show you videos before anything else, DinoTube elects to instead look at the niches they offer. I would describe this website as being broad-based when it comes to focus, so pretty much no matter what you're interested in, they'll be able to help you get your hands on the goodies. Now while I'm okay with the approach of niches before videos, I feel like a lot could be done in order to improve the initial landing experience. While you'd expect to see your big ticket niches right at the top (stuff like lesbian, MILF, anal, teen, BDSM and massage) you get some rather vague things, like real, complication, fantasy, perverted and caught. This doesn't make much sense to me, and I really would like to see Dino Tube switch over to something that's a little more in line with what punters expect.
Additionally, DinoTube is sitting on a lot of categories that can just be combined. I mean is there really that much of a difference between MILF, mature amateur, mom, hot mom and mature? A hell of a lot of redundancy here makes me a little butthurt. Just combine these niches and reorganize them so folks can access what they're most likely to want above all else. Sounds like a pretty reasonable sequence of steps if you ask me! Now then: let's talk a little about the structure of Dino Tube and what you stand to gain from visiting here.
The DinoTube structure
One of the most important things to realize when it comes to this website is the fact that Dino Tube currently doesn't host anything locally and I'm pretty sure down the road that they won't either. See, instead of being a distributor of porn, they act as a proxy service for the biggest tubes out there. After you select a category, you'll be shown a bunch of preview uploads that come from third-party sources, such as xHamster, PornWatchers, SpankWire and KatesTube. They're like Google in a way: while you don't get what you want directly from them, they point you in the right direction for your sexual preference. This means that while they technically have over 40 million videos for you to look through, I'd say that a decent chunk of these are doubled up because multiple tubes generally have massive overlapping archives of scenes. The good news is that I didn't see too much of this, so yeah – not that big of a deal.
Exploring a category page at Dino Tube
After you've gone ahead and selected a category, Dino Tube will present to you all of the possible videos that you might be interested in. These are sorted by default based on the popularity of the upload, but you've got a few different buttons to play with if you'd prefer to organize content based on upload date, duration or rating. Additionally, you have extensive filtering ability, with my favorite function being the HD only toggle. This essentially gets rid of anything that's 480p or below, so you're only seeing high definition scenes – sweet! Alongside that quality dropdown, you've also got the ability to fiddle with the available sources. There are dozens of tubes here and if you want to remove any of them from displaying content for you, that's the way to do it. Note that you'll also have to manually add gay and transsexual content using the tick boxes right at the top of the website next to the search box.
The search feature at DinoTube
I put the search box here to the test multiple times with a few different requests and generally, I feel like what was returned to me was pretty damn good. Dino Tube's database searching function has the ability to return accurate, on-niche sex videos depending on what you typed in. I noticed a couple of uploads that were out of place, but overall, there's nothing really major here that makes this feature problematic. Just like the individual categories, you've also got the ability to filter and refine as you see fit – good stuff.
My recommendations for Dino Tube
What can DinoTube do better, exactly? Well my first recommendation would be for them to build a pornstar database. With thousands of popular ladies in the business, it would be nice to look at, say, 500 of them in a single page. We're talking about the likes of Brandi Love, Megan Rain, Nikky Thorne and Alexis Brill having specific locations that you can go to for the purposes of jacking off. I don't think it's all that crazy of an idea, right? I know that you can technically search for them, but that's not a perfect solution: especially when you're trying to look for porn one-handed!
My final words on DinoTube
It ought to become apparent to you that I'm a fan of DinoTube and while there are improvements that can be made, most folks who visit here are going to be just fine with how things are currently set up. At the end of the day, they promise you access to millions of sex videos and provide you with exactly that: can't really complain with the outcome, can you? Anyway friends: that just about sums up everything I have to say on the topic of Dino Tube. Thanks so much for reading my analysis and please come back any time you need advice on the best spots around for XXX action online.
Lots of HD porn
Millions of uploads
Fast page loading
Advanced search features
No pornstar database
Small thumbnails