CollegePorn Review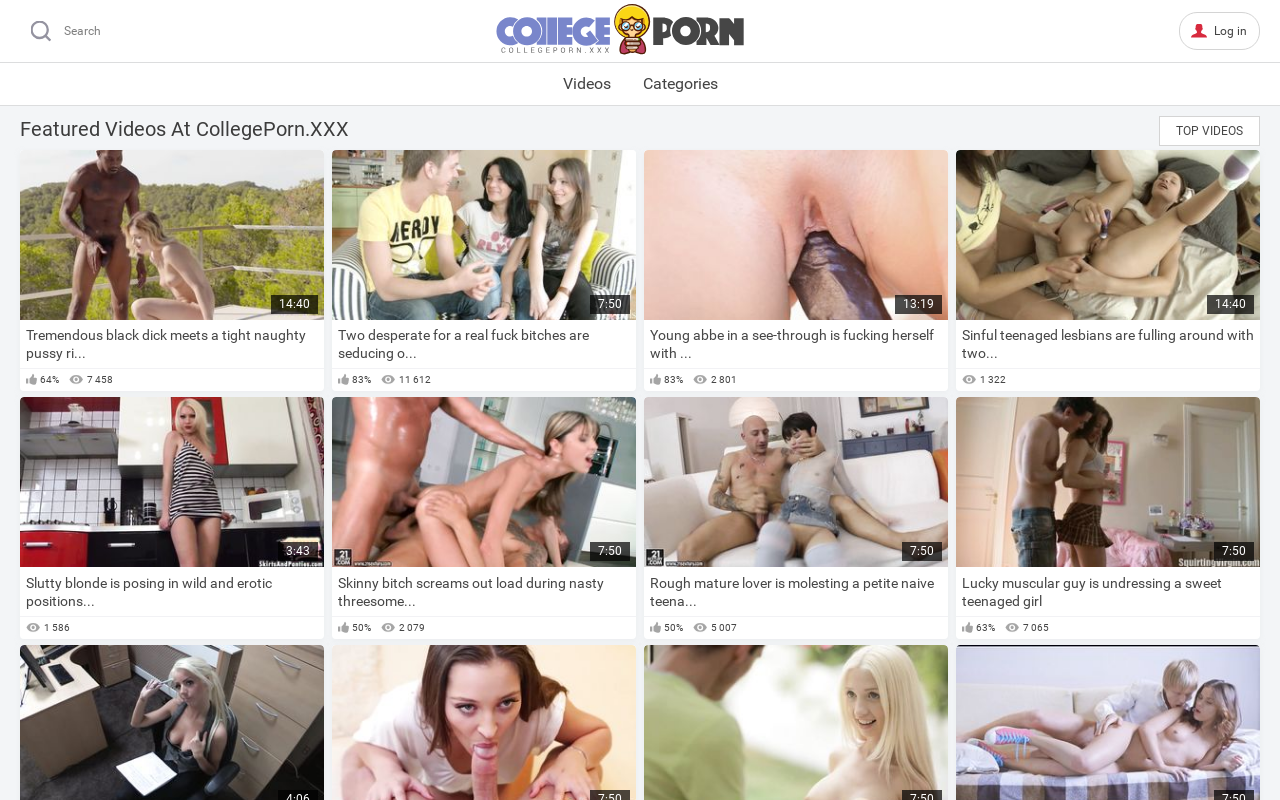 Fetish Dude heads over to College Porn
You really wouldn't believe just how often Fetish Dude spends his time looking for new video streaming platforms. I find a lot of valuable spots out there and always love to bring them straight back to the gang beating their meat to my suggestions. In this particular analysis, I want to dive deep into the website known as College Porn. I've got some type of expectation with regard to what goes on here, but just how good will this spot be for horny dudes that need to masturbate? Well, I'll tell you soon enough, so read my discussion further down and I'll let you know.
The homepage of CollegePorn
Starting off at the homepage, I think it's fair to say that CollegePorn keeps things somewhat minimalistic here: it's certainly one of the least-busy tube homepages I've come across in recent times. Taking up around 80% of the above-fold area, you'll find preview thumbnails of videos that I believe have just been added to the database. What's good about CollegePorn is that every 24 hours you come back here, you will find fresh uploads. It's a positive indication when free XXX streaming services are offering you a constant feed of the newest porn clips. Call me crazy, but I'm someone who likes his adult entertainment to be hot off the press.
The CollegePorn preview panes
The preview panes themselves are relatively simple. As you'd expect, thumbnails are here, although they haven't got that short-GIF play feature that most of the biggest tubes have whenever you mouse over a scene. Below that, you'll find a title, upload date, view count and comment count. Personally, I'd like to see some HD icons here, as well as some sort of rating indication to determine what the community thinks is good. It's generally a good to invite the masturbating public to give their thoughts and feelings on various library content. We're all doomed when no one is able to give over their true beliefs, right? I mean, that's the entire point of places like Fetish Dude: to give people the information and data they need to make informed decisions!
Exploring the sidebar of CollegePorn
On the sidebar of College Porn, you'll see a pretty useful search feature embed, which I'll try later, as well as a number of tube names attached to links. What I saw here included the likes of Beeg, Incest Flix, HD Porn and Dr. Tuber: pretty respectable names in the hardcore sex video platform world, but what exactly are they here for? Well, when you click on them, you'll be presented with scenes that come from that source – it would appear as if CollegePorn doesn't actually host the content locally, but rather embeds it from these larger, third-party destinations. I don't really have any major problem with this type of thing, but I do find it slightly problematic in the long-term, since platforms like CollegePorn can't independently manage, shift and confirm uploads when everything is sourced from other locations. That creates a liability issue and while it doesn't bother you personally, it can make CollegePorn redundant overnight if the tubes decide to block embeds here. That doesn't happen often, but still: you wear a seatbelt every time you go for a drive, right?
Searching College Porn's database
As everyone knows, I'm a big fan of being able to search for things. To put this tube to the test, I decided to write in 'Asian massage' – a pretty common query of mine to sort the winners from the losers. Unfortunately, I do have to be honest here: CollegePorn returned absolutely nothing. I did go ahead and search just for 'Asian' and that gave me some scenes to enjoy, but the fact that nothing showed with the massage tag attached – it either suggests that the search is pretty bad or their variety and depth of material is a little on the thin side. Oh, and another thing: I feel like the preview thumbnails here are too pixelated. It just don't look clean and it's a bit of an eye-sore. Exactly what is the reason for using these downsized previews? Some weigh in at 220 by 124 pixels and are then upsized to 360 by 203. It looks messy and no one should ever do this. Either get good thumbnails are make the preview area smaller – don't do something in the middle, because people like me will immediately notice!
Watching content on CollegePorn
So what's the deal like when you want to go ahead and watch content here? Not too bad, all things considered. The embeds are pretty clean and the scenes which do have HD (based entirely on the upload and tube source) can be enjoyed in as full-screen setting. You have a number of tags here associated with each upload, but they seem relatively random. Naturally, the ability to download is all but non-existent: these are sourced from other sites, so no links are provided. You may find it on the original source page, but that's going to require you to go digging, which ups the amount of effort that you have to put into your quests. Perhaps it's just better to use a tube that does have downloads by default enabled – PornHub being the most obvious example that springs to mind. Overall, I'd say that the porn watching experience here is good, but it's certainly not the best.
College Porn – some conclusion action
I've made my decision here, friends. While I naturally feel like College Porn has a lot of improvements to make, I do feel like they're doing a good enough job right now to warrant most folks heading on over in order to begin their daily session of jerking. It's a pretty small place, but that just means the content will load quicker and you might come across some more boutique releases. So yeah – this is far from my #1 pick when it comes to free porn videos online, but in general, it's fine to make College Porn your first port of call when you're trying to make your trouser snake sick.
This premium, high IQ was brought to you by Fetish Dude. Want to check out more places like College Porn? Read my porn tube reviews today – I'll point you in the right direction!
Fast page loading speeds
New content added daily
Not many advertisements
Low resolution thumbnails
Third-party hosting
No models database