CollectionsOfBestPorn Review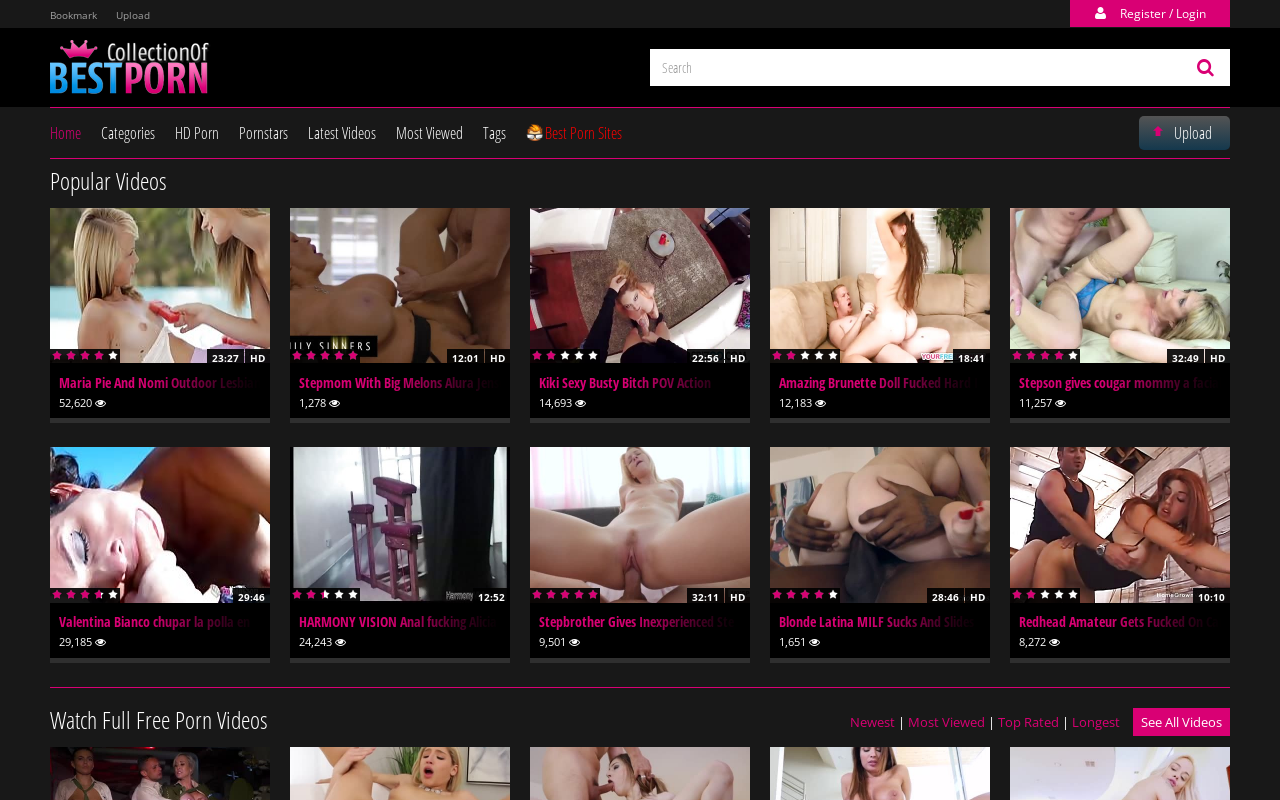 A visit to Collections Of Best Porn
Howdy there: it's Fetish Dude and yes, I'm back at it again today with another trip planned to a free sex tube. A lot of people out there have been asking me lately about how I manage to cover the best spots around: I always tell them the same thing – time! When I go to a place like Collections Of Best Porn, I devote a decent chunk of my day to it. This way, I can guarantee that you're getting the best information possible on places that you might want to visit. Now then, let's not waste any more precious seconds talking shop when we can reviewing! Read on: I'm about to explore what Collections Of Best Porn has to offer.
The homepage of Collections Of Best Porn
When hitting the homepage, you'll see that 90% of the screen before you is devoted to showing off preview panes for various scenes that you can watch. I think this is a pretty decent approach and one that I wish more tubes opted for (in some cases, they give priority to niches instead of videos). The video previews here consist of video thumbnails, a title, rating, length and view counter. I'd say that the images are a little small, but my major complaint is the fact that the titles fade away toward the end of them, which means you're being denied information for literally zero reason. It's not aesthetic and it makes the user experience worse, so why do it? Small issue, I know, but it's just the type of thing that gets these places marked down when I do my formal site analysis.
Checking out CollectionsOfBestPorn models
If you're like me, I'm sure that you have a decent number of pornstars names in the back of your mind that you can always utilize if you want to explore material based on models. After you press the 'pornstars' link here at Collections Of Best Porn, you're shown a number of world-class babes that have a lot of skill and history when it comes to servicing big shafts. Just a few of the names that I'm sure you're going to be happy to see include Leah Gotti, Riley Reid, Jynx Maze and Alina Li. It's nice to see a good variety of broads, as well as the ability to sort them based on number of likes or alphabetically.
After selecting a pornstar, you'll be shown all of the scenes that they've ever appeared in that you can watch on the website. Perhaps my favorite feature here is the ability for you to sort these clips based on popularity, duration, rating and view count, as well as only bother to see those that are available in high definition. Finally, you've got duration management, so if you're only really looking for short or long clips, you can filter out anything that doesn't fit your requirements. Honestly, this is next-level organization and filtering options, so I'm glad that the pornstars here get so much attention when it comes to exploring their material. If only more porn tubes out there went to this effort – I probably wouldn't need to run Fetish Dude in the first place!
The categories of content at Collections Of Best Porn
If you prefer to look at porn based on categories, be sure to head on over to that section of the CollectionsOfBestPorn website. I'd say that they're relatively vanilla here, since you're going to look at genres including Asian, anal, big tits, Latina, teen and squirting. They've also got a section if you want to look at tattooed sluts taking cock, which is one of my favorite things to do right now. Nothing beats seeing those inked-up whores receiving massive dicks. You just know how much they love getting railed, right? Pure bliss of you ask me. It's also nice to see that so many of the uploads here are provided in HD, so if you want to get your mitts on high definition smut, few tubes will cater quite like Collections Of Best Porn.
My closing remarks on Collections Of Best Porn
I don't have much else to say on the topic of this particular tube, so it's probably best that I wrap up my analysis here and put the mystery to bed. See, Fetish Dude is more than confident that you're going to love what's on offer here – especially if you're a run of the mill dude that just wants to masturbate over some vanilla content. Collections Of Best Porn provides what you seek and that's all anyone can want, right? Anyway, cheers for reading another fantastic review by Fetish Dude: now go jerk before you miss out!
Lots of HD footage
Fantastic pornstar search feature
Fast loading speeds
Download without account
Limited amateur material
Some adverts