ClipHunter Review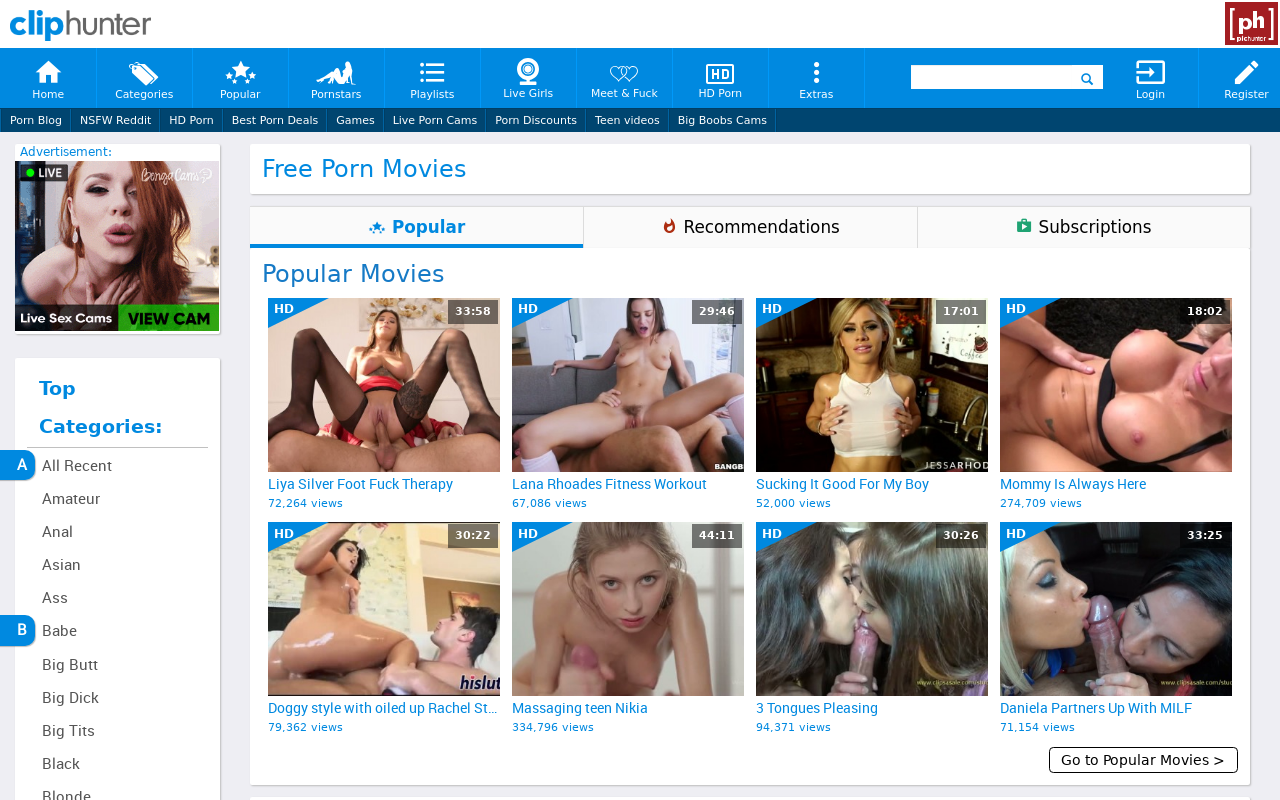 ClipHunter: a review by Fetish Dude
I've spent the better part of the last month looking for top-tier places to go online for videos that are free and erotic: believe me when I say that there are a hell of a lot of services out there that offer this exact experience! This review is going to be devoted to one such hub that goes by the title of ClipHunter. I've heard some good things, but haven't seen the place with my own eyes. The good news for you is that I'm about to head on over to write up a full review! Please: continue on and I'll let you know what the advantages are of making ClipHunter your first port of call for jerking.
First thoughts on ClipHunter
It seems somewhat prudent to begin my review here with a look at the homepage of ClipHunter. After all, this is where 99% of people who visit the tube are going to begin their adventure, right? Well as luck would have it, on the whole I'm really impressed with the layout and what's going on here. The first content block you'll come across has scene previews with the focus on 'popular' clips. I'm not entirely sure what their criteria is for deciding what's popular, but my guess is that it's something to do with how recently it was added to the website and how many views it has.
Scrolling down a little, you'll find a second section with featured videos: my guess is that the people running ClipHunter decide what goes in here, but they might also have some deals with content producers to put up their favorite scenes – who knows. Down further still, you'll find a section with some of the top girls on the site, as well as a link to the pornstar section of ClipHunter. I'll get to discussing exactly what that place is like later, but for now, I want to talk on the topic of the niches which are offered here.
Exploring the niches on ClipHunter
If you stick on the homepage of ClipHunter, you'll actually find that they have the top categories listed on the left-hand side of the interface. I'm pretty happy with what's displayed here, since you'll be able to click and instantly access genres such as teen, MILF, celebrity, lesbian and Asian. They've also got some more offbeat stuff for the freaks among us: I'm talking about fisting, bukkake and hentai! Clicking on the category link will actually display the exact same links, so don't expect to go here and come across more sections – that's not going to be the case. When you finally do decide on a topic of interest, ClipHunter will give you the ability to sort the associated media based on its upload date, rating, length or via a few other filtering options. Note that all index pages here have a HD toggle, so if you only want to see 720p and 1080p uploads, make sure you flip the slider over.
ClipHunter pornstars: a look
Before I go wetting my whistle on the available smut here, I do just want to take a quick look at the pornstar section of ClipHunter. The first thing that I ought to point out is that by default, it's organized based on rating – I'm not sure that this is the best option, since a few girls that are shown here aren't really what I'd consider to be world-class performers. As an example of this, there's a chick called Seka who appears to have been popular in the 80s, but she's only got 10 scenes and they're all pretty rubbish, so who's coming here to watch her? Beats me! My advice is to instead select 'followers', then you'll start to see the likes of Madison Ivy, Christy Mack, Tori Black and Riley Reid. These are girls that you know deliver in the pornography department so yeah – my preferred method of access to say the very least. From my perspective, it just makes sense for ClipHunter to cut the whole rating thing unless the algorithm is vastly improved. It should definitely take into account how many reviewers have given it the star rating, not just what the value is.
Porn videos on ClipHunter
In order to put the porn to the test, I decided to go ahead and pick out 20 or so uploads from a variety of different niches and time periods to get an average sense of what's going on here. Note that this isn't the best representative sample, but it really overdid itself anyway, so I'd imagine that the entirety of ClipHunter can't be all that awful. What I liked most about the library of porn videos here is the fact that they have a huge chunk of HD material. Another really cool feature is that you're able to download content directly to your computer – no account required! Scenes are anywhere from 5 minutes to 45 minutes on average, although I do think they have more than the average number of full-length productions here.
Studio content seems to dominate the database, with lots of classy spots providing you with the material you crave. We're talking Babes, Teem Skeet, Tiny 4K, Sis Loves Me, MILF Hunter and more. While it's possible to get particularly fetish and unique genres of entertainment, I think that they typically focus on vanilla content. Hope you're into the standard stuff, folks – you're going to get a lot of it here on Clip Hunter.
My conclusion on ClipHunter
I can't think of too many problems with ClipHunter, except maybe for the fact that they don't have much of a community here and the pornstars section could do with some work. I was thoroughly impressed with the availability of high definition action and in addition to that, the fact that they give you downloads without requiring an account. As such, I've determined that it's more than reasonable for me to go ahead here and sign off on ClipHunter as a space to get the smut you desire. So, in short, please: go ahead and masturbate over the very best in XXX fun thanks to Clip Hunter. These guys know how to bring you porn videos like very few places can.
Fantastic HD toggle
Lots of archived pornstars
Free download feature
Regular new scene uploads
A few adverts
Pornstar page needs work