BubbaPorn Review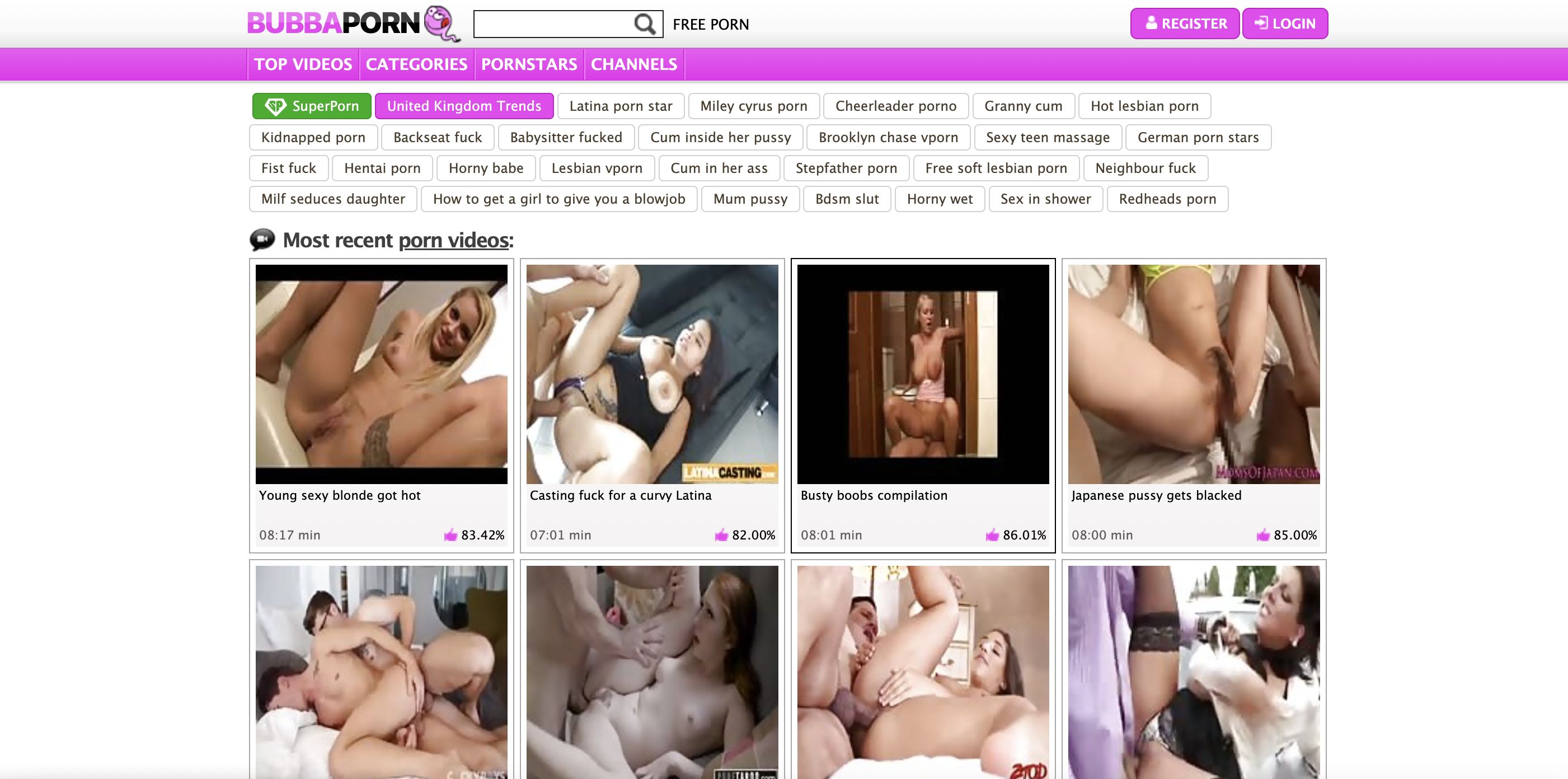 Fetish Dude visits BubbaPorn
I think we all know that when it comes to writing reviews on the best tubes out there, no one in the industry is as skilled as Fetish Dude. I've spent a lifetime trying to master the art of analysis – especially when it comes to pointing you in the right direction for watching porn scenes online! Today, I want to spend a little time looking at a place called BubbaPorn so I can decide if it's the type of spot that is worthy of your attention. Since there's so much competition in the online smut space, I figure this is just a natural progression of the review process. Anyway, let's get into the mix and see what BubbaPorn is all about, shall we?
My first thoughts on BubbaPorn
Like all good boys, I want to begin my review here by looking at the homepage, since this is where the vast majority of you are going to be spending your time when you first decide to check out Bubba Porn. I must admit that the site design here is a little dated: it feels like it was created around 10 years ago and they simply haven't opted for a redesign since. The major problem for me is the fact that the preview panes look pretty damn awful, mainly because the thumbnails are square and only shown in pretty poor quality. They also scale strangely, which means that girls can look a hell of a lot longer than they actually are – weird stuff to say the very least.
BubbaPorn also has a bunch of links at the top of the page that they use for the purposes of showing you popular searches and tags. I've never seen a tube do this before, but just because they're the first doesn't mean that it actually brings any advantage or value to the end user. Ideally, you'd like to see BubbaPorn just remove this altogether and replace it with more thumbnails of scenes that they have. By default, clips here are shown based on their upload date, with the most recent ones located right at the top of the site. It's a fairly simple system and sadly, you have no other organization preferences that you can select. BubbaPorn should allow people to sort based on length, popularity and view count – those are all pretty standard features on a tube site.
Exploring Bubba Porn's categories
If you're the type of person who really enjoys looking at porn in distinct niches, then it's probably in your best interests to hit the 'categories' tab right at the top of the site. Here, you'll be able to explore all of your favorite genres and find content that is devoted to them. It appears that they're somewhat alphabetical in nature, with all of the big ticket choices on display. We're talking about the likes of massage, Asian, amateur, hentai, fisting and POV: suffice to say that the variety you'll be able to enjoy here is something that Fetish Dude can really get behind. There's just something about this business and your ability to uncover exactly the type of content that you want – it's brilliant stuff, isn't it?
Once you select a category, you'll then be shown all of the uploads they have which are aligned with your request. Please note that these clips are sorted based just on upload date (at least, I think that's the case). Similarly with the homepage, you have no ability to control how the porn videos are shown to you. BubbaPorn really needs to work on this, because if they don't, they're going to fall behind the times and what all of the competition does to keep the punters happy.
Pornstars on BubbaPorn
For some people, they much prefer the opportunity to look for specific pornstars as opposed to general niches. The good news for you guys is that BubbaPorn has a section on its site for exactly this, so be sure to check it out if you're feeling like a horny stud who's only interested in seeing the best ladies perform. Fetish Dude saw some real choice babes here, including the likes of Brandi Love, Christy Mack, Alexis Texas, Kendra Lust and Riley Reid. This is an all-star cast of girls who really know how to fuck, so it's a good thing that you can watch them in action thanks to the free videos on this particular tube. Each major pornstar has dozens of clips too, so that's great if you plan to come back time and time again for more masturbation needs. Note that you can actually sort here, with functionality to showcase pornstars based on their rating, view count and number of videos.
Improvements for BubbaPorn
I hate to criticize any website I come across, but Bubba Porn could do with a little bit of guidance. Firstly, the lack of sorting features really sucks, so make sure those are added immediately, if not sooner. Also, I'm not too keen on the fact that the sides of the site are just empty here – it's a lot of dead space that could be occupied with more preview scenes, a category link bar or something else. I know this was the aesthetic many years ago, but it just shouldn't fly in the modern era – at least that's how Fetish Dude sees it.
A final word on BubbaPorn
Friends: Fetish Dude doesn't like to make reviews go on for hours on end when he doesn't need them to be as such. For this reason, I'm going to call time on this analysis and give you my final verdict. The long and the short of it is as follows: you're going to find a lot of sex videos here and they're completely free for you to watch. This creates an incredible opportunity for you to watch your favorite performer and additionally, access thousands of uploads across a decent number of erotic genres. In short, Fetish Dude is giving this his official seal of approval, so be sure to check out BubbaPorn whenever you need to jerk to something!
Pornstar database
Plenty of channels
Top-rated area
Simple search feature
Limited filtering
Dated site layout