BravoPorn Review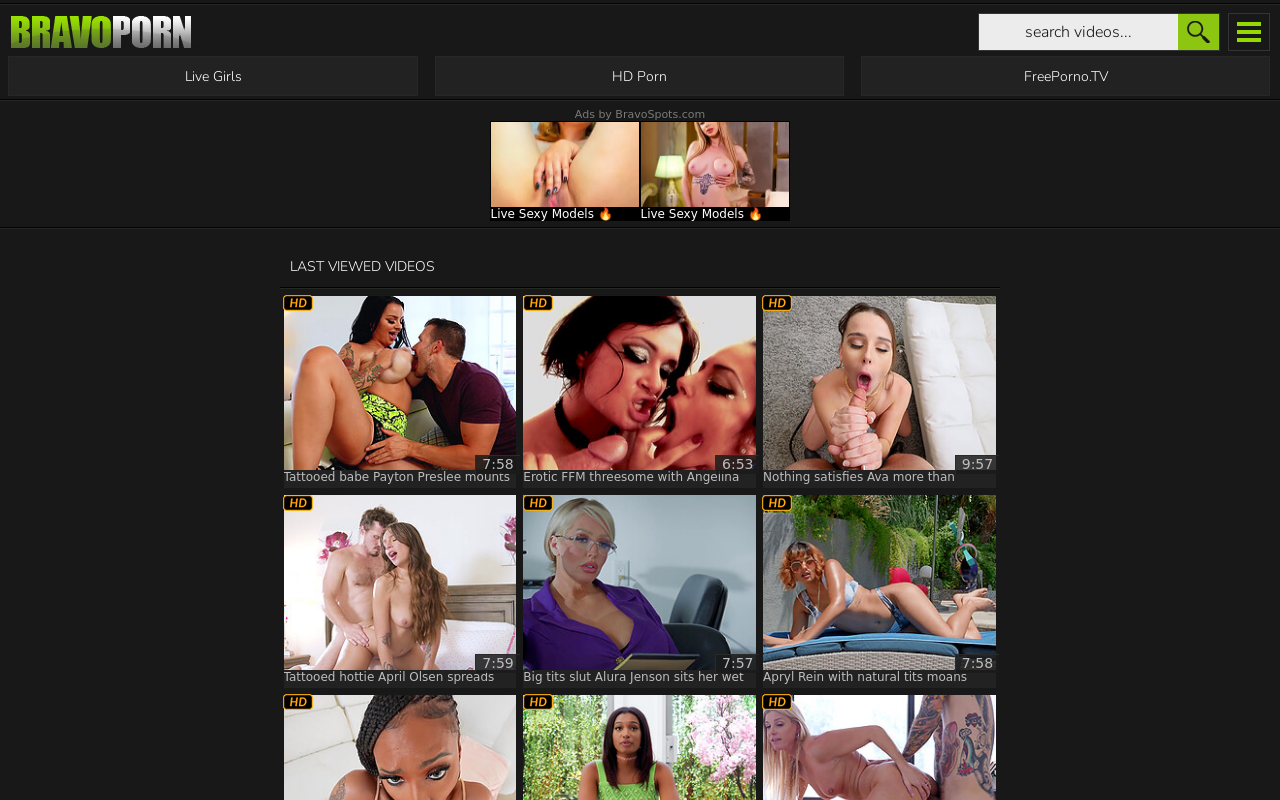 Fetish Dude visits Bravo Porn
Hello my loyal readers – you know what time it is, right? Well, if not: I'm about to go and hit up a tube site in order to determine whether or not it's a good spot to go if you feel like jerking off. Over the last few years, I've searched far and wide to discover the hottest places which will help you cum time and time again. The Internet is enormous, so you want to make sure you're always visiting the best places around, right? Well, let's see if BravoPorn is worth writing home about or completely defective. I'm excited – you ought to be as well!
Homepage of BravoPorn
I've noticed over the last few years that a number of websites provide you with categories before anything else, but that's not the case with BravoPorn. Here, you'll see a list of the latest watched videos on the platform – a strange approach to material display, but I guess I'm not totally opposed. If you scroll down a little, you'll also see some of the most popular releases added to the library, so if you're someone who wants to enjoy the cream of the crop, this is almost certainly going to be the preview pane area that you'll want to indulge in. Down further still and you've got a categories area, but to talk more on the niches afforded to you by this tube, I'll start a new paragraph – there's a lot to go over!
Categories at BravoPorn
Right at the top of the website, you'll see a navigation bar that allows you to press a variety of buttons. Naturally, I'm going to go with 'categories', because I want to see what Bravo Porn has to offer in the genre department. I'm happy to see a bunch of the usual suspects here, including the likes of teen, lesbian, hardcore, Asian, ebony, shemale and so on. I guess I only really have an issue with the fact that some niches can be combined, such as mature and MILF, which are essentially the same thing. Alongside each title, you'll also see the number of scenes available. To give you an idea of the scale here, you'll find 44,000 blowjob scenes, 49,000 MILF uploads and around 38,000 lesbian sex clips. Pretty decent size – I think you'll struggle to make a dent in their collection.
Note that you're able to sort by a number of different systems here, including niches based on their alphabetical order, number of videos, average rating and popularity. These aren't super important features to have, but I suppose it's better than not having them, right? Fetish Dude always insists on accessibility, so Bravo Porn definitely gets a point when it comes to this. They've secured my interest for the time and being – that's for sure!
Pornstars of BravoPorn
Bravo Porn also has a section on its website which you can visit if you prefer to watch porn based on the girl featured. It's no secret that a lot of the best girls in the business have a lot of repeat watchers, so let's talk a little about the pornstars of BravoPorn. Firstly, the section is sorted by default based on video popularity, but I think this can cause issues where lesser-known girls are displayed toward the top. For instance, I've never heard of Kimberly Belle or Linda Lovelace, but if I sort by actual model popularity, there are names which I'm more familiar with. I hope for your sake that you enjoy watching the likes of Asa Akira, Teagan Summers, Bree Olson and Phoenix Marie fucking: there's a lot of content here which features these horny broads in action!
Exploring the BravoPorn content collection
There's a definite bias here toward professional material, so if you're someone who doesn't care that much about genuine amateur uploads, Bravo Porn is probably going to be a good choice for you. They've got a lot of content here from world-class sources, including some of the big ticket studios such as Reality kings, Team Skeet and Naughty America. Bravo Porn has a pretty decent embed display area for all scenes, plus the clips are hosted locally, so no need to go darting off to other destinations in order to get your fix of smut. Do note that by default, clips don't stream in high definition – make sure you tick the box if you want to go ahead and see clips in their full glory.
Some improvements for BravoPorn
It's always good for me to balance out reviews with some weaknesses, so let's talk about what BravoPorn can improve upon. Firstly, I feel like their thumbnails are just a little too small: boost the size so I'm not squinting in order to see what's going on. Additionally, a toggle filter just to see videos with 720p or above resolutions would be fantastic. Fetish Dude is of the opinion that over the next few years, sites that don't have a lot of HD content are going to be obsolete. We're not quite there yet, but yeah: I'm sure the time is coming.
I'd also like to point out that BravoPorn has a relatively limited search feature that doesn't allow you to sort or refine what you seek. The results are at least on-niche though, so whatever you type in will likely result in you receiving something that you actually would masturbate over.
My final thoughts on BravoPorn
Fetish Dude often warns people of visiting low-grade websites, but I think in the case of Bravo Porn, they've actually done a good job of presenting a tube that'll give you direct access to the best porn around in a competitive environment. It's not perfect, but compared to the average spot out there, I do think it's giving people a pretty good bang for their buck. Perhaps without the adverts it would even drip into the top 10 on my listing – I guess I'll come back in a few months and determine if I want to give it an upgrade!
That's all for my analysis and review of Bravo Porn. Thanks for reading: may your next session of masturbation be the best one yet! Take care and happy surfing, friend.
Lots of professional videos
Pornstar database
Some HD uploads
Small thumbnails
Limited search functionality