TeamSkeet Review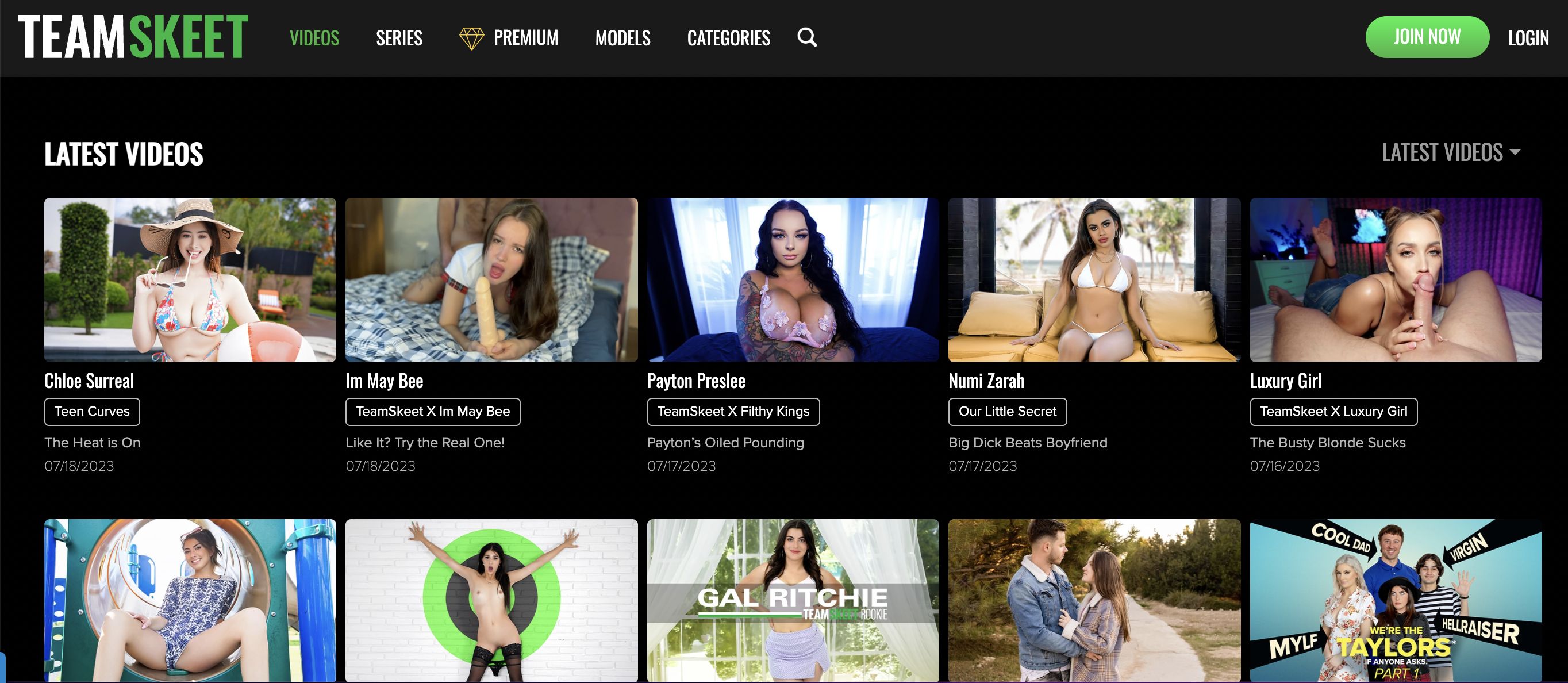 TeamSkeet: teen porn heaven
Fetish Dude tries to be as neutral as possible when he goes looking for the best adult sites out there, but let me tell you – few hubs can compete with what TeamSkeet has to offer. These guys are absolutely focused on bringing you the best, most exclusive XXX scenes where young, delicious girls are given the pounding of a lifetime. They've been in the game for a long time and they know what's what when it comes to great teen sex. However, I still want to provide you with a complete look at the platform – so read on and see what Fetish Dude found inside Team Skeet!
Signing up and logging into TeamSkeet
The process of creating an account here is incredibly simple and convenient – it doesn't take long and with just a few clicks, you're inside and able to get your hands on the goods. What I want to make clear is that this is a premium website – meaning you will have to pay a few bucks to get what you want. There are good deals available when you sign up though – including a trial if you want to test the waters before dipping your toes fully in. Team Skeet has optimized their website for mobile devices, desktops and even tablets. No matter what device you plan to use to get your hands on the teen porn here – TeamSkeet has it all covered.
The TeamSkeet series
Instead of just lumping all of their content together, TeamSkeet has a few different studios through which they distribute their content. These are typically focused on a specific niche or genre, and you're free to get as much as you want from each and every studio. Now the content is available to be looked at on their main archive page as one big database, but with good filtering tools and so on, it's not difficult to find what you want. Let's take a look at a few of the studios below so you can know what type of media to expect from TeamSkeet.
Teen Curves is a great first example of a studio that many people love. The concept is about teen girls who have thick asses and big tits – we're talking about hourglass goddesses that you want to be inside of all day and all night. These girls are pure breeding material and in a lot of the scenes, they get pumped full of hot cum after a good, hardcore fuck. Some of the girls who have appeared in scenes here include Percy Sires, Crystal Chase, Chloe Surreal and Julz Gotti. Young, delicious babes with great bodies and curves in all the right places!
There's a good chance you've heard of my next recommendation: Sis Loves Me. This is an incest-themed studio where brothers and sisters find out that their love for one another is a little bit deeper than what you might find in the typical family. It's all good stuff and believe me – the incest angle here is really fucking hot. I've seen plenty of gorgeous teens getting fucked by their bros on this website. In fact, one of my favorite scenes of all time was created for Sis Loves Me – Athena Faris in 'Stepsisters Growing Pains'. Other girls that have appeared in videos here include Charity Crawford, Karlee Grey, Joey White and Aria Lee.
Looking at TeamSkeet scenes
Scene quality at TeamSkeet historically has been 1080p – but they've always operated at an incredibly high bitrate of around 10 Mb/s. Take it from an expert: these full HD videos are better quality than most that you'll find online. Having said that, Team Skeet also offers you the ability to download 4K resolution media if you're interested. The resolution is 3840 x 2160 pixels and you get around 17 Mb/s bitrate – real good stuff. I'd say that the porn videos here are around 30 to 40 minutes in length and generally have a little bit of an introduction. That said, it does depend on the studio in question and some are more focused on the plot than others. If you want good porn lore before watching teens fuck, this place can provide that.
In total, there are over 9,000 uploads at TeamSkeet. I don't think you need me to tell you that this is a truly impressive figure – the site has been online for over a decade and they add a new release to the network at least once a day. I think it goes without saying that if you're serious about getting a lot of XXX content with teens taking cocks, this hub is going to provide you with exactly what you need. Imagine coming back here every so often and seeing new, delicious adult scenes to enjoy – all with the best teenage babes in the business!
Other considerations on TeamSkeet
The download servers were really quick: I completely maxed out my 100 Mb/s connection. Each video also comes with a picture gallery, so if you want some snaps to go along with your teen porn video – that's an option. Note that there is a download limit here, but it's 30 videos every 2 hours: pretty reasonable if you ask me. Even if you're planning to sign up for a month and then quit once you get the uploads you want – you'll be able to secure hundreds, if not thousands of scenes with relative ease. Navigation is simple and there is a search feature if you want to find your favorite pornstar or just watch content within a particular niche.
My final word on TeamSkeet
I'm always looking for great teen porn destinations and I have to say it – few come close to offering what Team Skeet has. These guys have some of the best studios around and particularly for incest fans, it's stellar. They're great at what they do and I'm pretty confident that you'll love every last second of the time that you spend inside this portal. It's well worth the cost, so go right ahead and sign yourself up – TeamSkeet has everything you need for a great teen porn time. Anyway, that's it for this review: thanks so much and I'll catch you in my next barely legal adult website analysis. Happy jerking!
Huge content archive
Exclusive collection
Fast download speeds