FapHouse/Teens Review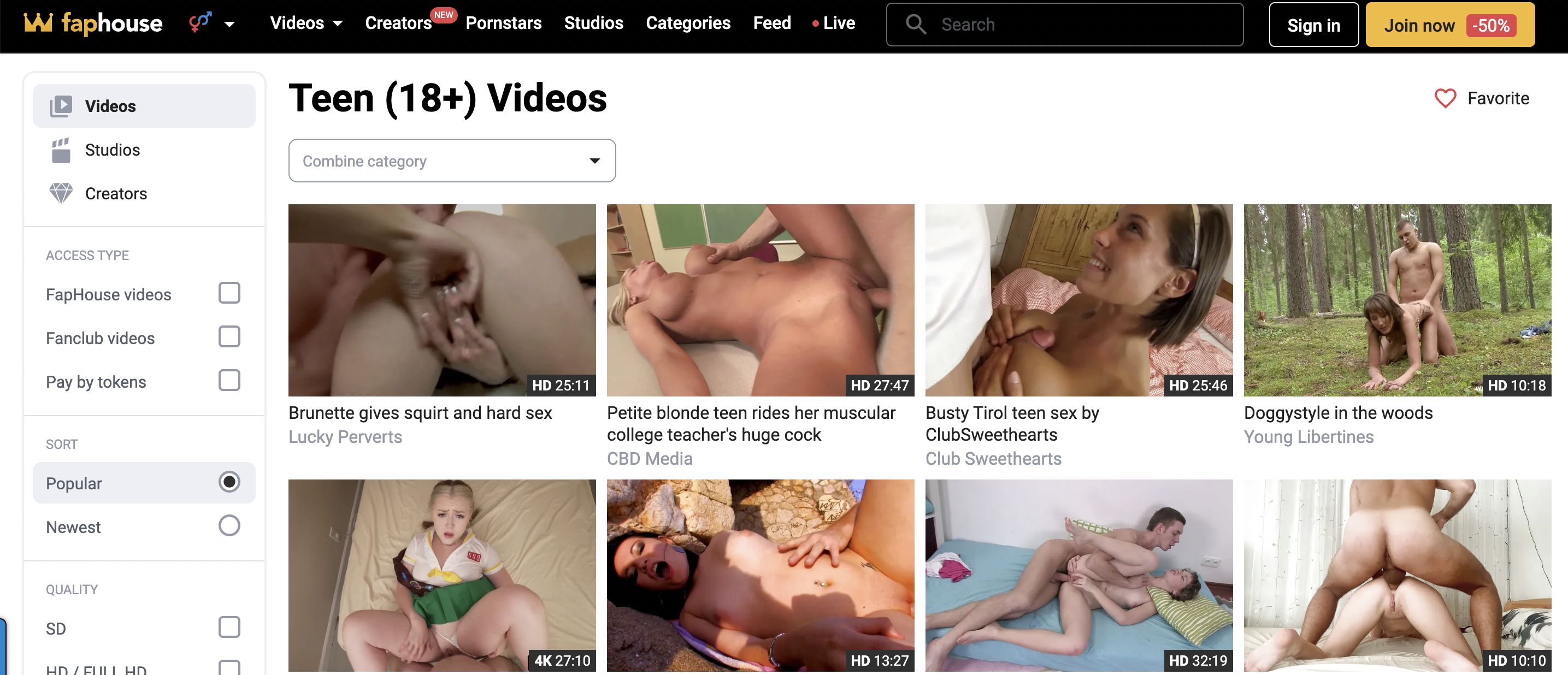 Fetish Dude reviews FapHouse's teen section
I've written about FapHouse before and believe me – there are few spots on the Web that have better hardcore videos than what's available here. Today, it's my job to show you what's what when it comes to this portal and its provision of teen content. If that sounds like something you might be interested in – stick around and I'll provide you with my complete, honest review. No one knows the teen sex industry quite like me, so let's take a look around and see what FapHouse has for us.
First thoughts on FapHouse
There are thousands of teen videos here – all of which come from the best studios around. No matter how you like your teen sex, you're going to find that there are plenty of channels that have provided this service with world-class XXX scenes. Examples of the studios I'm talking about include Shiny Teens, Teeny Lovers, Teen Creampie Patrol and Raw White Meat. Suffice to say, if you're someone that likes a lot of variety, you're going to find that to be a major selling point of what FapHouse has to offer. These guys really do not mess around when it comes to their content and what they have to offer. They've worked with some of the biggest stars too!
Teen pornstars at FapHouse
Got a favorite girl that you want to see in action? The great news is: there's a pornstar section on the website that you can use to find all of your favorite girls perform. Names that you might be familiar with here include Vina Sky, Megan Marx, Ashley Stone and so on. You'll be amazed by just how much content is available and yeah – it's all available once you sign up and get into the member's area. Videos from pornstars are also able to be sorted, so if you want to see their latest – or the highest rated – content, that's not an issue.
Other filtering tools at FapHouse
With so much teen porn to go through, it's just as well that they have advanced sorting and filtering. For instance, you can pick scenes based on their length, as well as the objective video quality. Perhaps you only want 4K uploads? That's something that FapHouse can provide to you! They also have a special amateur area, so if you're looking for homemade XXX goodness from the best teens around, that's something that they can make available to you. Suffice to say, FapHouse really is going above and beyond the call of duty to provide you with what you need.
Final thoughts on FapHouse
I've given you a good tour of this place, but check out my full review on FapHouse if you want a deeper look. This is just coverage of the teen section and believe me when I say: nothing hits the spot quite like this portal. I've spent quite a few hours here and I know for a fact that my readers are going to love every last second of what they find. In terms of the sheer quantity of hardcore teen porn you get – it's really difficult to beat this hub. Anyway, thanks for reading: Fetish Dude will catch you in his next analysis!
Hot teen porn
4K content available
Regular new releases
Have to pay
Average tagging