Chaturbate/Teens Review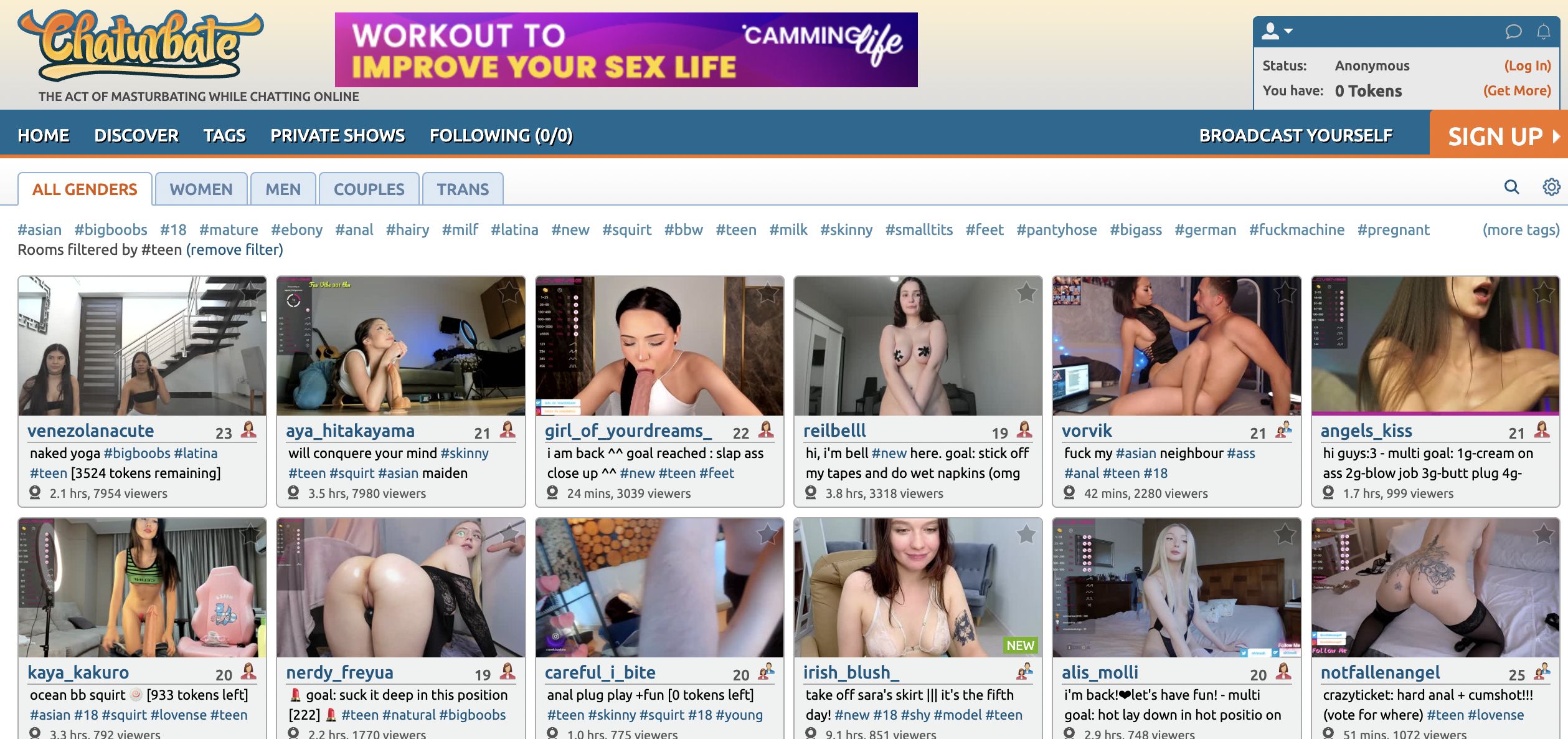 Fetish Dude hits up Chaturbate's Teen category
I've been around the Internet for long enough now to know that if you want good webcam action, there are plenty of spots to get it. What you might want to know about the world of teen sex is that there are websites devoted to camgirl action – that is, if you're looking to watch barely legal brats perform in front of the camera, you can do exactly that. Today, Fetish Dude is going to show you around Chaturbate to give you a good look at what's available here. For those who love barely legal live sex fun, it doesn't get much better than this!
The category homepage
After hitting the Chaturbate homepage, you can click on the 'teen' tag to get a full look at all of the teen streamers who perform on the website. Note that unlike some rivals, couples are allowed to stream on Chaturbate – as well as trans girls and men. Pick your poison using the navigation at the top of the page and you'll be good to go! One thing that Fetish Dude really appreciates is that by default, the cams are sorted based on the popularity of the streamer. This means that if you want to see the best on the site, just look at the top of the page. They have thousands of live streamers though, so take a look around and find the right babe for you.
Stream quality at Chaturbate
One of the best things about Chaturbate is that they allow you to watch performers in the best possible qualities – you can go up to 1080p if you wish, but if bandwidth is a concern, you can also check out the 720p and 480p options instead. The interface is real simple to use and the bitrate is fantastic. These cams are probably the best looking in the industry – just as long as the girl you're watching actually has a decent setup to show you what's good.
Types of Chaturbate teen shows
The teen camgirls at Chaturbate put on a variety of shows and what's really cool is the fact that you'll be able to watch them mostly for free. So many girls here are willing to show themselves without you having to pay a penny. That's right: free streams where the ladies get off on being tipped! What could be better than that? You know you want to see these teenage camgirls getting down without having to spend any cash at all. Fetish Dude loves it: you do too.
Final thoughts on Chaturbate teens
Look guys: the fact of the matter is that if you want to enjoy the best teen webcam content around, no one is going to do it better than this service. The number of live girls here is absolutely fantastic – they know how to put on a performance and since most of the action is free, it's heaven on Earth. Fetish Dude highly recommends a visit to Chaturbate's teen portal for anyone who wants to see the best in barely legal XXX cam fun.
Free teen cams
1080p HD streams
Fast loading speeds
Some account only features
Filtering could be better