XRares Review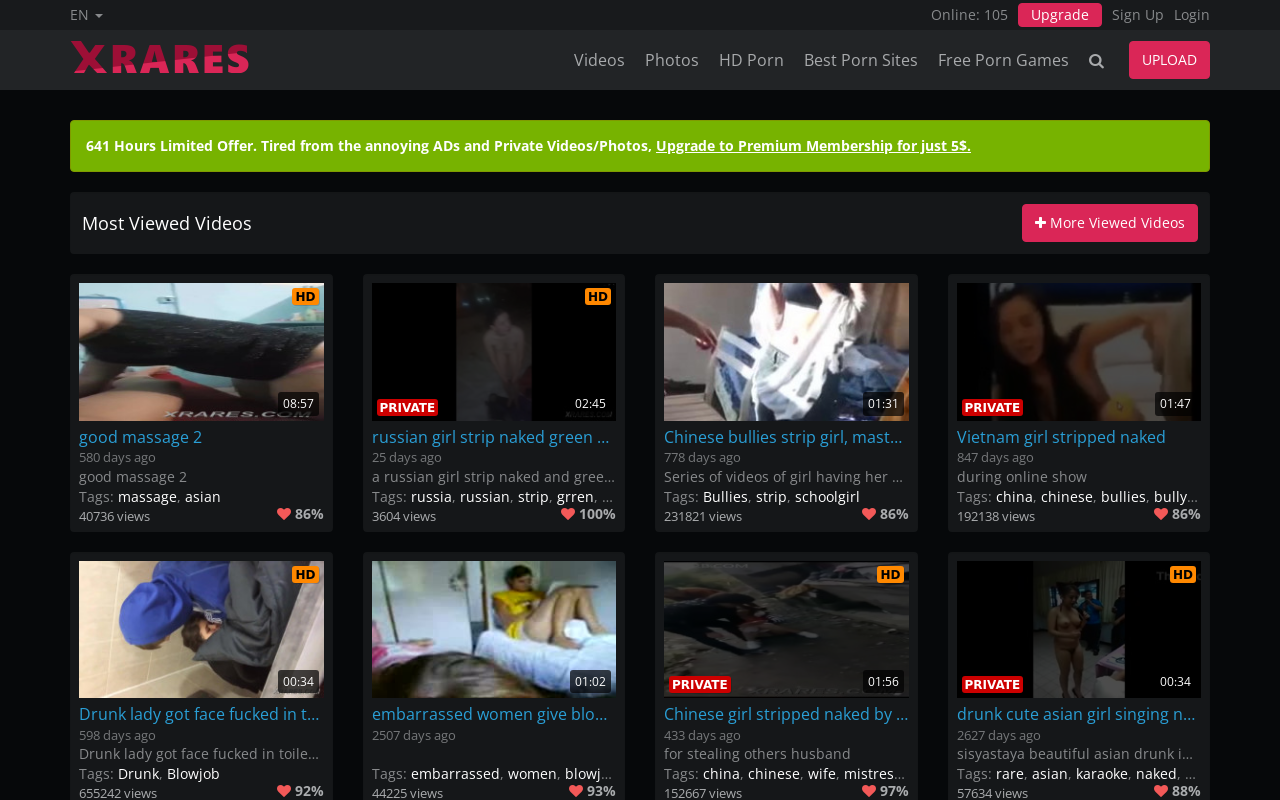 Fetish Dude's take on XRares
XRares describes itself as being the best free tube around for anyone who wants scandals, incest content and other crazy adult content. I'm the type of person that likes to fully explore a project before I give it my official seal of approval, so that's the entire purpose of what you're reading right now. Let's take a look at what XRares has to offer and determine whether or not this is the best website on the Internet for your adult desires. Continue reading and Fetish Dude will give you his honest opinion on XRares – let's get into it!
The homepage of XRares
We'll begin at the homepage: it's a tube-style approach to content that has quite a few 'private' uploads. I'll let you know ahead of time that XRares does have a premium membership option which provides you with a huge number of videos – quite a lot more than you get from browsing for free. You'll also get rid of adverts with your premium account and it's just $5 per month. Do I think that it's worth it? I'll let you know, but right now, I'm going to focus on the website from the perspective of it being a completely free place for you to get the content you desire. Sounds like an absolute plan and a half, right? Right.
Examples of videos at XRares
Content is the most important thing when it comes to these types of destinations, so I'm going to spend a lot of time looking at what videos are available here. The latest one is called ' Chinese bullies strip girl, masturbate, and then fuck her' – I've watched the scene and I cannot work out if it's real or not. You don't actually see her having sex – just the getting naked part. Not sure where the person who uploaded this got the title from, but it's not accurate.
The next video I decided to check out was 'Russian lesbians playing in a toilet'. It was a pretty short clip, but one thing is for sure: I'm going to get my ass to Moscow as quickly as possible if this is the state of the country. Perhaps it's the invasion of Ukraine that has turned them into public sex addicts? I'm not sure, but whatever it is – Fetish Dude wants to be a part of it. XRares is showing me that there's actually plenty of fun all over the world: I noticed that quite a few of the videos here were from South East Asia. If there's one thing you need to know about me – I love SEA. The girls, the weather, the durian. Fuck man – just visiting this website makes me want to go there to get myself all the pussy I could possibly want! Maybe an STD as well, who knows?
Tags at XRares
There are a few tags here, so if you've got a particular niche that you're interested in looking at, you can find it. Examples of tags that I saw included mature, blowjob, hooker, Malaysia, Asian, squirting and upskirt. Clicking on any of these takes you through to the archive page that contains all of those scenes. You can sort by quite a few different metrics, including upload date, most viewed, most commented, top rated and more. There's also an option for videos to be sorted based on their length, which considering that quite a few of the clips here are short – yeah, it's pretty awesome. Most websites have this feature and I think it's not that useful, but when it comes to XRares – it's definitely something that I'm glad they've got available for porn punters to utilize.
Quality at XRares
It's not immediately obvious to me what the average video quality here is. Since it's not unique content, you might find 360p uploads or 1080p scenes. I was actually pretty impressed with the average bitrate though – these kinds of websites that can struggle to find sponsors can sometimes aggressively cut costs by lowering the bitrate of content, but that doesn't appear to be something that XRares has done. It's very much appreciated because for me, bitrate is the most important thing when it comes to content. I want to see what's going on – not a bunch of random pixels!
Sadly, there's no way to change the quality of the videos that you'll find at XRares. It's all one size fits all, plus there's no direct download link either. If you know your way around inspect element you can get your hands on the footage here, but I don't like having to jump through hoops in order to get what I want. Fetish Dude is someone who appreciates convenience and yeah – the more convenient the experience, the higher you get ranked!
Other thoughts on XRares
There are adverts here, and you can pay for a monthly membership to get rid of them – it's also true that quite a lot of videos are hidden behind a paywall, so if you're the type of guy that wants to get completely free videos and nothing else – you might be a bit disappointed. I'd say that a fair number of videos are free to watch though, and they're clearly labeled when they're not, so it's not difficult to avoid them whatsoever. And for me, five bucks isn't exactly the end of the world – it might be worth it, especially if you're looking for the type of porn that isn't generally hosted anywhere else.
My review conclusion
I've spent an hour or so at XRares: it's a good website, all things considered. I'm happy that the amount of extreme content that they have is far less than rivals such as TheYNC. However, if you are looking for a place that's got totally insane material – might be an idea to go somewhere else. What I will say is that since it's free to visit and explore around, heading on over and seeing things with your own eyes is the best way to go about doing stuff. That's all for this review: as always, thanks for reading my analysis and I hope that my opinions and thoughts on TheYNC were sufficient for your porn needs. Happy jerking and I'll see you around!
Regular new uploads
Categorized content
Good filtering and sorting
Some adverts
Some paywalled videos