Kaotic Review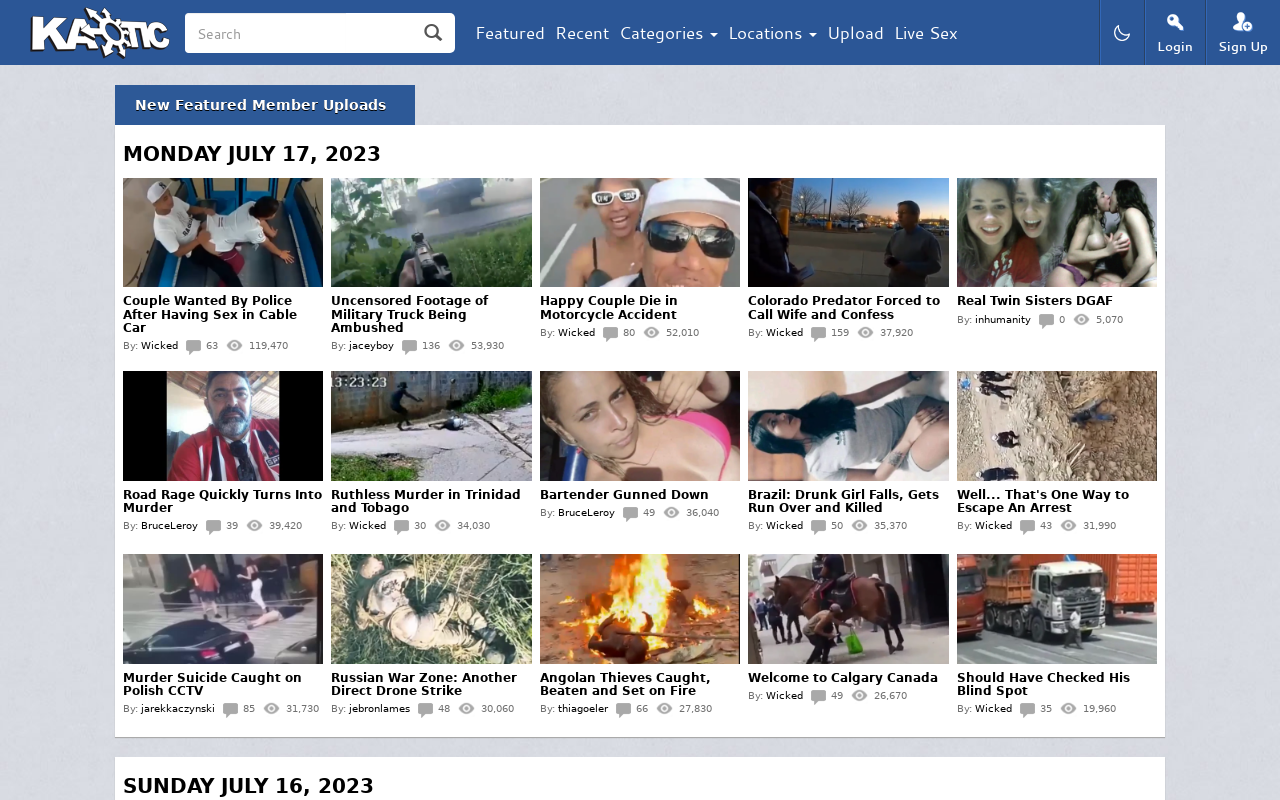 Kaotic: Fetish Dude's investigation
Howdy gang – I'm at the reviewer desk and today, I'm looking at a spot called Kaotic. Suffice to say, if you're hunting for graphic videos, extreme clips, shocking content and more – this might just be the destination of choice that you have to visit to get what you want. Please note: this hub has a lot of crazy stuff going on, so if that's not your cup of tea, turn around as quickly as possible. I mean it when I say it: this place is packed full of stuff that will make you say "what the fuck!". Now that I've given you a disclaimer: let's crack on and see what Kaotic is all about.
The Kaotic homepage: let's take a look
Starting things off on the homepage, we can see that the content here is primarily sorted based on the upload date. It looks like most of the content here is curated by featured member uploads – that is, hand-picked material that the staff think is worth taking a look at. There's one uploader called 'Wicked' who, I'm guessing, actually works for Kaotic. Most of the scenes that you'll find come from this one person, so I think my guess that they're in cahoots with the website is probably pretty damn accurate. There are dozens of daily uploads and I suppose it's a good time for me to tell you what types of material you'll find here: warning, what I'm about to talk about might make quite a few of you feel uneasy. Again – this is a shock website with a lot of gore, so be careful.
Some of the videos that I saw here included a couple fucking a cable car (they're wanted by police? Come on man, live and let live!), thieves in Angola literally being burned alive, someone getting kicked in the head by a horse and a guy getting ran over by a big truck. Oh, yesterday there was also a clip of Daniella Hemsley getting her tits out and two blondes in the UK having a slap fight. Look: there's a real mixed bag of content here and I think it's safe to say that if you want stuff you generally won't find on YouTube, Kaotic is trying to bring that to you on their platform.
Exploring Kaotic categories
There are a bunch of categories at Kaotic, so if you want to find one specific type of content, you can do exactly that. Examples of what's available here include medical, protests, robbery, WTF and war. Sadly, there's no direct place just to find adult content – which is quite weird, because just below the categories page is a section devoted to live sex cams. If you guys are okay pushing adult streams and the like – what's the big deal with actually showing me all of the XXX stuff you have? I suppose the closest in this case is 'WTF' – at least, that's where the video of the couple fucking in the cable car was stored.
I decided to venture into the WTF section and while there were a few more videos of sexy girls and that type of thing – man, was it hard to actually find what I wanted. There's just so much death and violence here that you're going to struggle to get anything that's actually hot. I searched the website for the word 'porn' and to be honest with you, I think that it's probably the best option if you just want to see that Kaotic has in the naughty department. Fetish Dude is very much just focused on this one type of content, so the fact that there isn't too much here does annoy me a little. But, since I've found some porn – let's talk about what's here.
Porn at Kaotic
So, what type of content can you find if you want it? A girl crying after a porn shoot where she did ass to mouth, that porn scene of George Floyd fucking a fat ass black chick, a horny slut having sex with a tree and some crazy Japanese porn content with girls throwing up. I think having Japanese content on your website is always going to be awesome though, right? Seems like those guys really know how to make the most insane content around. What's so strange is just how cute the girls are too. You think they're all innocent and then you see them puking – it's like, what the fuck, man? It doesn't have to be this way! Put on a schoolgirl outfit and call me daddy. Let me take care of you! Okay, Fetish Dude will stop daydreaming, but you know that what I'm saying here is 100% correct. Kaotic is trying to make me travel to Tokyo tomorrow so I can find a waifu. Sounds good.
Other thoughts on Kaotic
Perhaps one of the best things I saw on Kaotic was the 'locations' category tab. Here, you can look for content from specific countries. Only want to see content from China, UK, India, America or Mexico? You've got links to get you all of that! It's a pretty cool system, and it all but guarantees that the specific flavor of material you want is delivered too. For cartel stuff, go with Mexico. For stupid shit and bad teeth, United Kingdom. Perhaps you just want to see industrial accidents and bad driving? Yeah, hit up the China section for that. New content here is added regularly too, so you can check back every so often to get more of the stuff you seek.
Kaotic: review closing remarks
Fetish Dude thinks that Kaotic would be a hell of a lot better if it had more porn and, second to that, an easy way for me to find all of the XXX videos they host. Right now, it's difficult to do that – which really sucks! I'm someone that wants porn to be as simple as possible to get my hands on, so the fact that Kaotic has me jumping through hoops is pretty damn sad. Having said that, if you're here for all of the other types of content, you'll get what you desire. Again: not my cup of tea, but it's available if you want it. Thanks so much for reading my review – I'll see you around. Happy … jerking? I hope not, you sick fuck!
Daily uploads
Lots of content
Good video quality
No porn category
Average filtering