eFukt Review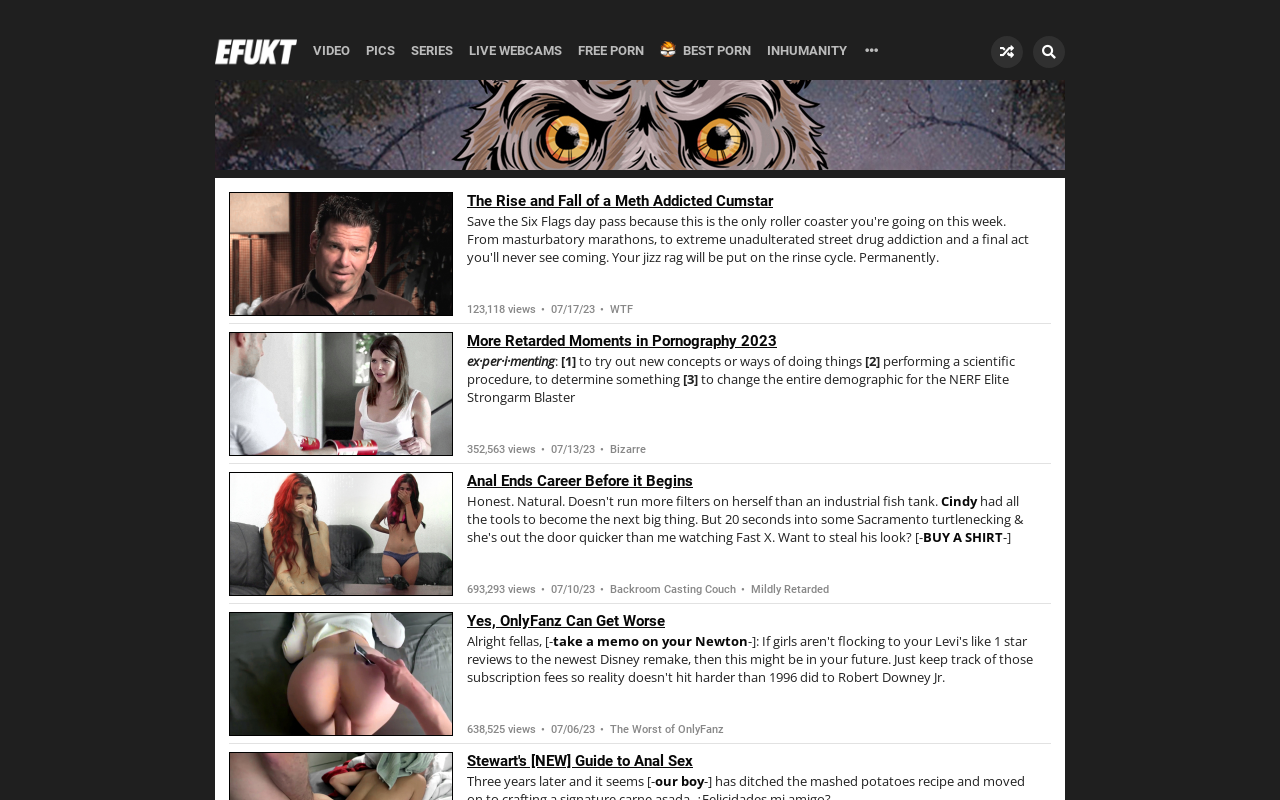 eFukt: a review from Fetish Dude
eFukt self-describes as 'adult humor for adults' and since its advent, it has always been a place you go for porn fails, weird people, funny pranks and whatever else. This used to be a real popular place back in the day – basically, a Funny Junk, but for dudes who were horny and could handle a little NSFW mixed in with their humor. I want to give you a full review of this spot and cover what it has to offer – so if you'd like to know where I stand on this project and whether or not it's still good, read on below. Fetish Dude is about to hook you up with the greatest review of all time!
First thoughts on eFukt
Let's begin with the homepage: this is a blog-style destination and if you go to the main index section, you'll find all of the latest releases that have been added to the site. There are quite a few different entries here, with a new one being added roughly every 3-4 days. They're very much focused on giving you the best content possible and don't want to ruin their brand with multiple spammy posts over 24 hours. I think this is reasonable and while I like to complain about update frequency – they've shown over the last decade or so that they care about quality over quantity.
One thing that really makes eFukt stand out is the little descriptions they add to each and every entry. The guy who writes these really loves his job and probably spends quite a bit of time crafting each and every one of them as well as possible. It's not just a bland description – he goes off. We're talking full-force humor, crass references, obscure ideas and whatever else. If you tried to get someone who speaks English as a second language to parse what these entries mean – yeah, good luck with that. This writing is real difficult for translation tools to work out – not a problem for me, but when it comes to artistic writing and porn, there's literally no better spot on the Internet. I know it's a weird talking point, but take a look for yourself and tell me that I'm wrong.
Examples of entries at eFukt
I think it's a good idea for me to mention a few different entries and the ones I really liked – kicking things off with a look at their More Retarded Moments in Pornography 2023 compilation. This is a 5-minute video that begins with a girl who has her asshole spread open and another chick trying to fire nerf darts into it. The next clip was a dude with his hands stuck in Pringle jars and yeah – I think you can probably guess where that one is going. Pretty funny stuff and the objective quality of the video is actually quite good too. Previously, eFukt had relatively low resolution uploads – no longer the case, it would seem.
Next up: Public Degeneracy Volume 9. This blog post is again – video focused – and has a guy getting pegged out by a lake, some girl sticking a champagne bottle into her pussy while a weird dude jerks off in a car and a girl pissing on a guy's face in a parking lot. Look: the title of this blog post was public degeneracy – so what did you expect to get out of the other side? Of course it was going to be some crazy ass shit! That's the point of eFukt and its blog posts: things here aren't going to be standard or normal. It's weird stuff and sometimes it's hot, sometimes it's not. Just roll with it, would you?
Categories at eFukt
The website does make use of categories, so if there's a particular type of blog post that you're interested in – consider looking at them. Examples of categories that you can find include gape, amputee, tranny and Asian. The site also has a pretty cool feature where if you press question mark on your keyboard, it'll instantly navigate you to a completely random video from their archive. How cool is that? Just sit there and keep spamming the button until you find something that you like! The Internet is cool, and I do like the fact that websites like this make it easy for you to lazily find funny XXX videos and the like.
Other content on eFukt
If you're looking for shorter form content on eFukt, you can always go to the pictures and GIFs section. I saw a girl with a huge pussy getting eaten out by two ladies, a girl sucking cock in public, some girl riding on a cock-shaped mechanical bull and Japanese girls going to school completely naked. There was also a chick eating a hotdog that just got taken out of her friend's pussy. I'd say that eFukt's 'pictures' section (as it's linked to as) is actually far more GIF-focused than anything else. Not a complaint, but they should probably rename it.
My conclusion on eFukt
What do I think about this website, all things considered? Well – it's completely free of charge, it has a lot of content and it pretty much wrote the book on this genre of destination. They've been around for a long time and while I don't think too many people are going to be jerking off here, it's a fun place to visit if you want to straddle that line between being horny and wanting to laugh. If there's ever a destination that's going to be able to make you laugh while you bust a nut at the same time, it's going to be eFukt. They stay in their lane, they know what they're about and the writing is actually funny. Could more frequent uploads make this place great? Maybe – but the archive is plenty big enough for you to go through, so it's not that big of a deal regardless.
Thanks a bunch for reading Fetish Dude's official review of eFukt. Take care, happy jerking and I'll see you in the next one!
Huge content archive
Funny writing
Categorized content
Slow update schedule
Some adverts