TheYNC Review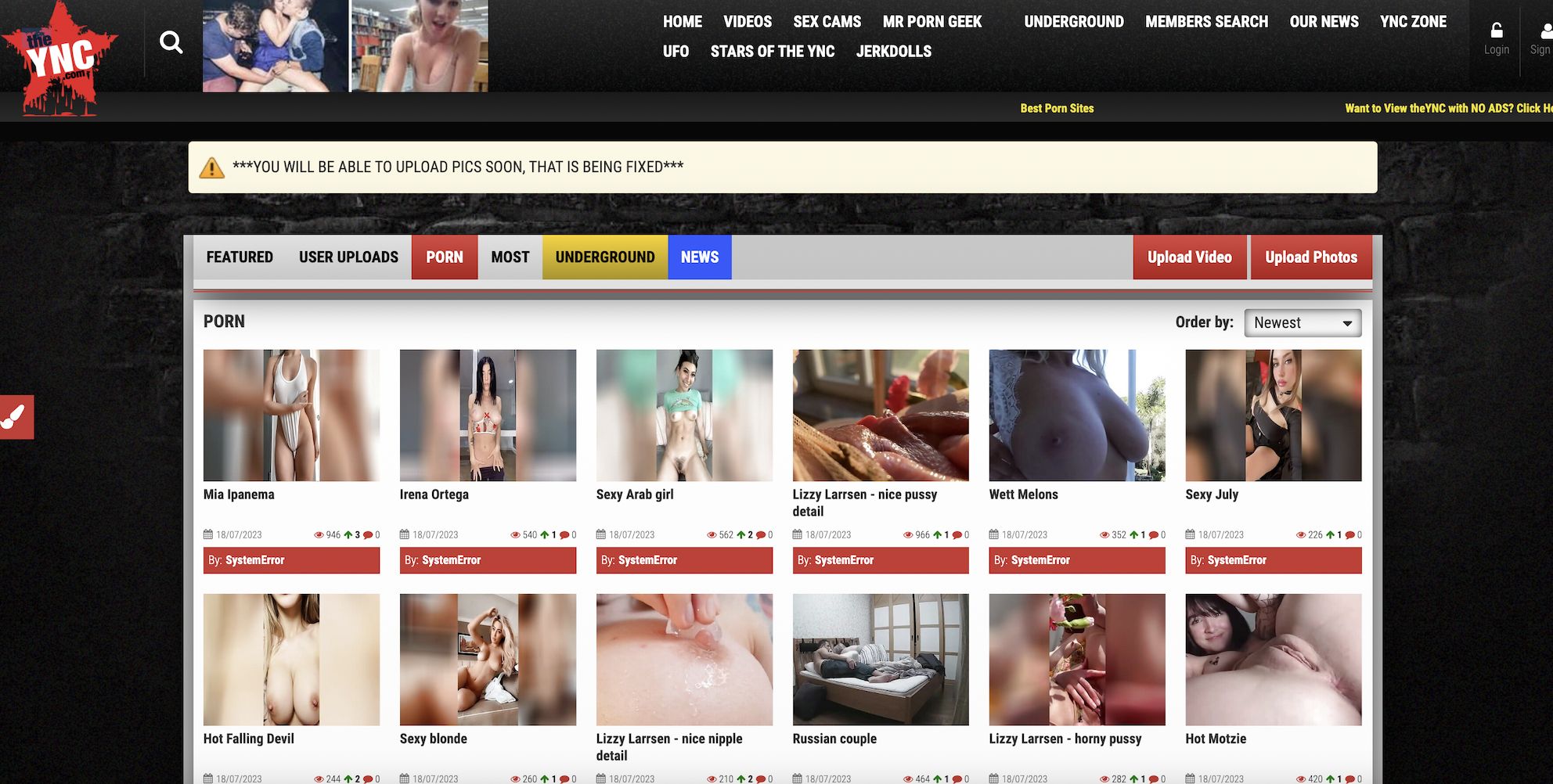 Fetish Dude's opinion on TheYNC
Before we go any further, I want to make one thing clear: if you've got a weak stomach, you do not want to be paying a visit to TheYNC. This is a shock website that has been around for close to two decades and believe me – it can get pretty fucking crazy here. As far as extreme adult sites go, there's nothing quite like it, and they really do push the limits of what's allowed online (or, rather, what you'd want to see online). You have been warned by Fetish Dude, so please folks – pay close attention to what I'm saying and be smart with your decisions! Now that the disclaimer is out of the way, let's look at what TheYNC is all about.
The homepage onward at TheYNC
So, we're kicking this review off with a look at the homepage – the very first image that I see here is of a guy with half of his neck missing and a huge pool of blood underneath him. That's logged under 'best of the week', so I think you can get a good idea of what's going on here and just how insane it'll be if you go any further. Anyway, lower down on the website you'll find a 'featured' section, which covers the top posts of the day. Things here include a suicide jumper missing the ground and getting diced by barbed wire, a bartender being murdered while working and a chick in a thong getting into a huge fight. Did I mention that TheYNC was absolutely brutal with its content? This is an extreme site, and everything about today's recommended videos ought to tell you that.
Just above the top post section, you'll see that there's a link to 'porn'. For me, this is the place where I'm going to be spending most of my time. Look: I'm a guy that's obsessed with adult entertainment and eroticism, so I want to see what a shock website like this has to offer when it comes to XXX productions. By default, the content is sorted by the upload date, but you can switch this to rating, views and length if you so desire. Even though this website is a bit strange and focused on crazy things – it's nice that they've gone to the effort of making content organization and everything else quite easy. Definitely nice to be able to sort and filter what you want to look at with just a few clicks of your mouse.
Exploring TheYNC's porn database
So I went ahead and started clicking through a few videos here. One clip entitled Sexy Sage looked absolutely killer from the thumbnail: a babe with great proportions and a sexy outfit too. I loaded up the clip and despite being just 7 seconds long – well, I think I would have been happy to jerk off to this if I was in a bit of a hurry. I also clicked on a scene called Library Masturbation and it was a girl getting absolutely risky as fuck with a toy in her local community center. I guess some girls get so turned on by reading that they have to play with their pussies? I don't know if that's the reality of the situation, but it seems to make a lot of sense to me.
Generally speaking, I'd say that the categorization and titles of this website's videos are pretty poor. A lot of the videos that I came across were just called stuff like 'Amateurs', 'Doggy', 'Blowjob' and so on. Like, I get that there are thumbnails for you to appreciate, but give me a little bit of information to go along with what I'm watching. The more information that a porn punter like me has – the better! If I'm holding my dick with one hand while I surf using the other, I want to minimize the amount of clicking that I'm doing. Hog squeezing is a difficult job and if I'm at TheYNC, I want them to make my job as simple as possible. Please: add good titles to your content and I think that you might just have yourself a viable alternative to the biggest tubes out there.
Other areas of TheYNC
Now, alongside having a porn area, TheYNC also has a section that's devoted to sexy content. These generally do include sex videos too, but you'll also find artistic nudity from time to time and other goodies mixed in. For instance, there was a female boxer who won a fight and decided to flash her tits to the audience. If you wanna watch that – it's available on TheYNC! I also saw some topless girls at the beach and those are always fun to see in action. Something about girls being public just does it for me, you know? It makes me want to go to the beach in case I can see one of them with my own two eyes. Am I a horny-ass motherfucker that just needs to get laid? Potentially, but the fact remains – what I'm saying is completely valid.
Gore and death at TheYNC
I'll be honest with you: I want to have a good night's sleep tonight, and I already know that the gore and accident content here is world-class. Well, as world-class as something like that can be. I'm not going to check it because I already know that if you're into fucked up shit, this is the best website on the Internet for you to get what you want. I don't like it, but if you do – well, now you know where you ought to go to get what you want.
Final thoughts on TheYNC
I've spent far too long on this website and I think it's time for me to go and do something else. The top and the bottom of TheYNC is that if you need gore, sex, crazy shit, fights and everything in between – they've got what you seek. I love the Internet because you can get whatever you want, and this is very much the case with this particular project. I don't like a lot of what The YNC has, but if you do – well, stick around and have a great time. Thanks for reading, Fetish Dude will catch you in the next review.
Lots of videos
Free to browse
Porn section
Too much gore
Titles could be better