CrazyShit Review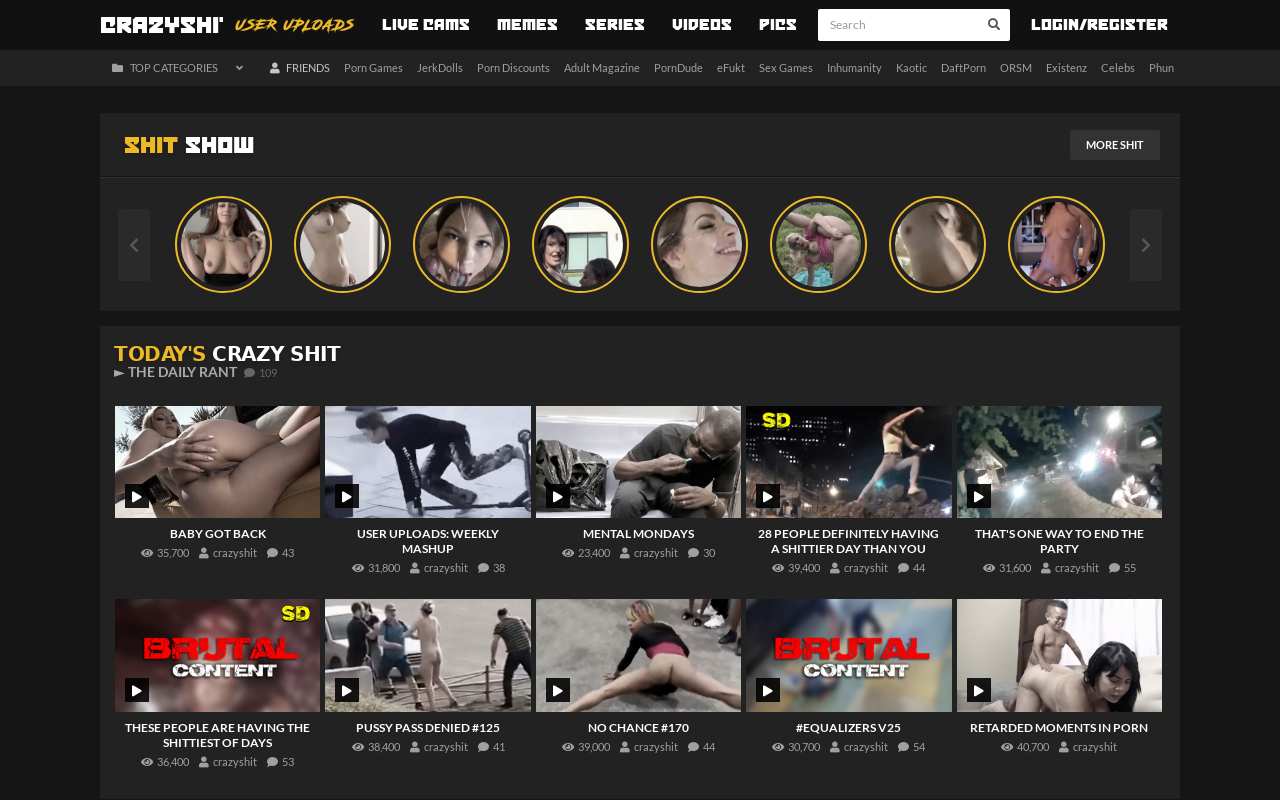 Fetish Dude reviews Crazy Shit
Howdy all – I'm reviewing a project by the name of Crazy Shit today and let me tell you – if you've got a weak stomach, this probably isn't the place for you. It's an adult-themed hub with a lot of wild stuff going on, and they're not afraid to be honest about what they like and share. The fact of the matter is that you're going to see a lot of wild sex, crazy porn scenes, fights and that type of thing. It's basically a place designed for guys and let me tell you – it's pretty damn insane here. You have been warned, so if you don't want to see anything that's out of this world, go someplace else. Now, let's take a look at the site!
The homepage of Crazy Shit
Landing on the homepage here, you'll find a tube-style approach to content with the first block area devoted to the latest uploads. There's a mixture of stuff here, including brutality, hardcore sex, crazy moments in erotic film productions and so on. I saw a black chick twerking completely naked at a dance festival, a midget fucking a chick and some guy face planting off of a scooter into a wall. There's a mixed bag of stuff here, and it really does depend on what you want to see. Note that content that is excessively wild has 'brutal content' imposed over the top of the thumbnail: it's also blurred out, so you get a general idea of what's there, but you won't get a full display of extreme content. I actually quite like this – Fetish Dude isn't too keen on the gore and death side of these types of websites, so I'm pretty happy that they've made a provision for my weak stomach.
If you scroll down, you'll continue to find uploads that are sorted by the time they were uploaded to the website. There are series shown below that though, which are essentially categories with a twist. Examples of the series that you'll find at Crazy Shit include retarded porn plots, fights, unique sex positions and public eroticism. There's something for everyone at Crazy Shit – that's what I like most about being able to come to a spot like this. You're always going to get yourself something that's fresh and fun.
Looking at the memes on CrazyShit
Right at the top of the website, you'll find a navigation link that takes you through to the site's 'meme' area. To be honest with you, these memes are pretty lame. They've got rules about various things – including watermarks from other websites – and you cannot even upload stuff that has children being hurt. Like, I'm okay if they want to remove a baby dying or something – but what if some dumb 15 year old bangs his head going down into the basement? That's funny, and it should be allowed! Anyway, there are a few categories on the left-hand side, such as accidents, sluts, ass, blowjob and drunk. I clicked on blowjob and didn't really get anything that I'd consider to be that funny. Sorry to the guys who curate the memes here – you're just not doing it for me right now. Try harder next time!
Videos at CrazyShit
Since the bulk of the content that we're coming here for is the video side of things, I figured I'd go looking at some of the clips that they have available and give my honest opinion on whether or not it's decent content. The fact of the matter is that CrazyShit has a lot of uploads and I want to ensure that they're actually, well, decent. Sure, not every video here is going to be extreme, funny or top tier content – but if most of them are okay, then I'll be fine signing off on the whole project. So, with that in mind: let's sample a few of the videos here at CrazyShit.
The first one we're going to look at is called Cum Sucking Whore – it's from a professional studio and has a little bit of editing involved. I actually think the male pornstar in this release is cool – I've seen him a few times and I've love to buy him a beer if he's keen. Anyway, the plot is kinda goofy, but nothing that completely kills me. So far, it's okay at Crazy Shit. Next up, I went with Mental Mondays from a week ago – there's a chick drinking from the toilet, some naked broad walking around while smoking, a guy getting carted away from a music festival while still dancing and a freaky bald woman/man hybrid thing getting down. What I noticed about Crazy Shit is that they actually have a lot of compilations – instead of just singular clips, it's a bunch together that you can check out if you don't want to click around endlessly.
If you want to see more singular stuff, you can go to the user upload section of Crazy Shit – here, you'll typically find quite a lot of gore. You'd hope that it would be more porn focused, but the absolute opposite is true. Except for this clip of some blonde girl with a gorgeous ass that I want to do anal with. She can get in touch with me and we can sort it out. I promise that Fetish Dude will give you the best damn butt sex you've ever had.
My final word on CrazyShit
When everything is said and done – how would I rate Crazy Shit? Well, it lives up to its name, but I do think that there are one too many compilation videos here and for me, that kinda sucks. Descriptions and information are important – if you're just doing compilation number 391, I have no idea what it's going to contain. There's a little bit of sex here and it's easy to find via the series – honestly, that's probably your best bet if you want to look at the funny side of adult entertainment. Anyway, enough from me – thanks for reading and I'll see you again soon. Why not head on over to Crazy Shit now and start watching? You know you want to!
Regular content updates
Fast loading speeds
User submitted content
Some adverts
Average descriptions