SisLovesMe Review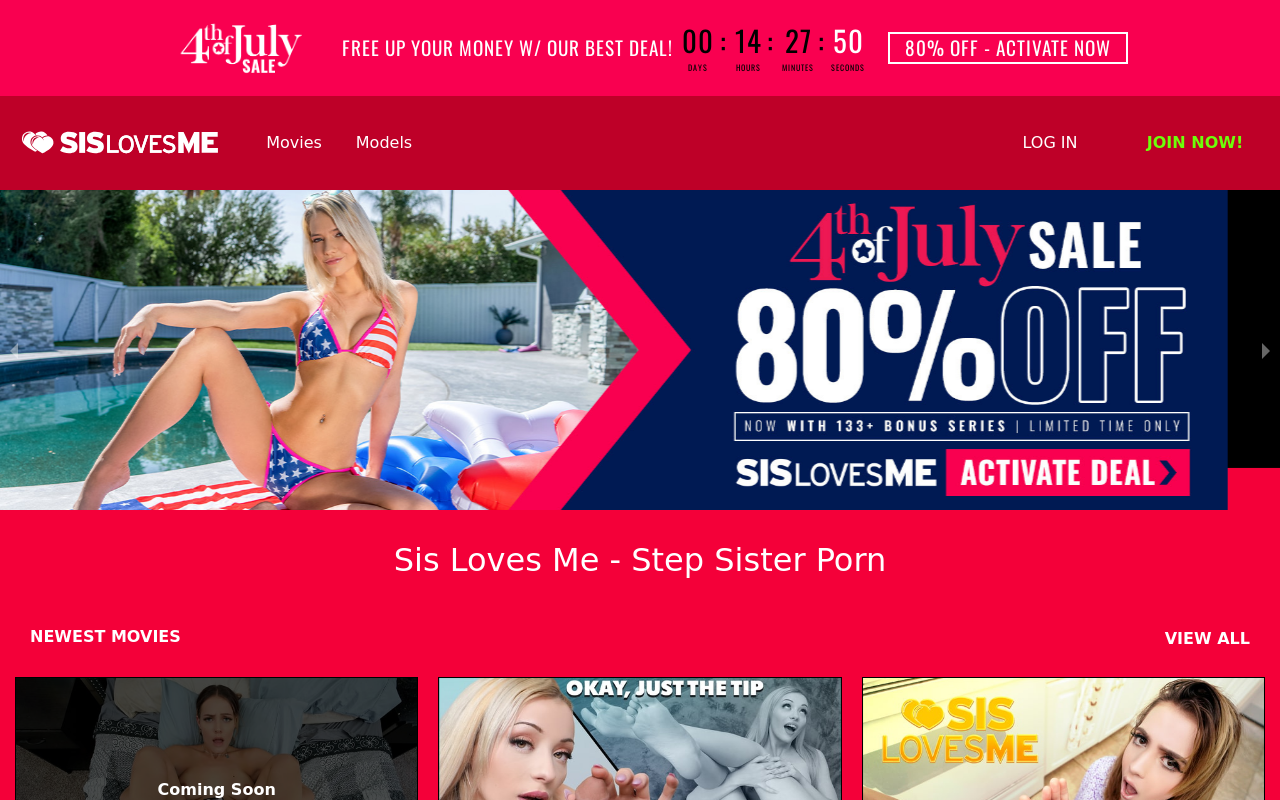 SisLovesMe: a review by Fetish Dude
I've spent the last few weeks looking all over the Internet for the best incest action around and in this particular review, I'm going to be talking all about a project known as Sis Loves Me. This studio isn't exactly a small player – their PornHub channel has over 1.7 billion views and yeah: suffice to say that at rank #11 on the platform, they're doing something right when it comes to offering a world-class pornographic experience. Question is – will signing up net you anything beneficial? I'll find out soon enough, so continue reading and let's get to the bottom of what SisLovesMe is all about.
First thoughts on SisLovesMe
After signing up here, you get free bonus access to a place called MySisLovesMe, they're essentially the same and I do have a review on that particular sisterly incest hub – check it out if you want to know more. The member's area is pretty neat and tidy, plus navigation makes accessing everything you want quite convenient indeed. Sis Loves Me has been around for quite a few years now and they do clearly care about providing visitors with a great experience. This manifests itself with no daily download limits or DRM restrictions – both great ways to ensure that the people enjoying your material and having a top-tier jerk session. Note that aside from MySisLovesMe, signing up here comes with no bonus material or access to any network – it's not the end of the world, but I have read some stuff people have said online that's just untrue about this place being connected with Brazzers.
The content focus of SisLovesMe
It really shouldn't come as a surprise to anyone that the main focus here is on brothers and sisters fucking one another. Sis Loves me sticks to the classic meme of it being 'step' brother and sister: I'm not sure why this is done, but it is how it is. Now in terms of material, you're going to see what I would consider as being very vanilla adult material, typical of projects such as Reality Kings. The reality angle here is stripped somewhat though: the approach is much more plot-derived and there will be a few minutes of buildup – as well as regular cuts – to stimulate the taboo nature of the sex. They don't go overboard with this though and yeah, what you end up getting in a lot of situation is great sucking and fucking action in a range of different locations.
SisLovesMe has worked with some pretty incredible girls over the years, many of whom are barely legal and fresh-faced. Some names that you might be familiar with include Zoey Laine, Abella Danger, Rosalyn Sphinx and Kenzie Reeves. I like the mixture of world-class ass and fresh meat. I think they do manage to pick out some gorgeous girls who go on to create even more sister-themed incest porn, as well as general material for all of the horny dudes out there. Note that as far as I can tell, Sis Loves Me doesn't focus too much on anal – it's mainly dick in the pussy stuff here. Girls are typically between the ages of 18 to 23: prime range for the very best in incest porn simulation.
Objective metrics from Sis Loves Me
By my calculations, the archive here currently has just over 200 scenes for you to watch, all of which are 100% exclusive to SisLovesMe. Premium account holders get access to 4K resolution material, although you can also just enjoy the 1080p and 720p variants if you don't have a monitor capable of sustaining what they've got on offer. Bitrates are really stellar here and I can say for a fact that in terms of overall camera work and so on, SisLovesMe is one of the best places out there. I do have one small complaint: the download speeds capped out at 14 MB/s, which is pretty incredible, but it didn't limit my 18 MB/s network maximum!
Sis Loves Me: the final word
Many of you have probably already figured out how I'm moving in relation to SisLovesMe: the project is a dream and worthy of your attention. Like I said earlier, there's a very good reason why this studio is so popular on PornHub: they recruit some special chicks and produce some fantastic incest pornography. Those who love the idea of banging their stepsisters will feel great about this spot: it's 100% sister focused and these teen spinners are going to make you cum in no time at all. Anyway, that's me done here: thank you for reading and please, enjoy your next hog squeeze via the stepsister incest action on SisLovesMe!
World-class young pornstars
4K downloads available
Reasonable download speeds
No community forums
No free trial