FamilyStrokes Review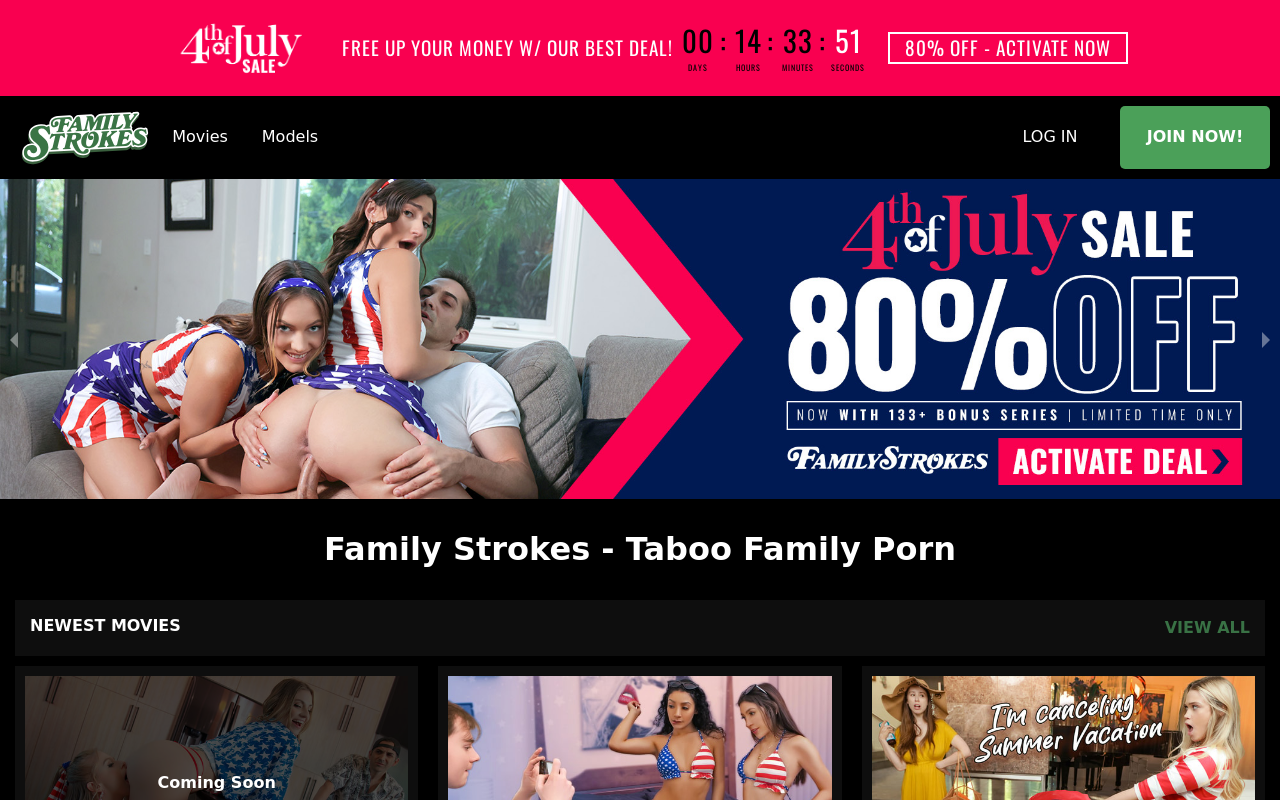 Fetish Dude's analysis of FamilyStrokes
When you hit the tour of Family Strokes, you'll be promised access to one of the best collections of taboo family porn the Internet has to offer. They've allegedly got dads, daughters, sisters, aunties and everything else in between fucking and sucking like there's no tomorrow. One thing I liked about Family Strokes was the free 1-minute trailers to get an idea of what the shoots are like: I had a great time looking at the samples here and I'm keen to get a full look inside. So, without spending any more time beating around the bush, let's jump inside and get down to the business of reviewing!
Initial analysis on Family Strokes
So the first thing to note about FamilyStrokes is that you will need an account to check out the material here, but the whole process is pretty streamlined and yeah – it takes all of 60 seconds to go from this page to actually being able to watch the latest scenes inside the member's area. FamilyStrokes sticks to the standard method of updating on a weekly basis with a new scene: this is normal for the industry and since they've been doing that, they've managed to build up a collection of 200+ releases. It might not have the biggest library around, but I think that it's a good foundation and you probably won't even get close to finishing up all of their great incest content on offer here.
Objective Family Strokes content analysis
As mentioned, Fetish Dude counted a total of over 200 scenes, all of which are a combo of a full-length video and photo set. The photo sets aren't screen caps and you can download them in ZIP files for local storage if you want. As for the videos, these can be streamed from the website or downloaded, with MP4 being the file type of choice for both approaches. Note that there are a range of resolutions available here, up to and including 1080p. Bitrates are more than reasonable and the download speed of the website was more than reasonable. It saturated all 18 MB/s of my available connect – pretty decent if you ask me. Typical video length is between 25 to 40 minutes.
Subjective FamilyStrokes thoughts
So while the egghead stuff says that FamilyStrokes is good, what's the deal like for people visiting here and jerking off? Well, Fetish Dude had a fantastic time and he's confident that others are going to share a similar experience. I ended up trying out 10 different scenes and they all had a nice introduction to explain the relationships, hot fucking and in some cases, a closing segment to really cement the taboo nature of the fucking. Camerawork is fantastic and the locations that they use are great. You've also got a nice mixture of niches here – it's not just brothers and sisters promoted every step of the way. Note that the sex is slightly more rough and hardcore than a lot of incest projects – you'll see belts around necks, throat fucking and so on. After all, if you're going to fuck a family member, you might as well do it right!
A look at the girls from Family Strokes
I don't think you really need me to tell you that the sex here isn't genuine incest action – I doubt that pornstars have such insanely extended families! While on the topic of pornstars though, I do want to touch on some of the girls that you'll find here. I saw Rachel Rivers, Mia Evans, Blake Morgan, Jordy Love and Chanel Shortcake here – pretty tasty variety of sluts, all things considered. I feel like the girls themselves really like taking part in the taboo antics too: there's just so much hardcore action going on that you'll hardly be able to contain yourself. There's a reason these tight minxes are called pornstars – they fuck so good!
A conclusion on Family Strokes
Fetish Dude has little choice but to go ahead here and recommend that you check out the incest-filled tour of FamilyStrokes. What you get is fantastic and while there are no bonus sites to speak of, a couple of months here ought to show you that Family Strokes means business with regard to top-quality incest productions. One thing I can promise you is that the scenes I downloaded will not be sent to the recycling bin any time soon – perhaps the biggest compliment I can give a site, really! Anyway: thanks a lot for reading and remember to come back to Fetish Dude whenever you need the best advice on the best porn sites.
100% incest focused
Weekly content updates
Fast download server
No bonus websites
Limited search features