PerverseFamily Review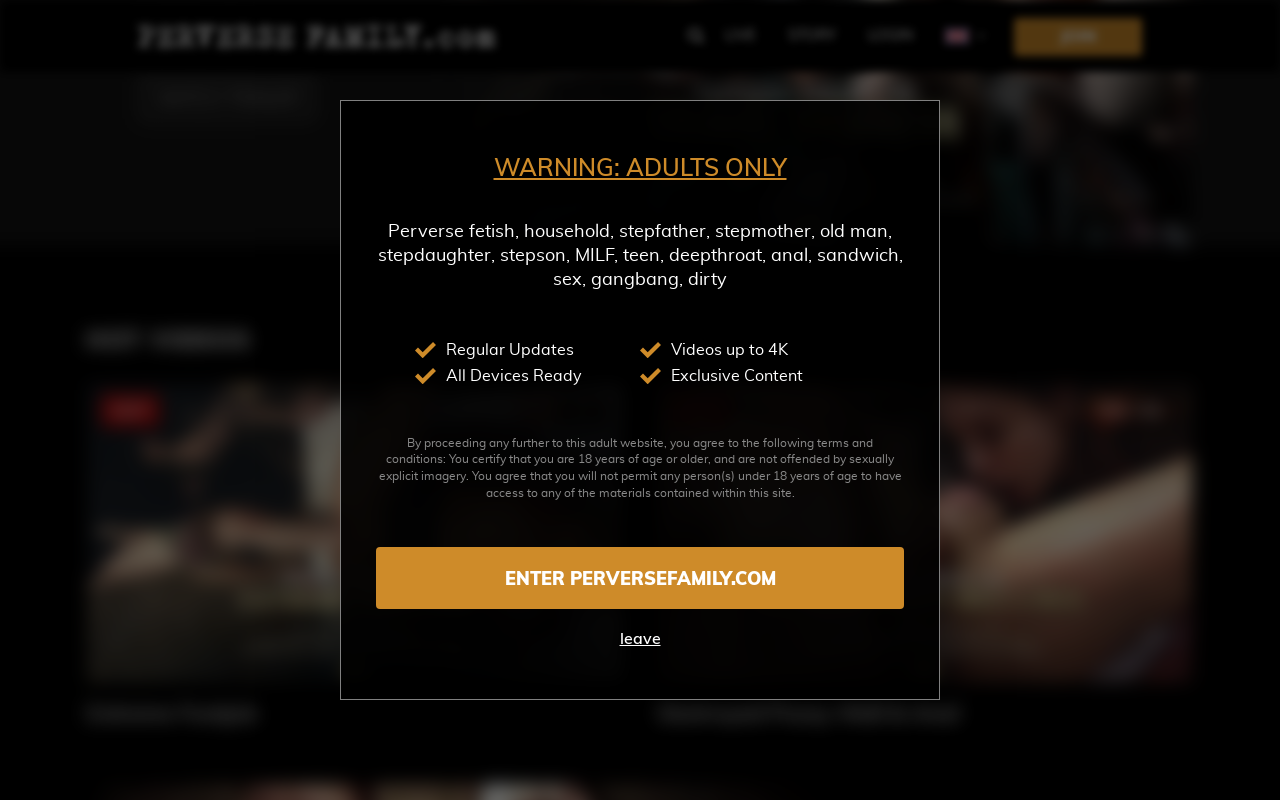 Fetish Dude reviews Perverse Family
Have you been looking all over the Internet for top-tier incest entertainment? I feel you! Fetish Dude understands that when it comes to family-themed porn, it's pretty tough to get your hands on the good stuff. Sure, this niche has exploded in popularity over the last few years, but that doesn't mean all that's available is good. Today, I want to write up a full review on a project by the name of Perverse Family. I spent some time looking at the tour and things here looked absolutely wild, though before passing my final judgement, I will be giving this place my full, professional analysis. So, let's get to it, shall we?
Details on Perverse Family
This project only launched in 2018, which makes it incredibly new when compared to many other places out there in the incest niche. Note that although they're new, that doesn't mean they haven't hit the ground running. What I think a lot of people are going to love here is the fact that you get regular weekly updates and it's all 100% exclusive. What does exclusive mean, exactly? Well, in essence, you cannot go to anywhere else on the Internet in order to get what PerverseFamily has to offer. Think of it being like a Netflix exclusive, only it's focused on heavily taboo incest action with plenty of BDSM themes. One of the biggest giveaways about this place being new is that the design is very fluid and functional – ever noticed how older sites are always slow and hard to navigate? Not going to be an issue here at Perverse Family: they do everything as it should be. Now then, onward to the content, since that's what everyone wants to know about!
Perverse Family: incest content in focus
You're probably used to fairly low-budget incest content, right? Just two people in a generic room fucking – doesn't get much more basic than that. It turns out that when you actually look at the history of incest action, you'll find plenty of places that went down this road as a convenient way to create niche material without having to spend a lot in it. Now while this might be the origins, it's certainly not the case that PerverseFamily sticks to tradition.
I have to say that without a doubt, this is the highest production value incest porn I've ever come across. We're talking dozens of studios here – these guys are far and away the ones who put the most amount of effort into their videos. It's a very cinematic experience with fantastic lighting, props and so on. Just one look at the tour here will let you know that they're incredibly serious when it comes to developing next-level bondage content. It's filthy stuff with lots of anal sex, gangbangs, pissing, cumshots and so on. I highly recommend looking at the tour for a better idea of just how rough and wild the BDSM gets here: they really don't mind taking things to the next level whenever possible. It feels real gritty – almost like a Resident Evil vibe if you've ever played the series. Dirt, depravity and hardcore incest: what's not to love?
Objective metrics at PerverseFamily
Fetish Dude just wants to spend a little time here talking about the subjective side of Perverse Family. First of all, new scenes are added fairly infrequently, although the database has dozens of hours of footage for you to get through: pretty good stuff! You can also access all of the scenes here in full 4K quality if you'd like, although 720p and 1080p downloads are also an option. While not many people currently have 4K monitors, I think the fact these were created with that resolution in mind will do wonders for them in future. After all, we always want to get our hands on the best of the best, right?
My final thoughts on Perverse Family
That's just about all I wanted to cover in this particular review – thanks so much for coming along with me for the journey! It's safe to say that Fetish Dude gives Perverse Family a top-tier rating and if you're interested in more extreme, high quality incest action, this is the spot for you. Just be warned: things get depraved and disgusting here, so you better be prepared for some incredibly rough stuff. This is probably the most BDSM-themed incest hub that I've come across – really hits two quite desirable niches if you ask me.
Thanks for reading. Be sure to check out my other reviews on the best incest sex platforms if you want more places to visit!
4K quality downloads
Insane production value
Lengthy cinematic scenes
Small database
No bonus sites