VRStimulant Review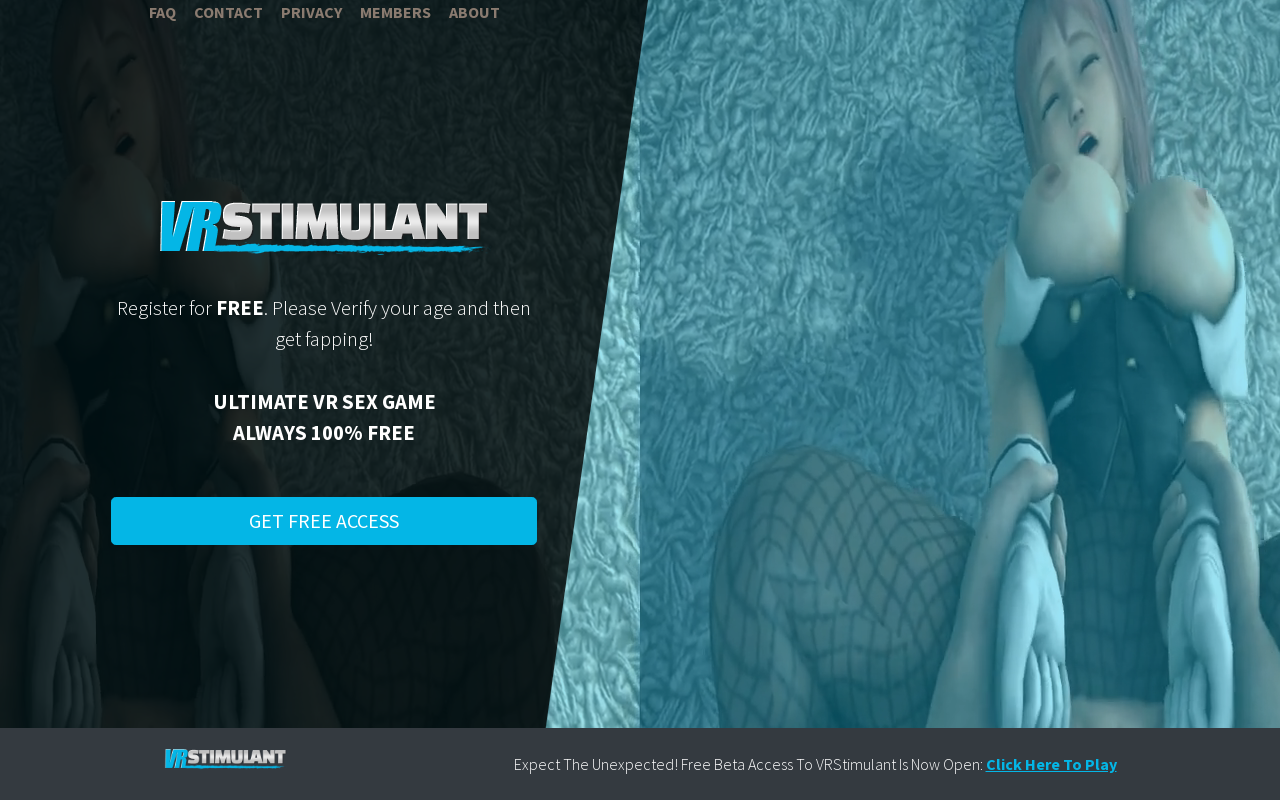 Fetish Dude hits up VR Stimulant
There are lots of places to get VR porn videos these days – believe me, Fetish Dude has reviewed a whole bunch of them! But what's the deal when it comes to gaming? There are VR games, but how many of them are actually adult themed? It's not the easiest thing to get right, but I think after this review, you'll know of at least one place that has you covered when it comes to virtual reality XXX gaming. Fetish Dude wants to write up a complete, professional analysis on VR Stimulant: let's get into the thick of it so I can tell you what my experience was like!
Initial comments on VR Stimulant
Signing up to this portal is completely free of charge – I provided a few details, confirmed my age and then on the other side, I was provided with a link to the launcher. Note that it's not currently possible to play VR Stimulant in your browser: this is because of limits imposed by the likes of Firefox, Safari and Chrome when it comes to data speeds, graphical throughputs and frame rates. Maybe one day in the future there will be a decent VR browser game, but if anyone tells you that it currently exists – they're telling you porky pies.
VR Stimulant is a 25 GB download that unzips to around 38 GB. There are 7 different mirrors for the download servers and the same for patching. I was able to complete saturate my connection at 12 MB/s – since it's a one-time download, I didn't bother to check what the maximum speed was, but I'm fairly confident that it'll be decent. Installation did actually take a little time: around 4 minutes, even with a decent CPU. Again, since it's just a one-time thing, I'm not going to cry too much about it.
Gaming at VR Stimulant
Man – this is a VR game and a half. The first thing that I loved was the fact that it's entirely voice acted. No subtitles are required – although they are provided if you need them. They've got great quality binaural output too, which means that the audio actually sounds like you're there. Plenty of mainstream VR games do this, but to find it in a porn title is something truly exceptional. Side note: I wonder what the production budget was for VR Stimulant, because this alone would have cost quite a pretty penny.
VR Stimulant ran pretty smooth on my machine, all things considered. The graphics are decent – exactly what you'd expect from a VR game. I do like the style of the artwork, but I should make the point that it's Western in nature. I keep getting emails about people wanting hentai VR games – they're very difficult to make and I don't know of any that are good. For now, you're going to have to put up with realistic human models instead of whatever it is that you want! Now, in terms of gameplay: there are quests, open world exploration and plenty of NPCs to get down and dirty with. Speaking of which, let's talk a little about how the sex scenes occur in VR Stimulant.
Sex scene access in VR Stimulant
So getting the sex scenes that you want in this game all comes down to you fulfilling the various desires of NPCs that you come across. The first few girls are pretty simple to get erotic with – they're sort of the tutorial for the game. However, if you're looking for A-grade babes, you're going to find that it's a little bit more difficult to capture their attention. There are various 'lust' bars that you can build up for each babe: some like sweet talkers, others like it when you bring them various items. There are quests, challenges and a bunch of other ways to get ladies interested in you. According to the achievements section of the menu, it would appear that there are over 40 unique NPCs to experience eroticism with: pretty cool, right?
I played VR Stimulant for about 2 hours and I unlocked 6 characters in total. Note that for some girls, the sex is unlocked in stages. You'll first get a handjob or a blowjob, then sex, then anything extra (threesomes, anal and special scenes). There are some controls in the sex scenes, but it's not quite a simulator. Plenty of options, but customization is kept to a minimum. That's not a problem though – it's part of the appeal of playing a dating simulator type game that rewards you with semi-controlled cutscenes. VRStimulant is a really enjoyable game all things considered. There's a real good chance that even after I'm done writing this review, I'll come back and play it. It's hot stuff!
Downsides of VRStimulant
I like to balance reviews wherever possible, so I do want to talk about some of the downsides when it comes to VRStimulant. Firstly, it's currently just one game, so if you don't like it – that's a bit of a problem. Second, a few features are kept behind a paywall: it's a premium access subscription that unlocks new characters and gives you a few extra lust tools. Not the end of the world, but it is a downside, since this game would be objectively better if you didn't have to pay. I know, I know – they've got to make an income! Fetish Dude was just struggling to come up with downsides, that's all.
My conclusion on VRStimulant
Guys: I'm really impressed with this game, and after playing around a dozen or so in the genre, I think this is my favorite. They've shown that you can produce a high quality VR sex game and it doesn't have to be difficult to play or just full of cutscenes. There's interaction, there's engagement – it's gorgeous and the sex is fantastic. What else can Fetish Dude say to convince you to sign up for free and download this game? Thanks so much for bothering to read my analysis: I hope I see you soon in my next review. Happy VR sex gaming and enjoy your next hog squeeze!
Fantastic graphics
Free to play
Regular patch updates
Official Discord server
Just one game
Freemium access model