VRBangers Review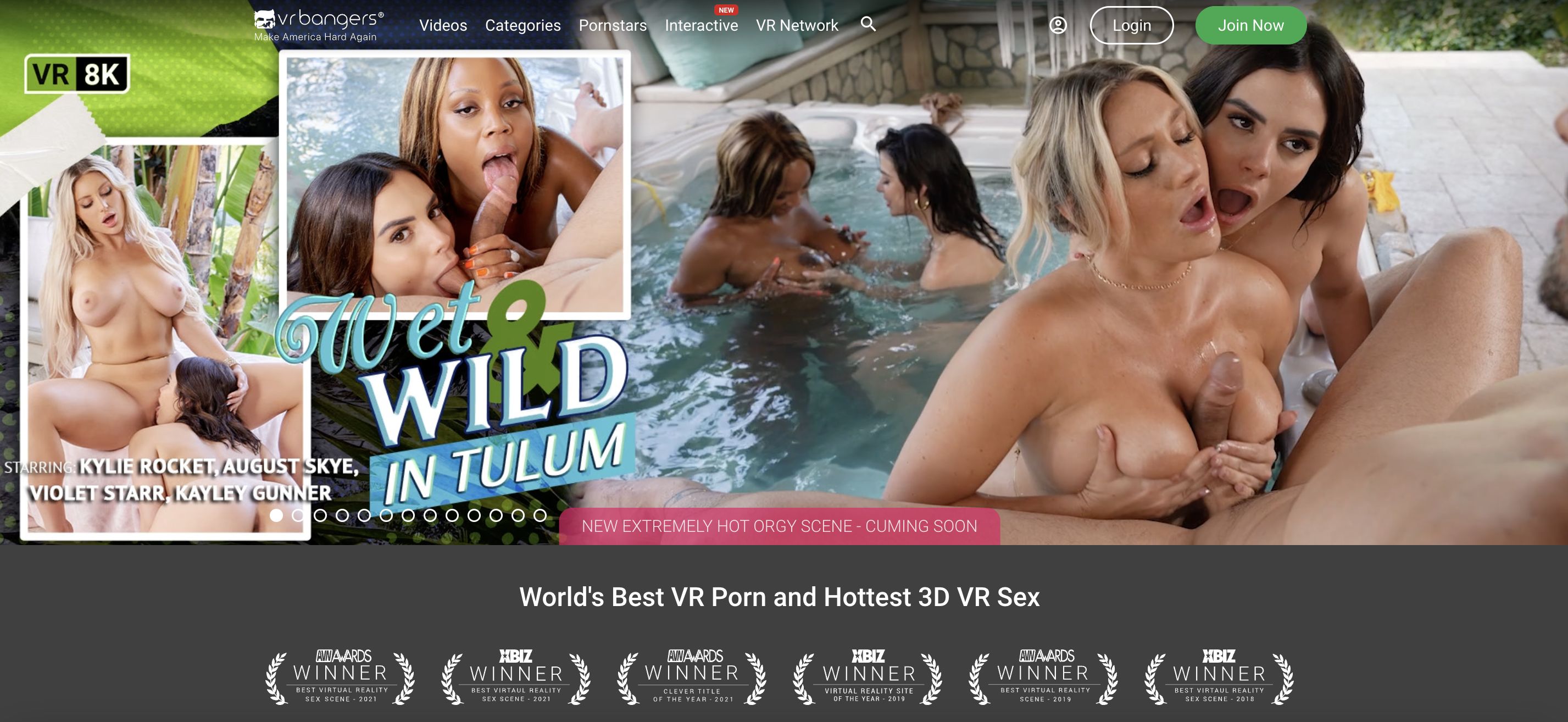 VR Bangers: let's review it!
What's up, horny jerking porn addicts? It's Fetish Dude and today, I'm bringing you an analysis of a website that's devoted to VR entertainment. Now, while it's perfectly possible to hit up this spot and get the content they've got without utilizing a VR device – I highly recommend only coming here if you've got yourself something that supports virtual reality access. I'm pretty sure that it's the ultimate way to enjoy the hub, and yeah – it's not going to be remotely as good if you're not hooked into the matrix. Anyway, let's go ahead and take a complete look at this spot so you can know what to expect. Ready to learn all about VR Bangers?
Initial information on VRBangers
So, the first thing I want to talk about is the sheer size of the database here. When it comes to standard porn sites, they typically have way more content than you could possibly want. That's not the case with VR hubs though – many of them are new, and that means that you're going to have to put up with low numbers of releases. The good news when it comes to VRBangers is that they've got just over 650 scenes at the time of writing this review and yeah – it's 100% exclusive content. What does that mean? Well, you cannot find what's hosted here anywhere else on the Web. What they offer is only available at VRBangers, so if you want the hundreds of hours of fun that they have, you're going to have to make this a place that you sign up to.
In terms of support, you've got all major headsets covered here, including Gear VR, HTC Vive and Facebook's thing. I'm using PSVR for this review and it works just fine. I'm sure that future devices will also be able to play everything that VRBangers has hosted here, so don't worry if you get Apple's headset down the road – this place will give you files that operate just fine.
Looking at VRBangers content
Speaking generally, the content here is what I'd describe as being vanilla. Nothing is too wild or extreme – it's just good sex between guys and girls who are hot as fuck. There might be some light BDSM stuff in a few episodes, but what you're going to generally get are juicy pornstars taking fat cocks. There are some categories here though, so if you have a particular niche that you're looking to get content within, VRBangers is able to assist. In fact, how about I talk about a few of the genres that are provided here?
If you're someone that likes it wet and wild, might I suggest that you check out the squirting VR options provided by this hub? There's also an anal category if you're hunting for backdoor bliss. Oh, and lesbian smut alongside creampies – it's all here for you to chow down on. VRBangers also makes it easy and convenient for you to find the content of your dreams with their accurate tagging and categorization. It's refreshing to come across a VR porn library that makes it a walk in the park for you to get what you seek.
Pornstars at VRBangers
So, what are the pornstars like on this website? They're pretty awesome! I've seen some world-class names in many of the scenes, so if you like girls who have a lot of experience in front of the camera, that's not going to be a problem. Since VR scenes cost quite a lot more in terms of production, they generally hire girls who have a lot of time in front of the lens. Some of the cuties you might want to watch here include Brandi Love, Riley Reid, Angela White, Vina Sky and Abella Danger. These are some of the biggest names in the industry – you're really getting quite the selection of girls who know how to work it. Fetish Dude generally likes to support places that offer you content from the best of the best, and that's what VRBangers is all about.
Download and content size
While some VR places are willing to support 4K, VRBangers goes all the way up to 8K scenes. Honestly, there's not much reason going beyond this – it's simply impossible to tell the difference, and I don't think porn past 8K will ever have any functional utility. The great news is that alongside incredibly high resolution VR releases, they also have download servers capable of handling access. I completely saturated by 12 MB/s connection – so I decided to download a scene via a server I have and it came in at just over 125 MB/s – really impressive, and it makes getting your hands on the VR content a hell of a lot easier.
Other VRBangers thoughts
Over the last few years, VR Bangers has won quite a number of awards from AVN and XBIZ. Examples of awards include the best virtual reality sex scene and best VR site. When you win awards for the content you're putting online, it stands to reason that people ought to take notice. I have to commend the production quality here, and I really loved watching these VR scenes. I downloaded 4 and I'm not going to delete them once this review has been wrapped up. Fetish Dude knows good content when he comes across it, and I think that VRBangers has some of the best in the business!
My VRBangers conclusion
Look: there's not too much competition when it comes to premium VR outlets, but I can say with confidence that this hub is doing it better than most. I've looked at the landscape over the last few months and firmly believe that VR Bangers provides an incredible value for money membership. They work with some juicy talent, their production team is highly skilled and new scenes are added all the time. The bottom line is that if you're willing to pay for 4K and 8K virtual reality porn, I think that VR Bangers is a destination that you must consider. As always, thanks for reading my analysis – happy jerking and I'll see you again soon!
8K content support
Regular updates
Exclusive content
Fast download speeds
Premium access model
Very large files