MrSkin Review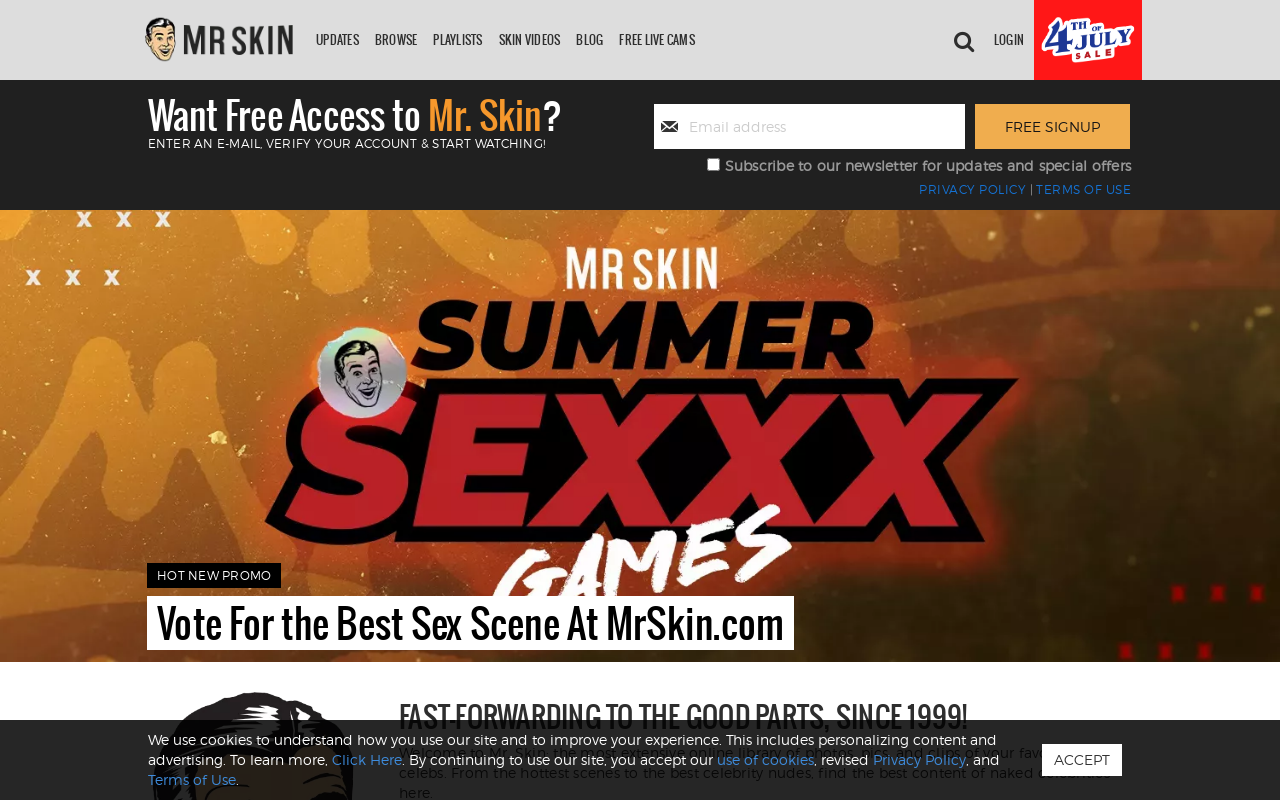 Fetish Dude's visit to Mr. Skin
When it comes to hunting down the best celebrity entertainment around, few places have a reputation quite like Mr. Skin. I've always been a massive fan of this place for its ability to bring us world-class cinema eroticism, so I'm going to have a fantastic time in this review writing up my full analysis on it and why I love the place to so much. There's a reason that MrSkin has such a reputation in the domain of celebrity goodness: a proven track record will always give you an edge over the so-called competition. Now then: let's head inside and see what's going on here!
The purpose of Mr. Skin
While a lot of nude celebrity spots deal with leaked images and candid snaps, MrSkin is more focused on giving you access to productions from actual TV and movies. What do I mean by this, exactly? Well, we all know that plenty of shows out there have a bunch of nudity and sex, so it's nice to have a place where you can watch it all. Plenty of the world's hottest celebrities have at least one piece of media that's totally naughty – the job of Mr. Skin is to curate all of that and place it in a single spot for you to access. This naturally means that you can explore the archive based on the various actresses, models and singers that make up the bulk of its archive. It's a great time to be in the business lf celebrity lewdness, that's for sure!
What you'll find at MrSkin
Perhaps my favorite part of Mr. Skin is their commitment to giving you full HD access to the content that you want. These dudes simply do not mess around when it comes to objective quality and manage to get their hands on the best of the best in regard to hot, kinky action from the best films and television shows out there. You'll realize that they're not just localized to the United States either: Mr. Skin has a bunch of celebrity goodness from across the pond in Europe. I think it's fair to say that the French and Italians really do love erotic movies too – they have some of the best scenes that I think I've come across inside MrSkin. A commitment to this type of content is exactly the type of thing that Fetish Dude wants: especially when the objective quality so damn good too.
A wrap on my Mr. Skin review
I spent around an hour inside Mr. Skin and to be perfectly honest with you, I'm thinking about heading back in order to check out more of what they have to offer. It's always nice to come to a spot like this and to see hardcore action from the very best professional broads in the business. Mr. Skin does a pretty difficult task and executes it perfectly: can anyone really ask for anything more than that? I'm confident that going forward, this will be one of the world's greatest places to go for celebrity naughtiness – just as it has been for the better part of the last decade.
Thanks a bunch for reading Fetish Dude's review of Mr. Skin. Please be sure to come back any time you need advice and reviews on the best porn sites out there. I'll always be here to show you where you ought to go – it's what Fetish Dude does best! Take care and happy fapping.
Great objective quality
Regular new updates
Large celebrity archive
Easy to navigate
Have to pay
Limited leaked content