BannedSexTapes Review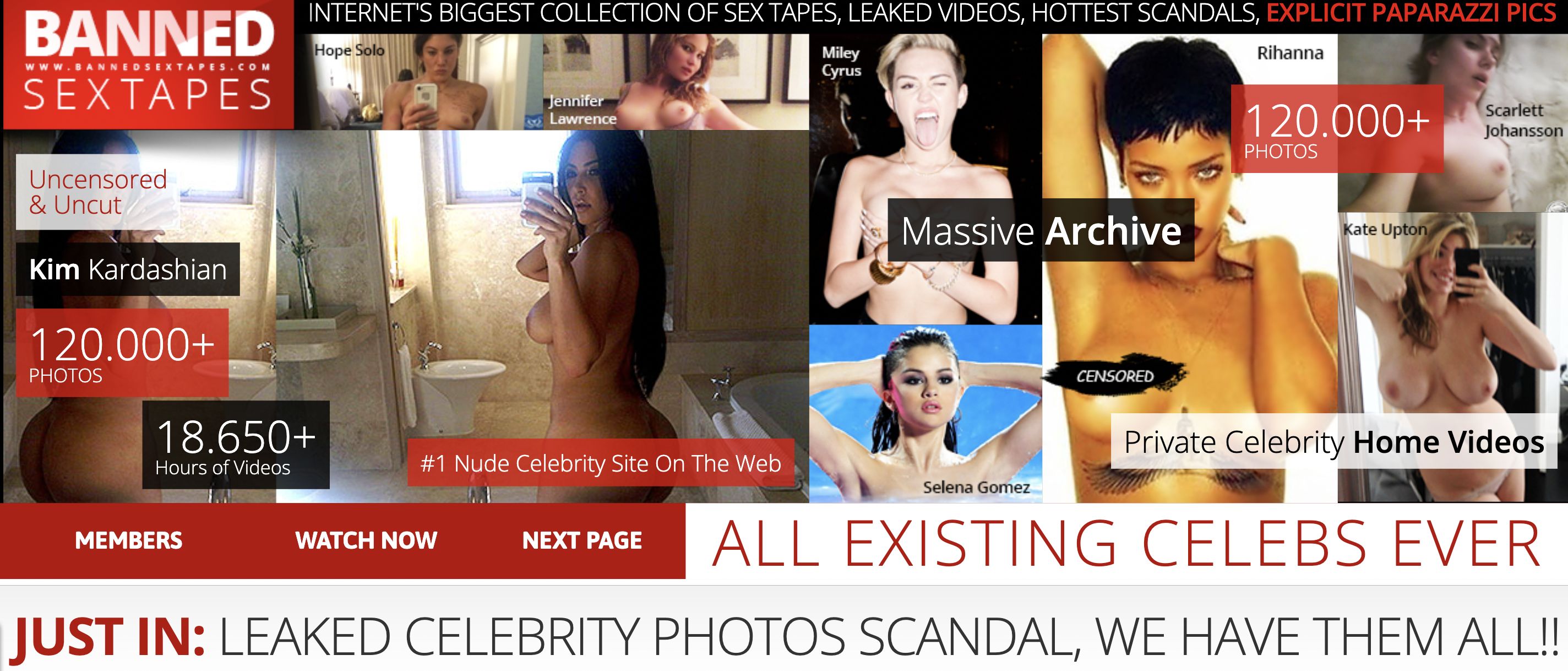 Fetish Dude reviews BannedSexTapes
It ought to be obvious by now that Fetish Dude is very much motivated to bring you guys the best celebrity porn out there, which will naturally involve me searching far and wide on the Internet for places that are able to bring you the world-class material you desire. The celebrity niche is an interesting one and in this particular review, I plan to look at a spot that claims to deal with the wildest XXX content out there. It's called BannedSexTapes and well, let's just say that when it comes to the rich and famous, these guys have all the dirt that you could ever want (or so they say). Will BannedSexTapes live up to its reputation, or fall flat on its face? Read below and I'll let you know!
My first thoughts on BannedSexTapes
When I landed on the tour of Banned Sex Tapes, I must admit that I was a little bit surprised by just how dated this tour looked. While they had coverage of modern folks, I don't think it's fair to say that this is a design in line with what I'd expect from a spot like this. I suppose on the plus side, this just goes to show that BannedSexTapes has been around for a long-ass time and they've got celebrity porn from many different decades. They've got a bunch of pretty cool names here too, including the likes of Jessica Simpson and Lindsay Lohan. Note that while the title is themed around videos, they've got a bunch of photography here too, so expect to see nip slips, nude selfies and whatever else they can get their hands on!
The interior of BannedSexTapes
I was pretty comfortable overall with the internal navigation of BannedSexTapes, plus the pages loaded quickly enough for me to be able to browse in a speedy fashion without getting pissed off. There aren't too many different sections to speak of, but I'm glad to see that Banned Sex Tapes does have a spot for us to go if we want to look at videos or pictures. I think it's probably best that I look at the videos side of things first, because I know that a bunch of you dudes love looking at motion pictures, right? I guess it does fit in with the whole theme of the project too – they're called Banned Sex Tapes for a reason!
The BannedSexTapes catalogue of clips
You'll find a number of your favorite ladies in the Hollywood industry taking cock here. Some of these are real classic uploads too, such as the one featuring Paris Hilton, Abi Titmuss and Kim Kardashian. It's nice to see that they've got girls from all over the world who're getting up to no good too: not just your standard C-grade American celebs that haven't even been considered for a star. The videos can be streamed directly from the site and while the quality isn't perfect, I believe that's because the original sources were just provided in whatever quality they came in. This naturally makes them subject to errors in rendering and general low resolution problems. Not much that BannedSexTapes can do about that, right? Buffering was good and you can always download scenes if you really want to. Local storage is always a good idea when these sex tapes are questionably legal!
The images on BannedSexTapes
Since celebrity sex tapes come up once in a blue moon, BannedSexTapes also has a nice selection of images and galleries for you to explore. This expands the cache of celebrity names you'll find here, with content from the likes of Katy Perry, Eva Mendes, Jennifer Lopez and Scarlett Johansson. What's quite cool about Banned Sex Tapes is that they have a real good mixture of sources. We're talking fappening, professional shoots, candid snaps and Instagram selfies to name but a few. They really are trying to piece together smut from the hottest stars around – exactly what I like to see.
A final word on BannedSexTapes
So would I recommend BannedSexTapes? It's a good place, that's for sure, but it might be missing one or two features. Overall, I'd say that Banned Sex Tapes represents a fantastic value proposition: this is the place to go if no other spots have given you the erotic videos you desire. I don't know how they're still online, but with so much of the competition being hit with legal issues and whatever else, these guys have managed to stand up for an extensive period of time without any problems. So, because of that, Fetish Dude is more than happy to sign off on BannedSexTapes: take a look for yourself and enjoy the best celebrity porn around – you know you want to!
Thanks for reading another celebrity website review here on Fetish Dude. Come back whenever you need advice on the best places around for any adult niche – especially celeb porn!
Lots of unique content
Publishes new stuff first
Focused on celebrity scandals
Average website structure
No free bonus sites