CzechCasting Review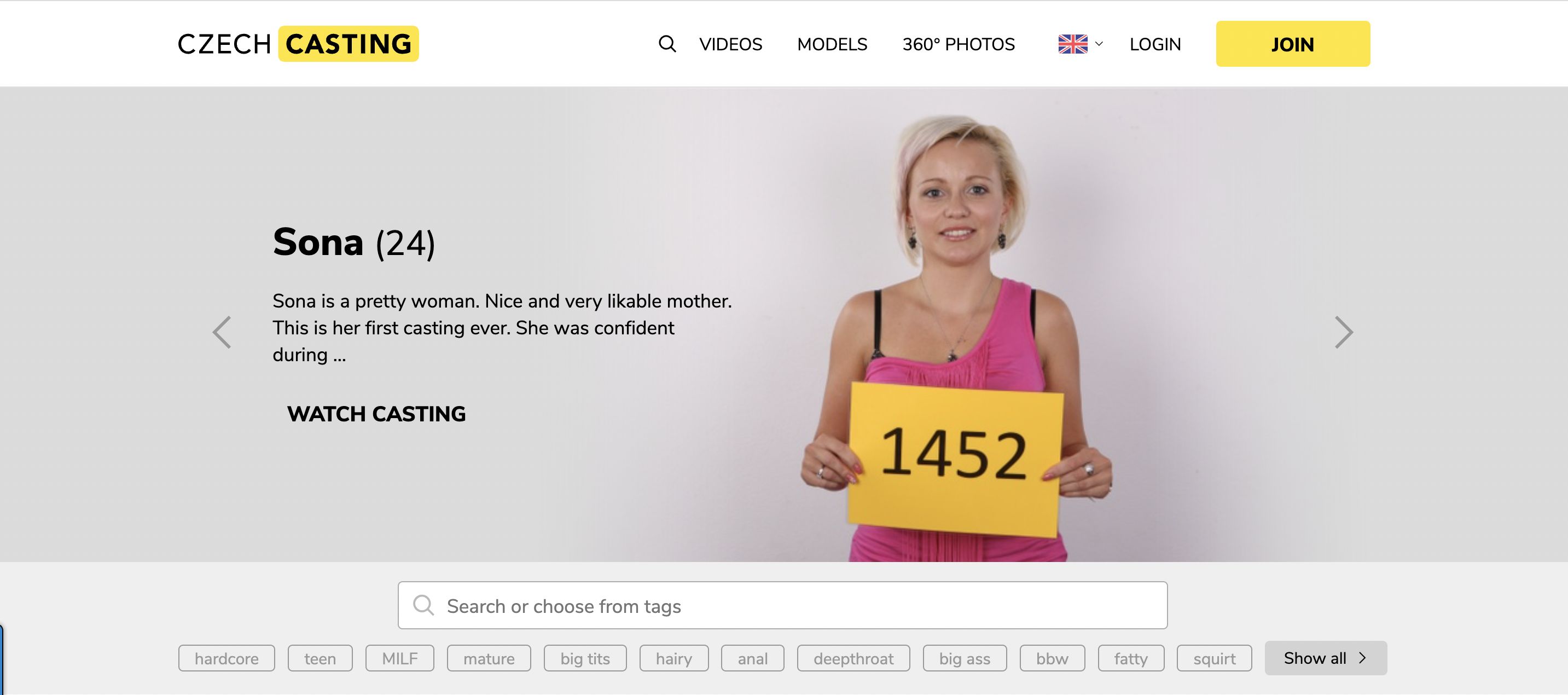 Fetish Dude visits Czech Casting
It might surprise you to learn this, but it turns out that the porn industry in Czechia is one of the biggest in the European region. For many years, they've been pumping out some top quality XXX action and boy, do those girls look sexy as fuck when they're doing it! Now in this analysis, Fetish Dude is going to go ahead and looking at a casting website with a specific focus on Czech chicks. The tour looks really hot, but I want to sign up and log in to get the full experience before passing my final judgement. Let's crack on and see whether Czech Casting is any good!
First thoughts on Czech Casting
So the first thing I want to talk about here is the member's area design: it's very modern and obvious to me that the people behind the project have a good idea of how to set up an attractive website. Navigation seems pretty on-point and yeah, getting around is a piece of cake. Right on the homepage, you've got the latest scenes – a new one of which is added on a daily basis. Do note that Czech Casting really does try to work with first-time amateurs, so although this is a semi-professional operation, the idea is to find fresh-faced cuties who've never been fucked before. So far, so good for CzechCasting. I like what I see!
Exploring the content objectively
So in terms of objective measures, one of the most interesting facts about Czech Casting is the fact that they have well over 2,000 videos for you to enjoy. These guys have been in the amateur porn business for a long time and yeah – chances are it's going to continue on like that for a decent period of time. From the research that I've conducted, it would actually appear as if the first amateur Czech babe to appear here was filmed way back in 2011. Close to a decade in the business – I doubt anyone can complain about that! Quality is always important though, so let me write up on that a little – this stuff matters.
So I'm pleased to report that every single video here on Czech Casting is available in at least 720p and 1080p HD formats – even the very first uploads. Most recently, however, Czech Casting has also taken steps to include 4K downloads if you're interested in the ultra-high-end experience. I did grab a couple of 4K amateur sex scenes and man, do these Czechian girls know how to fuck real damn good! It must be something in the water, because their ability to enjoy a hard cock like a professional pornstar is second to none. I also loved the download speeds here: my 18 MB/s connection was capped out and it's quite likely that if I had a better line, I'd have managed even better speeds.
A subjective take on CzechCasting
Czech Casting does have a lot of porn and after grabbing 12 preview scenes, I'm happy to report that they've done a terrific job of actually getting some subjectively decent material too. Clips tend to last around 40 minutes in length and you'll get a huge array of body types, preferences and that type of thing. Plenty of the girls fuck hard here, although some just give good handjobs or suck a cock. One of the features that Fetish Dude loves is the array of categories that you can click on if you have a particular interest. For example, there are MILF, anal, deepthroat, lesbian and even threesome uploads here: the world is your oyster, so long as you're hungry for some slippery Czech chicks who've never been in a porno before! I really must stress that these amateur ladies are absolutely divine. You won't find many hotter, that much I can guarantee. The Czechs just have the sexiest first-time broads – fact!
Wrapping up my analysis on Czech Casting
When push comes to shove, there are so many benefits associated with signing up to Czech Casting that I can't think of a single reason why someone wouldn't want to be a member here. The huge database, the 4K quality scenes, the genuine first-time Czech babes and yeah – it's just amateur porn heaven. Fetish Dude is giving this place his official endorsement and I believe that anyone genuinely interested in fresh porn actresses is going to have a whale of a time here. Anyway, that's it from me – cheers for reading and have a great hog squeeze!
Genuine first-time amateurs
Supports 4K downloads
New updates weekly
Limited trial features
No VR scenes