TACAmateurs Review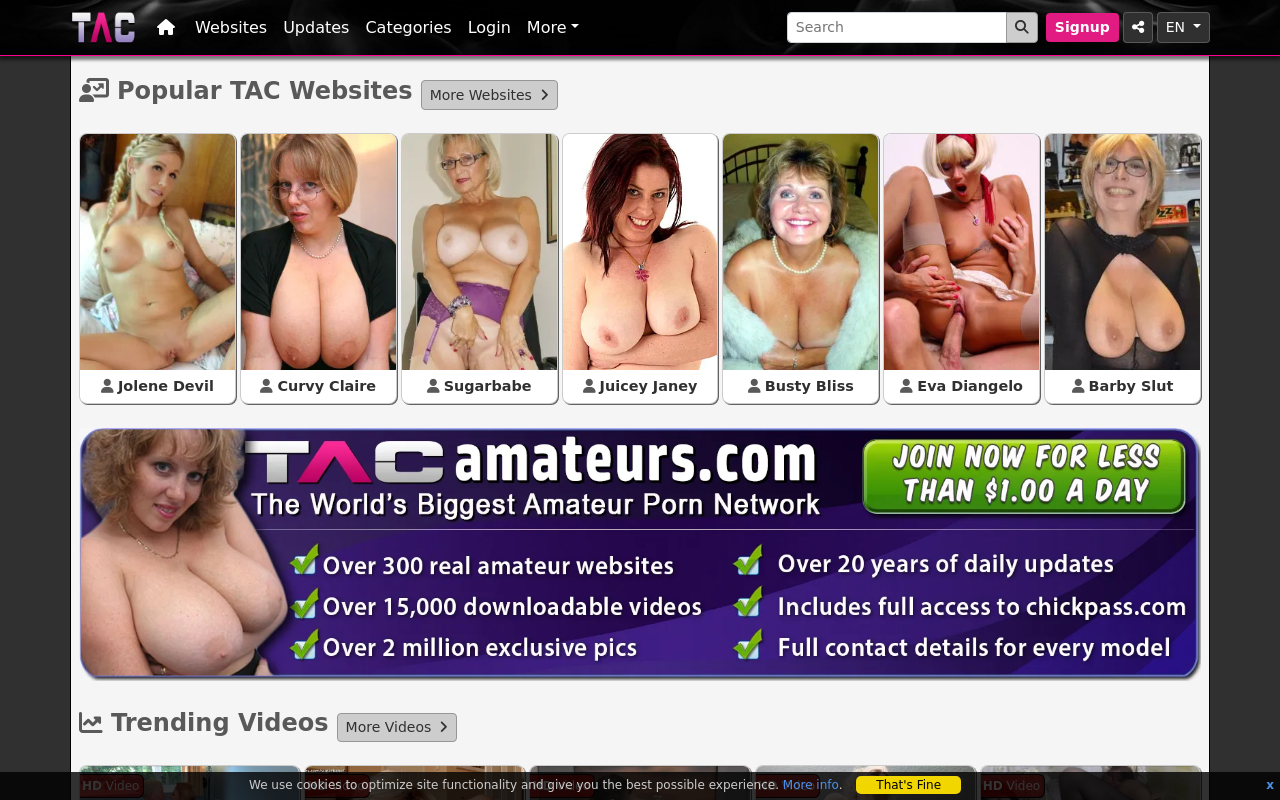 Fetish Dude reviews TAC Amateurs
What's going on, groovy gang? Fetish Dude here and yes: it's that time of day again! I'm going to be looking over a destination about the name of TAC Amateurs and to be perfectly honest with you, I'm excited based on what I've seen in the tour. According to these guys, you get hundreds of sites to access, thousands of downloads and one of the largest databases of amateur photographs in the world. Still, Fetish Dude doesn't want to judge a book by its cover, so let's crack on and give this place a good going over – I'm excited to see what's in store!
First thoughts on TAC Amateurs
Since there are so many damn niches here, I figure it's probably best for me to talk a little about them first. After all, my name is Fetish Dude – whatever you like, I'm here to help you get it! So on TACAmateurs, I saw pretty much every single type of adult erotic preference known to man. We're talking about BBW amateurs for dudes that like them chunky, homemade double penetration porn for the horny sluts of the world, lesbian threesomes if you're all about that girl-on-girl life and of course, a little solo masturbation when the girls want to be left to their own devices. Honestly, the breadth of what's available here – given it's all under the umbrella of amateur content – is pretty damn incredible.
A note on the sites from TACAmateurs
So it turns out that the claim of hundreds of websites is true: I even saw that there were well over 300 here, which is pretty surprising. Naturally, you get to this size by being in the industry for a long period of time, so I ought to stress that TACAmateurs really has been doing this for many years. This causes one issue, though: some of the earlier content isn't available in high definition. Thankfully, the more recent uploads can be snatched in 720p and 1080p formats, so it's not the end of the world – especially with 10,000+ videos. I mean really: what are the chances that you're going to get through even 1% of what TAC Amateurs has to offer? Fetish Dude knows that there are a lot of horny readers out there, but surely none of them would take on the challenge presented by this amateur porn database.
Some final thoughts on TAC Amateurs
Although the user interface is a little bit shabby and looks like a recently divorced MILF at a cougar bar on a Saturday night, I still think that TAC Amateurs is a good place to be if amateur adult entertainment is your cup of tea. There are a lot of BBWs here, so I hope that you prefer larger women somewhat! Still, with such a large database, you really cannot go wrong. TACAmateurs is a stellar space, updates daily and yeah, it passes the Fetish Dude verification test!
That's all I have time for in this review of TACAmateurs. Thanks a lot for reading and if you'd like more recommendations of homemade porn projects, feel free to look at the best amateur sex websites list I've put together – peace!
Lots of amateur content
Daily material updates
A wide niche array
Lots of fat chicks
Older content isn't HD