Eccie Review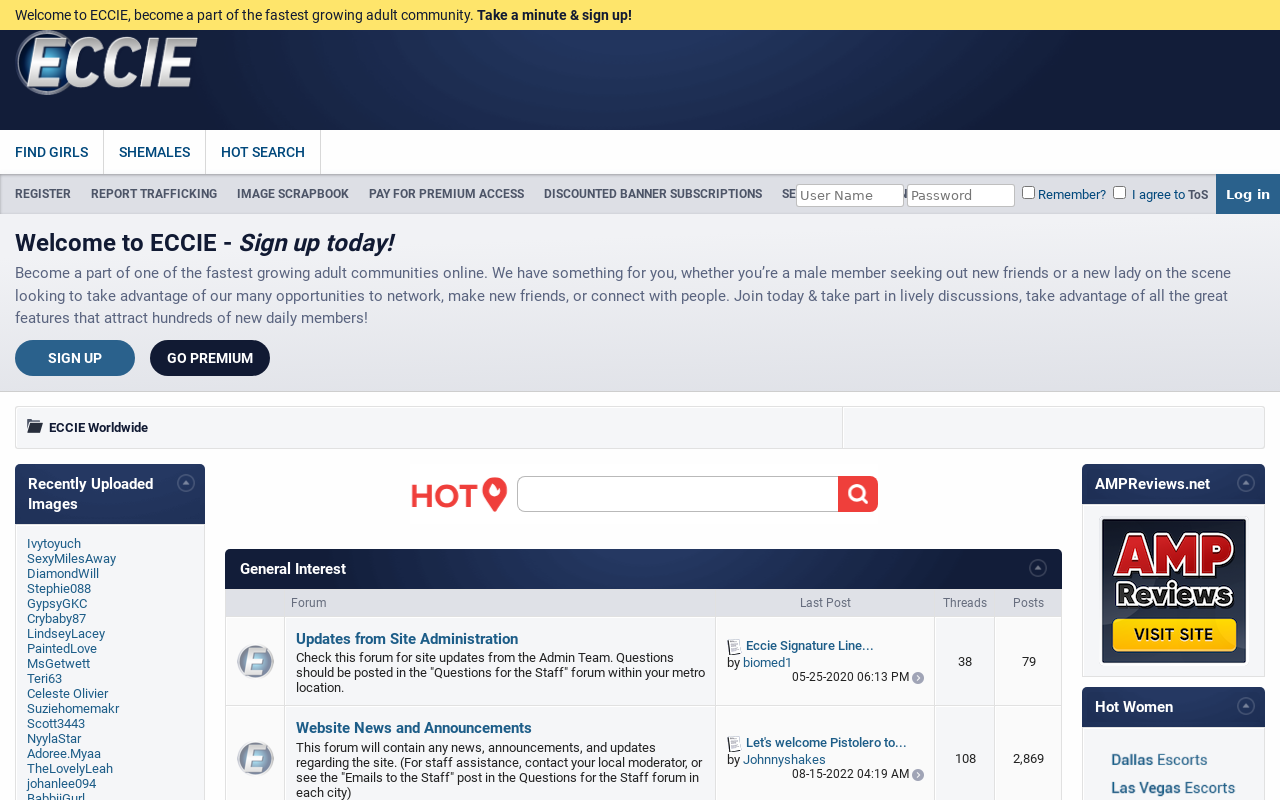 Fetish Dude checks out Eccie
What's up, punters? It's Fetish Dude and I'm back with yet another place for you to find escorts – and information pertaining to them. Today I'm going to give you the lowdown on Eccie: they claim to be the fastest growing adult community and their focus is mainly on providing you with reviews of various working girls in the United States. Note that Eccie is an International website, but based on my experience, the vast majority of punters here are based in NA – though if you are elsewhere, it might still be an idea to check out what they've got in terms of information. Now: let's give you the complete Fetish Dude analysis below!
My first thoughts on Eccie
So like I said, Eccie is a forum – these types of setups for the distribution of information have fallen out of favor in recent years, but they still serve a purpose and yeah, they're doing great by all accounts. In fact, the stats at the bottom of the website show that Eccie has a total of 2.9 million threads and close to 15 million posts. That's a hell of a lot of discussion – especially since it's all about escorts and their services! Now in order to talk about how the site works, let's go looking at areas covered by Eccie and what the posts are mainly about.
I decided to pick out New York my first sub-forum destination. In a similar fashion to all of the other locations, you'll be presented with yet more sub-forums. These include coed discussions, encounter reports, strip clubs and spa encounter reports. Plenty of threads and posts, but like I said: a lot of what's going on here is the review of various ladies and what they're able to do for you. I think it's probably a good idea to go ahead and look at a thread so we can see what the purpose of Eccie actually is!
Looking at an Eccie thread
So, let's kick things off with looking at a small thread from someone called Travelinmonger. It was for a threesome he had with Angela and Lucy – two girls at Geisha in NYC. What he's done is provide a bunch of details about the engagement, what they offer, how they look and their ethnic background. There's also a physical description and encounter review that you can read. Note that encounter reviews do require you to be a member – if you want the full details, you're going to have to create an account. It's not the end of the world because it's free to sign up, but I do think it's worth mentioning because a lot of people don't like the idea of giving their email out. My advice would be to use a burner email if you really want – just don't forget your password (use an easy one to remember – who cares if your account gets stolen?) and then it won't matter.
The main benefit of Eccie
Look: Eccie's good if you want other people's opinions about encounters, but you're not really coming here to jerk off to stories. Some guys on Eccie love to spend a lot of words telling you about how awesome the sex was – are you going to wank yourself off while reading these? Probably not. For me, the main drawcard when it comes to this forum is that you get to confirm that what's being offered is genuine and real. There are plenty of scams and risky encounters that you could come across and with a place like this, you can really limit your exposure. There is some value in guys who say "yeah, I'd never do this again because her pictures were really old", but so long as a guy says "this is recommended", you ought to be good to go.
Coverage by Eccie
There are other parts of the Eccie website if you want to talk about random stuff. I'm actually a little surprised by how busy this hub is. I mean, there's a political discussion section that has over 660,000 posts – who's coming to an escort review platform to talk about Biden and Trump? It's pretty funny if you ask me. There are other locations that you can get detailed information from too. I looked at Asia and as you can probably imagine, the biggest forum there was Thailand. Still, there were a few posts on South Korea, Singapore. Japan and even Cambodia. Who's going to Cambodia to hire escorts? I mean, you do you – Fetish Dude will always want Vietnamese or Pinay pussy if I'm hunting though. Viet especially – god damn I don't know what they put in the Pho over there but the girls are incredible.
Downsides of Eccie
Forums naturally have an issue when it comes to their size, and I think it's fair to say that this hub can feel a little cluttered. There are so many sub-forums and it's not the easiest place to get around. Don't get me wrong – navigation is fine, it's just that you're kind of limited by the setup of the platform. There are also quite a few adverts here, and while I know that the forum has to support itself, it doesn't change the fact that things would be better without ads. I also couldn't find a toggle for night mode and this website is incredibly bright. Hopefully something they'll add in the future.
Eccie: a wrap
There's plenty of value and utility to this platform. Fetish Dude enjoyed looking around and I think if you're interested in verification and reviews – plus you're actually a regular punter – you'd be smart to make this one of your regular visits. The forums are free to explore and most information is available to you without an account, but you'd still benefit from signing up. It doesn't take long to do so and full access to the website is real awesome. Anyhow – that's all Fetish Dude has to say about this escort community. Except that I still have no idea what 'Eccie' stands for. If you know: can you shoot me an email and tell me? Appreciate it.
Incredibly active forums
Worldwide coverage
Fast loading speeds
Some features require an account
No dark mode